February 3, 2016 By Andrew Macklin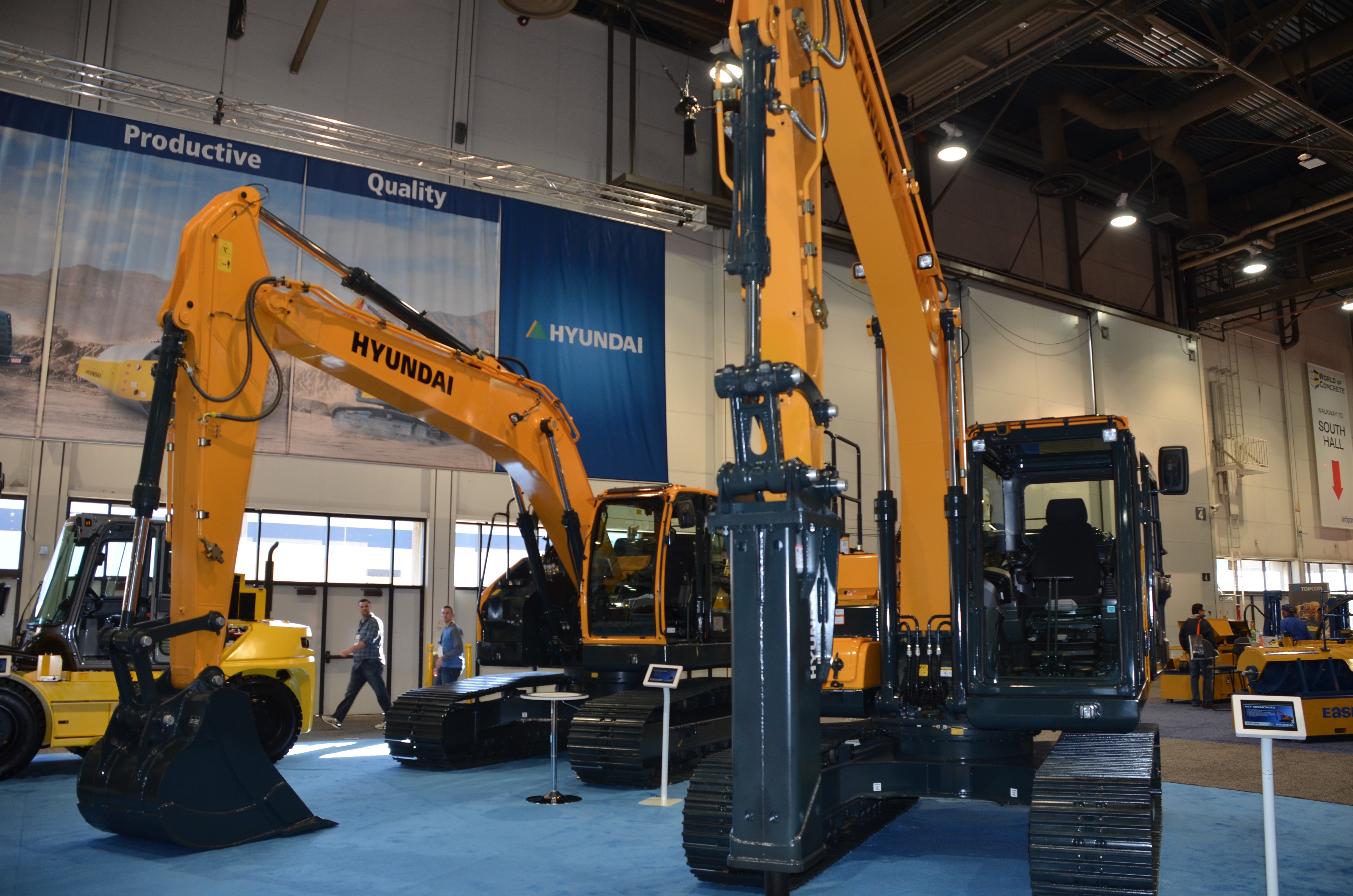 February 2, 2016 – Hyundai Construction Equipment Americas today introduced two new models in its HX Series of Tier 4 Final-compliant hydraulic excavators – the HX140L and HX235LCR. These two machines provide up to 10 per cent better fuel economy and five per cent increased productivity versus previous models. They join a family of seven other Hyundai HX excavator models the company introduced in 2015 to U.S. and Canadian markets.
The HX140L excavator is a 14-metric ton (14 200-kg / 31,310-lb) model, powered by a Perkins 1204F Tier 4 Final engine rated at 116 hp (87 kW). It achieves a maximum dig depth of 22 ft 1 in (6 730 mm) and maximum digging reach of 32 ft 9 in (9 980 mm), and provides bucket digging force of 24,890 lbf (11 290 kgf). The HL140L excavator is equipped with a standard 0.76-yd3 (0.58-m3) capacity, 39.4-in-wide (1 000-mm) bucket.
The 24-metric ton (24 000-kg / 64,301-lb) Hyundai HX235LCR excavator is a compact-radius model, featuring a Cummins QSB6.7 Tier 4 Final engine rated at 183 hp (136 kW). Performance specs include a maximum digging depth of 22 ft (6 700 mm), maximum digging reach of 32 ft 6 in (9 910 mm), and bucket digging force of 37,104 lbf (16 830 kgf). Capacity of the standard 39.4-in-wide (1 000-mm) bucket is 1.05 yd3 (0.80 m3).
Optimum operating environment
Both new HX excavator models include as standard equipment an 8-inch (20.3-cm) interactive, adjustable, touchscreen cluster-monitor in the cab. The monitor in the HX140L model includes haptic remote control, providing easier operator accessibility and better ergonomics. The haptic remote control delivers reactive, tactile sensations using vibrations and pulses to guide the operator through menu selections.
Viewable on the monitor, which is standard equipment on both the HX140L and the HX235LCR, is the Hyundai-exclusive AAVM – or All-Around View Monitoring – an optional system that provides a 360⁰-surround virtual operating view. Included in AAVM is the IMOD (Intelligent Moving Object Detection) system that senses and warns the operator when objects come within 16.5 feet (5 m) of the machine.
Better fuel economy, enhanced cabs, improved hydraulics
New Tier 4 Final engine technologies, a more efficient vertically stacked cooling design, efficient electronic fan clutch, and hydraulic system innovations on the Hyundai HX series excavators contribute to an overall fuel efficiency improvement of up to 10 per cent compared with previous models.
The Hyundai HX series excavators feature large cabs with enhanced climate-control, more leg and foot space from the seat to the pedals, reduced in-cab sound level, heated operator's seat with standard air suspension and integrated console. Additional features include a Bluetooth audio system and Miracast wireless functionality for viewing a mobile device screen on the monitor.
An improved hydraulic system includes an innovative Boom Float mode for better grading control, Fine Swing mode for improved load control when swinging, and up to 13-percent faster cycle speeds than previous models. The HX140L and HX235L also feature IPC (Intelligent Power Control) computer-aided power optimization based on load demand, and Eco Breaker mode for selectable pump flow and improved fuel consumption when working with Hyundai hydraulic breakers and many other attachments. The combination of faster cycle times and more power result in productivity increases of up to 5 per cent.
Enhanced reliability features on the HX series include reinforced longer-life pins and bushings coupled with wear-resistant polymer shims and newly designed cab shock mounts with dual shock absorption for reduced vibration and noise and improved operator comfort. Serviceability enhancements include ground-level access to the fuel filter and convenient exterior access to the cab air filter. Additional guard rails provide greater safety while performing maintenance and inspections on the upper structure deck.
---
Print this page