News
Excellence in the asphalt industry celebrated at OAPC's 2019 Fall Asphalt Seminar
December 31, 2019 By ORBA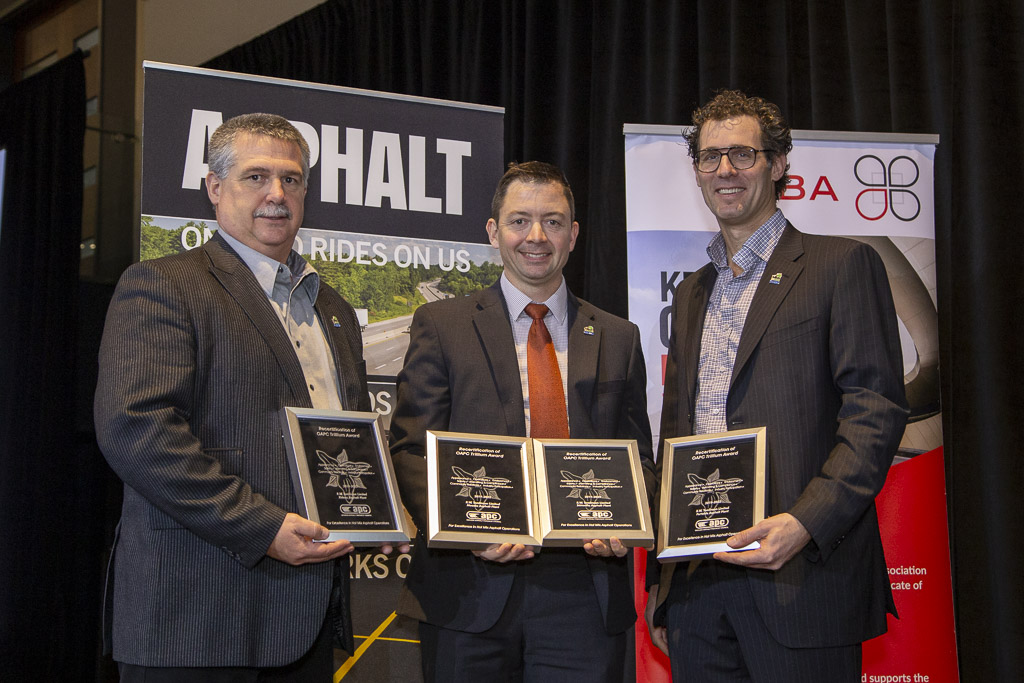 Dec. 31, 2019, Mississauga, Ont. – The Ontario Asphalt Pavement Council recognized the best of the best in the asphalt industry at its annual Fall Asphalt Seminar, Finding a Better Approach – Getting Paving Right in Ontario, held on December 5th at the Universal Eventspace Conference and Event Centre in Vaughan.
More than 350 industry leaders and stakeholders attended this year's event. Three asphalt plants received the 2019 Trillium Awards and 17 plants were recertified. Trillium-awarded plants may recertify for the award every three years.
The Trillium Awards were introduced in 2002. Recipients meet exceptionally high standards in seven categories which are appearance, operations, environmental, safety, permitting and compliance, community relations and industry participation. The OAPC was pleased to present the Trillium Award to Coco Paving Inc.'s Boyce, Kemptville, and St. Catharine's asphalt plants as well as the three-year Trillium recertification awards to Coco Paving Inc.'s Bellville, London, and Wolfedale asphalt plants, Miller Paving Limited's Elora, Mt. Forest, Clinton, Port Colbourn, New Liskeard, Sydenham, Millam, Whitby, Moodie, Stittsville asphalt plants and R.W. Tomlinson Limited's Rideau and portable asphalt plants.
"To date, 81 plants have earned the Trillium Award and since the inception of the Trillium Awards, 100 award recertifications have been issued. That speaks highly of our members and Ontario's asphalt industry," said OAPC plant and paving committee chair and vice president of FLO Components, Mike Deckert. "It is our goal to have all member plants Trillium-awarded by 2021 and we are making great strides in achieving that goal."
Also presented at the seminar was the Bleeds Black Award, which recognizes individuals who have demonstrated exceptional commitment and passion to the continual improvement of asphalt throughout their career. The 2019 Bleeds Black Award recipient is Peter Gamble, General Manager, Operations for the Dufferin Construction Company. Mr. Gamble started his career over 40 years ago on a paving crew and worked his way through the ranks to foreman, superintendent and eventually General Manager of Operations at Dufferin Construction. Ontario's asphalt industry has benefited from his knowledge and desire to produce high quality pavements. This is evidenced by the many times he has been approached by industry partners to share his insights and opinions.
The inception of this award is credited to a past OAPC director who in 2012 described an individual and said, "his passion and commitment for all things asphalt is so great that when cut, he bleeds black."
---
Print this page