Part II of Rock to Road's CONEXPO-CON/AGG 2020 show coverage
June 12, 2020 By Rock to Road Staff Report
CONEXPO-CON/AGG, North America's largest trade show for the construction sector, is a must-see event for anyone in the industry looking for the latest technologies to enhance their operations. Here is a look at some of the products that were on display at the triennial trade show.
ADM ASPHALT DRUM MIXERS

Take productivity to the max with the ADM EX Series, Model EX 8844 asphalt plant. The EX 8844 works to advance your business' bottom line with features like increased capacity with up to 50% RAP in a compact package; counterflow technology for maximum heat transfer and fuel efficiency via separate drying and mixing zones; clean operation for virtual elimination of blue smoke and hydrocarbon emissions and efficient design for single-operator capability, easy troubleshooting and simple on-site maintenance. The EX Model 8844 is available as a portable, skid-mounted or relocatable unit.
www.admasphaltplants.com
---
Astec Mobile Screens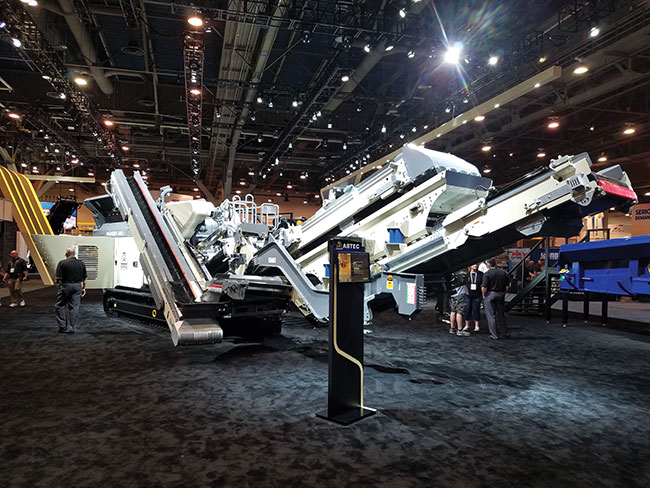 Astec Mobile Screens has launched a new line of compact, track-mounted equipment. The new equipment, marketed through licensed dealers as the Ranger line, will include a variety of jaw crushers, impact crushers, cone crushers, incline screens and trommels. These compact units will serve a variety of new markets including building and construction, landscaping, quarry operations and plant and tool hire. The ease-of-use, ease-of-transport, versatility and flexibility of compact, track-mounted units make them ideal for smaller operations that require powerful equipment with a limited footprint.
www.kpijci.com
---
Doosan

Doosan's next generation DA30-5 articulated dump truck offers an updated front suspension system. The hydro-gas, self-levelling system is designed to provide improved performance and shock absorption. This ADT comes standard with an active payload measuring system for increased productivity and reduced cycle times. Doosan also adjusted the key service and maintenance points to help operators perform required daily service checks and maintenance procedures. The DA30-5 features 375 hp at 2,100 rpm, a machine weight of 50, 707 lb., a payload rating of 61,729 lb., a heaped capacity of 22.0 cu. yd., a loading height of 9 ft. 8 in. And a maximum speed of 55 km/h.
www.DoosanEquipment.com
---
EDGE Innovate

The EDGE HS750 features the benefits of a slow speed shredder with a horizontal positive feed delivery system thanks to a 42-in. diameter compression Top Feed Roll guaranteeing high throughput. It is powered via a Caterpillar C18 engine providing 750 hp. An intelligent load management system regulates the delivery of material ensuring maximum productivity at any given time. Lengthy downtime and asset damage are avoided via EDGE's tramp metal protection system. It is designed for a number of shredding applications such as land clearance projects, wood waste and construction and demolition waste processing.
www.edgeinnovate.com
---
GENCOR

The new Gencor G Series is the latest innovation in small portable hot mix plants providing contractors with all the features of Gencor's award winning Ultraplant in a smaller compact highly mobile plant that can be erected and operational virtually anywhere. The G Series is a rugged designed plant built with all the same premium features you've come to expect from Gencor for years of dependable service. The firing end of the burner extends into the dryer beyond the mix section so as not to overheat the aggregates and liquid asphalt as they are mixed together. A highly-efficient Ultraflo baghouse is coupled to the drum at a 90-degree angle with Gencor's exclusive self-erecting ductwork and stack. The G Series also includes Gencor's proven and highly portable Silo that erects in minutes and provides an easy hot mix surge alternative without sacrificing storage capacity.
www.gencor.com
---
Hamm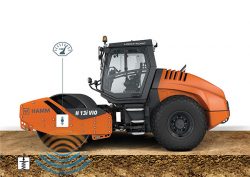 The H series compactors cover a huge spectrum of earthwork applications. The machines are available with weights from 24,250 lb. to 55,700 lb., with smooth or padfoot drums. Thanks to the Easy Drive operating concept, all models are exceptionally easy to operate and comfortable. In addition, HAMM is the only manufacturer in the world to offer a VIO drum for compactors in this class. Accordingly, these machines can compact with oscillation or vibration as desired. Another outstanding characteristic of the H series compactors is their high linear load. Added to this is the large slope angle and enormous climbing ability that allow these compactors to work effectively even on slopes of up to 60 per cent. Furthermore, there are numerous options for them, including padfoot segments, vibration plates and dozer blades.
www.hamm.eu
---
Haver & Boecker Niagara

Haver & Boecker Niagara's Niagara F-Class Portable Plant features a circular motion, inclined vibrating screen that uses gravity to help move material down the screen deck, reducing pegging as well as energy and horsepower requirements. The portable plant is manufactured with six hydraulic run-on jacks to raise and lower the vibrating screen quickly. Producers gain the production benefits of an inclined screen with the maintenance benefits of a horizontal screen. In addition, plants outfitted with Haver & Boecker Niagara's Ty-Rail quick-tensioning system can cut screen change-out times.
The vibrating screen itself is designed for tough applications, such as scalping and classifying ores, minerals, stones, sand and gravel. The Niagara F-Class has an advanced double eccentric shaft design, supported by four high-performance, double-spherical roller bearings. It is especially beneficial for screening situations that require consistent, load independent performance at constant g-force. Featuring a reliable, proven four-bearing technology, the vibrating screen delivers a consistent stroke, which two-bearing screens cannot provide.
www.haverniagara.ca
---
John Deere

John Deere has integrated SmartGrade, its proprietary grade control technology, into the 333G Compact Track Loader. The SmartGrade 333G Compact Track Loader will expand the capabilities of customers working in site development, roadbuilding, landscaping, residential and commercial building operations by enabling them to take on new tasks and larger jobs that require accuracy. By leveraging the latest grade control technology, the SmartGrade 333G machine levels the playing field with contractors running larger fleets. The SmartGrade 333G Compact Track Loader is designed to increase productivity by helping to automatically complete grading tasks faster with fewer passes and less rework compared to working without grade control technology. Moreover, operators can reap the benefits of using a versatile, more transportable piece of equipment where the grade control system is fully integrated into the machine's structures and software, delivering precise grading performance while eliminating vulnerable masts and cables. Operators will also benefit from the launch of DozerMode, a breakthrough control solution that enables the EH joystick control system to function like a crawler dozer, with the push of a button. DozerMode is beneficial when operating the machine-equipped, John Deere-designed and -built, six-way dozer blade attachment that can both cut a grade and spread materials, streamlining attachment needs and setup time.
www.johndeere.com
---
Kleemann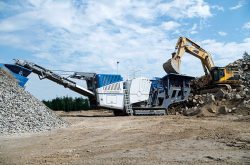 With an output of up to 717 US tons per hour, the MOBICAT MC 120 Zi PRO is impressive in natural rock applications. The powerful jaw crusher has a feed opening of 48″ x 32″ and is equipped with an extra-long articulated crusher jaw. To ensure the best possible material flow, the continuous feed system (CFS) adapts the conveying speed to the fill level of the crusher. On most jaw crushing systems, the operator has the time-consuming task of clearing the crushing chamber in the event of material blockages. Not so with the optional crusher unblocking system. Should material bridging occur in the jaw crusher, the crusher can be reversed with the aid of the electric crusher drive and in this way the blockage can be cleared in no time.
www.wirtgen-group.com
---
Luff Industries

Luff Industries' top of the line CEMA rated Idlers have been increasing customers' conveying performance for over 40 years. Luff idlers are built with a patented polymer endcap design that offers the ultimate in strength, durability and sealing performance. The endcap encases a triple labyrinth seal and sealed ball bearing to ensure various environmental contaminants including dust and moisture don't cause premature roller failure. Luff is the first OEM in North America to achieve SKF Equipped status and have integrated SKF bearings into its idlers through the program to ensure the highest quality components are being delivered to its customers. The SKF Equipped program will add significant life to each roller, resulting in major savings in maintenance and operation costs.
www.luffindustries.com
---
MAJOR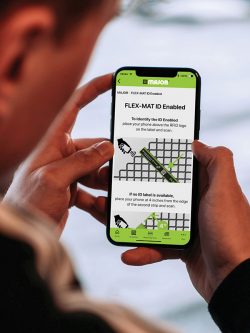 MAJOR's FLEX-MAT ID Enabled features RFID technology that tracks and stores screen media data such as panel dimensions and customer-defined details to offer users information at their fingertips for simple reorders. It is designed to take the guesswork out of re-ordering and prevent costly mistakes that can result from measuring incorrectly and ordering improperly-sized screen media. All FLEX-MAT screen media is now embedded with the ID Enabled microchip. Product information is easily accessed through the company's new MAJOR App without the need of an additional reading device.
www.majorflexmat.com
---
McLanahan

McLanahan Corporation's UltraWASH 6505 modular Wash Plant is built with several features, including the patent pending Eze-Riser, patent pending Fines Forward Slide and a sump conversion kit. The Eze-Riser works together with the pump service trolley to enable safe and efficient pump maintenance, such as changing the impellers or replacing the casing liners. A foot pedal lifts the discharge pipe from the pump and utilizes a locking mechanism to then holding the pipe aloft, offering the clearance needed for the pump to roll out on the trolley service platform unrestricted. The manually adjustable Fines Forward Slide can divert a portion of raw fines into the coarse sand processing stream. This balances the downstream process to optimize plant capacity. Alternatively, by substituting the last row of fine material screen panels with coarse material screen panels, the Fines Forward Slide will allow alterations of the proportions of fine and coarse decking areas above, while still preventing the loss of coarse material into the fines processing stream. The sump conversion kit allows the operator to quickly and safely change between a one-or-two-pump setup. The sand process can also be altered to process a single wash, a double wash or a two-product sand.
www.mclanahan.com
---
McCloskey International

The S250 Screener is one of the largest and most portable vibratory screening plants in production. The heavy-duty, high-energy two-bearing, three-deck screenbox is side-tensioned, delivering more true screening area with 22 ft. x 6 ft. on the two upper decks, and a 20 ft. x 6 ft. bottom deck. Available in double or triple deck models, the S250 features an up to 10 m3 (13.1 yd3) high-capacity hopper with generous grid opening, allowing the use of larger loading shovels.
www.mccloskeyinternational.com
---
Metso

Metso's NW Rapid series of transportable wheel-mounted crushing plants offer a range developed specially to accommodate road transportation in North America. With the use of a booster bogie and heavy haul jeep for lower axle weigh, the NW120 Rapid portable jaw crushing unit can be moved by towing with a prime mover. Combined with lights, side and mud guards and ABS-brakes the entire primary crushing and screening plant can be transported on road safely, and in one compact package from coast to coast. The NW120 is equipped with a Nordberg C120 jaw crushing unit with 160 kW (200 hp) crushing power. The crusher processes a wide variety of materials like limestone, granite, basalt, and concrete effectively. The all-electric portable jaw crusher has an integrated vibrating feeder and can be easily loaded using a wheel loader, excavator or dump truck.
www.metso.com
---
PHILIPPI-HAGENBUCH

Booth: N11067
Philippi-Hagenbuch Inc.'s Positive Seal Autogate Tailgate is specifically designed for off-highway trucks and roll-off containers that require a 100% seal. This new design can be paired with PHIL's proprietary fluidic seal material to create a water-tight seal that contains liquid materials within an off-highway truck body or roll-off container when environmental regulations or local laws make even slight spillage undesirable. The new Positive Seal Autogate Tailgate can be designed for practically any size off-highway truck or roll-off container. Paired with PHIL's simple yet robust outrigger, its traditional scissors-style mechanism provides an industry-leading maximum opening clearance at full dump. In the closed position, the new design positively locks into place and will not open under normal conditions without the body or container entering the "dump" mode.
The new design builds up the rearmost portion of the truck body or container to create a cohesive flange from which the tailgate compresses. Two hooks on either side of the base of the flange intercept a corresponding tag on the tailgate, allowing the tailgate to pivot inward as the sidearm and over-centre locking mechanism compressively lock the rear tailgate into place.
www.philsystems.com
---
Polydeck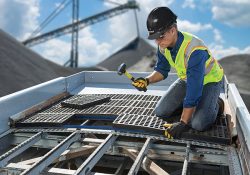 Polydeck's Kwikdeck system is a frame conversion that lets a producer try synthetic screen media virtually risk-free. Created to work with crowned decks, Kwikdeck is a modular screen media system that can be modified to fit the dimensions and configurations of most vibrating machines without altering the existing deck frame. Kwikdeck takes about 45 minutes to change out a 4×6 deck and uses existing side clamp rails making Kwikdeck perfect for portable screens that need to alternate between wire cloth and synthetic media. With a wear life ten times longer than wire screens, operators can save on labor costs while increasing production using Kwikdeck.
www.polydeck.com
---
PPI

Protecting your belt as well as your bulk materials is important in the conveying industry. PPI offers a solution in both full and three quarter conveyor covers to protect your assets. Standard in galvanized steel, you can count on PPI Conveyor Covers to be strong and hold up to a multitude of environmental challenges.
www.ppi-global.com
---
Talbert Manufacturing

Talbert Manufacturing has updated the 60CC/55SA-LD trailer for increased flexibility to meet differing hauling regulations. This trailer features a new hydraulically-operated system to allow operation of the third axle only or a combination of third and fourth axles. The 60CC/55SA-LD also features an 18" loaded deck height and 6" ground clearance. It also gives operators the ability to switch between configurations, for state-of-the-art load versatility and limiting the need for additional permitting. The base model of the 60CC/55SA-LD features a 108-inch swing radius, 26-foot deck length and 8-foot-6-inch deck width. Additional customization is possible, including a 24-inch flip gooseneck extension that increases swing radius to 132 inches and allows greater load transfer capabilities. The 60CC/55SA-LD is manufactured with heavy-duty T-1, 100,000-psi minimum yield steel. Valspar R-Cure 800 paint is standard on all Talbert trailers to prevent corrosion.
www.talbertmfg.com
---
TRIMBLE

The Connected Quarry is built on the Trimble LOADRITE payload management suite of products, which connects loader scales and other measurement devices together and allows monitoring of production and efficiency from the pit until the truck is loaded to go out the gate. This connectivity also helps managers streamline operations by reducing waste across their production process. With Trimble LOADRITE payload management systems connected across an entire operation, owners and operators can increase profitability, maximize productivity, improve operational efficiency and get control of inventory. Stop by the Trimble booth to learn more about Trimble payload and productivity management technology, which allows quarry operators to track and visualize loader, excavator, haul truck, processing productivity and efficiency visibility with simple graphs and metrics.
www.trimble.com
---
VÖGELE

With its latest innovation, WITOS Paving Docu, VÖGELE is complementing its two existing job-site solutions: RoadScan, the non-contacting temperature-measurement system with which the paving temperature can be monitored across the full pave width, and WITOS Paving Plus, the telematics solution for coordinating and actively optimizing all processes from the mixing plant to the paving process in real time. WITOS Paving Docu bridges the gap between the two: The solution is aimed squarely at contractors who want to record and analyze more than just paving temperature, but don't need the full range of WITOS Paving Plus functions, which includes process optimization and integrated planning. At a job site, foremen can use a special smartphone app and paver operators the machine terminal to initiate jobs in WITOS Paving Docu and record a wide array of additional paver and paving data, such as working width, paving speed, interruptions to paving and effective paving time. Delivery notes can also be scanned in using a QR code or entered manually, allowing paved areas, paved material quantities and areal densities to be calculated continuously. At the end of a day's paving, job-site reports are sent automatically by e-mail to selected recipients. They include information on key job-site data and machine utilization.
www.voegele.info
---
Wirtgen

Wirtgen's W 380 CRi can recycle the road surface to a full depth of 300 mm/12 in., so it is also suitable for full-depth recycling (FDR). It can also restore road surfaces beyond the available working widths of 3,200 mm/10 ft. 6 in., 3,500 mm/11 ft. 6 in. and 3,800 mm/12 ft. 6 in. Thanks to a mixing capacity of 800 t/h (787.2 US t/h) in combination with rear loading onto a road paver with the appropriate stockpiling and paving screed, even very wide road surfaces can be rehabilitated in a single pass.
The W 380 CRi can also be used as a high-performance milling machine. Thanks to its high engine power of 1,054 PS/1,038 HP (EU Stage 5/US Tier 4f) and conveyor capacity, the W 380 CRi can manage removal work to a milling depth of 350 mm/14 in. This enables large-scale rehabilitation work to be carried out quickly, such as on motorways, runways at airports, or the removal of complete asphalt packages, as well as the homogenization and granulation of damaged asphalt layers.
www.wirtgen-group.com
---
Print this page