March 27, 2017 By Rock to Road Staff report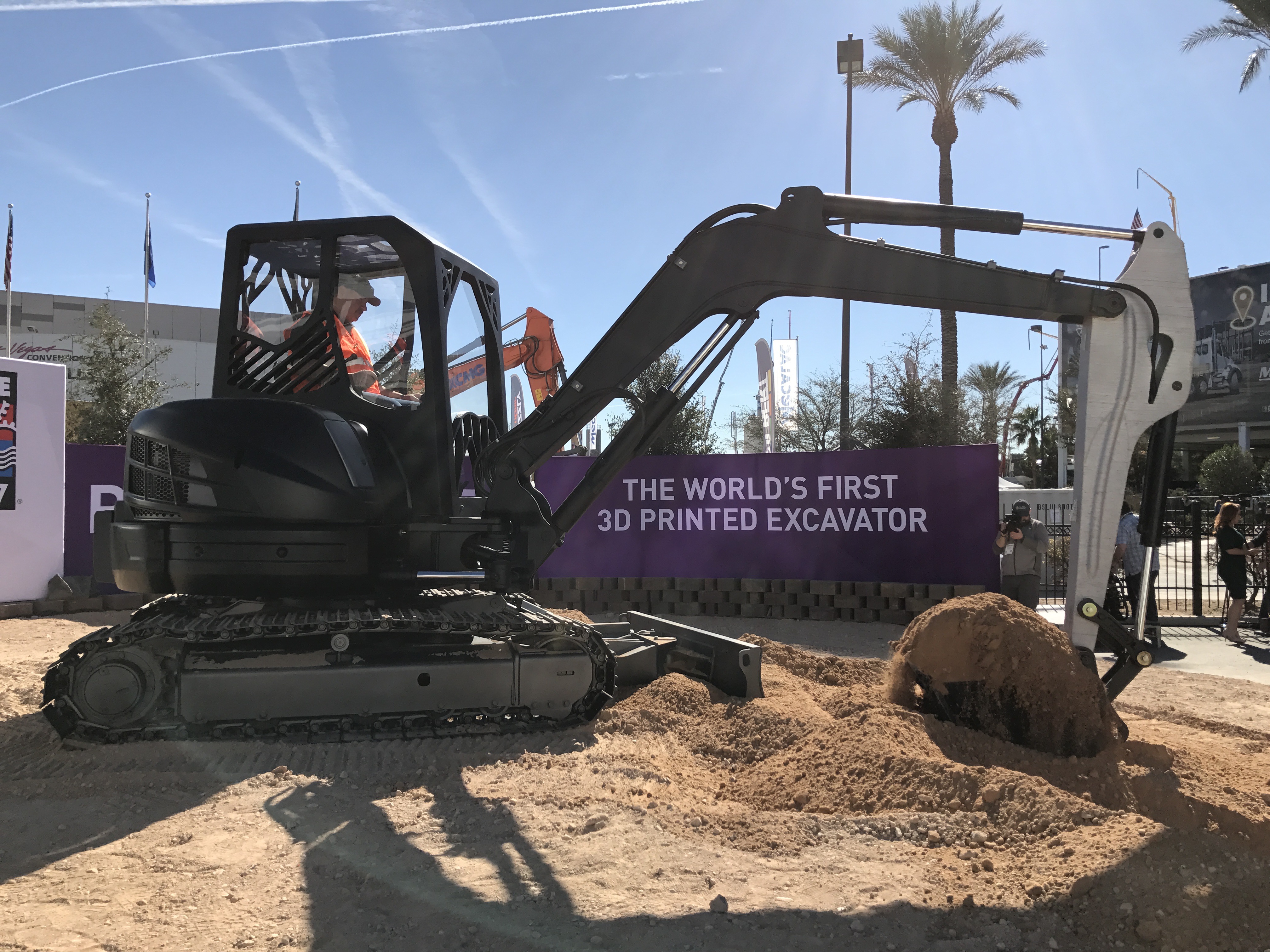 March 28, 2017 – Part 1 of our two-part series highlighting the latest technolgoies and equipment on display at CONEXPO-CON/AGG 2017.
Project AME
The world's first 3D-printed excavator, dubbed Project AME, was unveiled at CONEXPO-CON/AGG & IFPE 2017. Project AME was a key piece being showcased during the massive trade show's first-ever Tech Experience, a 75,000-square foot area offering interactive experiences and showcasing future innovations. Project AME was developed at the Oak Ridge National Laboratory's Manufacturing Demonstration Facility in Knoxville, Tenn. to create and assemble three components: the cab where the operator sits, the boom (a large hydraulically articulated arm) and a heat exchanger. A consortium of research teams that are part of the Center for Compact and Efficient Fluid Power contributed additional design and engineering work for the project.
---
Hybrid excavator
Komatsu introduced its newest hybrid excavator at CON-EXPO. The 36 ton-class HB365LC-3 uses a 100 per cent electric swing motor, which captures and stores swing deceleration energy, saving the hydraulic power for the boom, arm and bucket. Hybrid control logic improves productivity by increasing boom up and arm out multifunction speed. The HB365LC-3's 269-HP engine meets EPA Tier 4 Final certified requirements by using a Komatsu diesel particulate filter and selective catalyst reduction system with diesel exhaust fluid.
www.komatsuamerica.com
---
Hybrid cone crusher
Keestrack featured its new H4 Cone Crusher at CON-EXPO. The light, compact plant is fully automated to produce up to 250 tph at maximum feed sizes of 7 in. The plant can be optionally equipped with a pre-screen with fines chute and – as a world's first – with a highly efficient three-deck secondary screen module with recycling conveyor for closed-circuit processing. A big feeder volume, large screening areas and high stockpile capacities allow very productive operations as in-line or stand-alone unit. The H4 features a hybrid diesel-electric drive concept that guarantees economic fuel consumption, and the recently introduced full-hybrid version H4e even allows full electric operation through mains or an external gen set.
www.keestrack.com
---
Secondary stage crusher
Sandvik held the North American launch of its new stationary cone crusher, the CS550, at CONEXPO. The CS550 is a powerful secondary stage crusher for 700 to 750-tonne applications. Sandvik has completely eliminated plastic backing materials in the crushing chamber and substantially improved the maintenance ergonomics, similar to other Sandvik cone crushers. The standard automatic setting regulation system optimizes crusher operation for efficiency and adapts to variations in feed conditions by means of continuous liner wear measurement and compensation. The Hydroset system provides automatic hydraulically powered mainshaft positioning and overload protection to permit the passage of uncrushables.
www.sandvik.com
---
Compact engine
Deutz unveiled its new four-cylinder TCD 5.0 and TCD 9.0 diesel engines and six-cylinder TCD 12.0, TCD 13.5 and TCD 18.0 engines to the North American market. The TCD 5.0 engine, a brand-new design with minimum pipework and fewer components for less complexity and maintenance, will be introduced worldwide in 2019 to meet the next EU Stage V emissions and U.S. Tier 4 Final. The TCD 5.0 is a compact, turbocharged and charge-air-cooled, five-cubic-litre, 135-200-HP diesel engine, which produces more power from smaller cubic capacity.
www.deutzamericas.com
---
Belt training and cleaning
Flexco's newest offerings for belt cleaning and belt training were on display at the trade show. The PTEZ Belt Trainer with a polyurethane roller cover has a unique pivot and tilt feature that responds to and compensates for belt alignment without sensor rollers. A simple, versatile mounting system allows for easy and fast installation. Flexco's new Y-Type Secondary Cleaner is also easy to install with tough yet gentle three-inch urethane blade segments and spring tensioners that ensure there is consistent blade-to-belt interaction and constant pressure on the belt.
www.flexco.com
---
Axial groove
Sealmaster, a Regal brand, featured its Time Saving Axial Groove at the trade show, a simple but game-changing patented design that allows for easier bearing removal and the ability to reuse the shafting with minimal cleanup. An axial groove in the inner ring bore provides clearance from the burr created when setscrews are properly torqued to lock the bearing to the shaft. The groove, which extends the length of the inner ring for removal in either direction, has no impact to the ball path roundness, load and speed rating, or bearing performance.
www.regalPTS.com
---
Topcon
Topcon Positioning Group released the GX-75, a 10-inch touchscreen control box for construction machine automation. The GX-75 is available for use with dozer, motor grader and excavator machine control systems. It comes with a standard lock connector used with previous Topcon control boxes, allowing for backward compatibility. The GX-75 includes an adjustable mounting backpack designed to provide versatility. Additional features include integrated virus protection, and easily-accessible USB ports for saving and downloading job files.
www.topconpositioning.com
---
SILOBOT
Astec, Inc. has introduced the Silobot inspection service. The Silobot is a new tool that the Astec, Inc. Parts Department will use to do thorough visual inspection and metal thickness testing inside hot mix storage silos. The remote control capabilities of the Silobot inspection device keep workers out of the confined space of the silos and out of harm's way. The inspection record provided to the customer will include a metal thickness map, a video and photos of the inside of each silo. Engineering evaluations and recommendations, based on the inspection findings, will be provided by Astec engineers.
www.astecinc.com
---
KPI-JCI
Kolberg-Pioneer, Inc. (KPI) launched its latest patent-pending hybrid technology in their GT440 mobile horizontal shaft impactor (HSI). The GT440's full line features a 42×40 horizontal shaft impact crusher, which can be offered in a 3- or 4-bar rotor configuration, allowing the end user to choose the best solution for the application. Continuous crushing and tracking allows producers to increase uptime by 30 percent. The unit's Overload Protection System allows end users the ability to maximize performance and production.
www.kpijci.com
---
Haver & Boecker
Haver & Boecker introduced the skid-mounted Hydro-Clean 1000 Wash Plant as a complete solution. In addition to a Hydro-Clean 1000 washing system combined with a Tyler L-Class vibrating rinse screen, Haver & Boecker now offers semi-portability by mounting the complete system on a custom skid structure. The opportunity to purchase the three components together saves operations months of time they would have spent on designing and building a skid structure for a wash plant. The new package delivers maximum serviceability in a small footprint.
www.havercanada.com
---
NEW HARDOX WEAR PLATE
SSAB introduced the new generation Hardox wear plate for dump bodies. Hardox 500 Tuf combines the best properties from Hardox 450 and Hardox 500. It is tough enough to perform as a structural material in heavy-duty dump bodies, containers and buckets. WearCalc and TippCalc calculations based on sliding wear with granite indicate that Hardox 500 Tuf has 85 to 100 per cent longer service life compared to Hardox 400. Working conditions where Hardox 500 Tuf will excel includes the loading and unloading of heavy and sharp rocks in quarries and mines.
www.hardox.com
---
Terex Simplicity brand re-launched
Terex MPS promoted the global re-launch of the Simplicity Brand. Simplicity will continue to operate under the Terex MPS umbrella, but Terex MPS believe there is considerable benefit to be gained by relaunching the Simplicity Brand as part of the evolution of their business organization. As part of this relaunch, Russ Burns has been announced as sales manager. "We are excited to make this next step in the evolution of the Simplicity brand," said David Quail, MPS regional director, Americas.
www.terex.com
---
RUGGEDIZED MOBILE TABLET
Trimble introduced the Trimble ConnectedTablet, a ruggedized mobile computer for fleets in the ready mix and aggregate materials industry. The Android-based ConnectedTablet connects wirelessly to the Trimble Vehicle Gateway (TVG) and provides a rich in-cab experience for the operator, including features such as in-cab navigation with CoPilot Truck from ALK Technologies, Hours of Service, daily vehicle inspection reports and text and push-to-talk voice communications. The TVG uses GPS technology and cellular data to provide vehicle tracking with real-time updates on location and events,.
www.trimble.com
---
Radial Tracked Conveyor
Telestack's TC424 Radial Tracked Conveyor is an 80-foot tracked conveyor. Telestack offers tracked stockpiling conveyors in lengths from 15 to 31 metres, tonnages of 100 to 1,500 tph and lump sizes up to 300 mm (12"). The Telestack tracked conveyor range a deeper mid-section for extra strength and rigidity and is better suited for higher tonnages with larger surges and larger lump size. With a ribbed boom design in the tail, mid and head section for added strength, this range is ideal for the contractor and quarry operations that typically need to stockpile high volumes.
www.telestack.com
---
Print this page