Rock to Road's Top 10 Under 40
January 1, 2021 By Rock to Road Staff
Ed. note: Apply for this year's Top 10 Under 40 contest here!
Every year, Rock to Road asks the roadbuilding and aggregate sectors to acknowledge its best and brightest. And every year, you never disappoint. So with great pleasure and pride, here are the 2020 recipients of Rock to Road's Top 10 Under 40 awards.
Congratulations to all of this year's winners!
Nick Pangborn
Operations Manager
Machinery Supply
Airdrie, Alta.
Even when he was 16 years old, Nick Pangborn believed in collecting practical experience that could help him build towards a successful career. When deciding on a summer job, Nick opted for working in the heavy equipment industry at a local equipment dealership over the more traditional options for teenagers.
"Working the summers there instead of flipping burgers or cutting grass, it was more fun for me. Builds good life skills to be on tools and fixing stuff and solving problems," he says. "Just doing whatever had to get done and watching the guys and seeing how it all works, by the time I finished high school, I had a pretty good idea of what was happening."
After finishing high school, Nick went to work as a shop labourer, belt installer and inside sales representative for a few local equipment suppliers before joining Machinery Supply in 2010 as a territory sales representative. From there, his role with the company never stopped growing.
"Nick nurtured his territory, helping out clients with innovative solutions and making many lasting friendships," says Brian McAdam, president of Machinery Supply. "Nick has moved into the operations manager role, looking after equipment moves, scheduling customer service jobs and still taking care of many of his original customers. Nick has been a great asset to the growth of Machinery Supply."
Nick says his favourite thing about working in the industry is that no day is ever the same.
"It's kind of a different job every day," he says. "There's always something new to learn."
Under normal circumstances, Nick says that service-related issues pose the greatest challenges.
"The biggest problems to solve would be service related and how we're going to fix a piece of equipment and get it working with whatever tools we have here," he says, adding that it's a part of the job he finds very satisfying whether he's at work or at home. "I enjoy fixing things around the house."
His role as operations manager became increasingly challenging this past year with the onset of the COVID-19 coronavirus pandemic.
"We have a smaller staff but are continuing to grow the business with the smaller team," he says. "Operation of the business can go from a Zoom call with the president to sitting on a forklift loading a truck, loading a customer up. We're a pretty small team, so we all wear different kinds of hats."
Nick really enjoys his current role and looks forward to continuing to grow with the company he's been with for more than a decade.
"I want to keep climbing the ladder with these guys and seeing where it'll take me. I'm pretty happy with where I'm at, but always looking for the next step as well," he says.
---
Lesley Foy
Senior Agrologist, Partner
Aspen Land Group
Edmonton, Alta.
Lesley Foy has always enjoyed working within the natural resources sector in an environmental role. Her interest was sparked after job shadowing her father and his colleague, Michele Corry, when they worked for Alberta Environment and Parks (AEP).
"They were doing oil and gas authorizations and I job shadowed them. That led me toward the path of environmental management," Lesley says.
While attending the the University of Alberta in 2008 with a degree in Environmental Science, Lesley got her start in environmental consulting alongside Michele for a company in the oil and gas sector. After receiving her degree, Lesley decided to jump into the aggregate sector for a short time before joining Alberta Environment and Sustainable Development as a reclamation approvals coordinator. She spent four-and-a-half years there before joining Aspen Land Group, an environmental and regulatory consulting company dedicated to the aggregate industry.
"My dad was at the government for sand and gravel and thought I should try that out. I'm more or less following my father's footsteps. I couldn't have asked for a better mentor," she says.
Among the main individuals that have impacted Lesley's career, Michele Corry has played a significant role with her support and mentorship from the beginning of Lesley's career.
"In addition to managing the company's finances and administration, Lesley always goes the extra mile to ensure excellent client service and mentorship to her employees," Michele says.
Lesley has now been working in the public and private sectors of the sand and gravel industry for over 10 years and is currently an owner of Aspen Land Group alongside Michele Corry, her father and brother. She is extremely passionate about working on legislation with the sector that can benefit both producers and the environment.
"I'm keen to the legislation and how it applies to regulations and finding solutions within the legislation for pit operations to abide by the rules while being environmentally conscious – meeting all those requirements while being cost effective and meeting their business demands. Those unique scenarios that require innovative solutions and require solutions through legislation to give operators an edge require thinking out of the box. It's those unique scenarios that make the job interesting," she says. "I thought I would miss [Alberta Enivonrment] moving back to the consulting world, but the opportunity that ASGA has provided me has put me back into the position where I get to be in both worlds I enjoy: solving problems and informing on legislation and guidelines."
Lesley is currently the Chairperson of the Alberta Sand and Gravel Association's (ASGA) Land and Environment Committee and has been on the committee since 2013. As chairperson of the committee, she has played an integral role in several policy and regulatory initiatives including: the passing of Bill 31 in just six weeks, an unprecedented achievement for the ASGA; significant contribution and coordination in the preparation of the ASGA Permitting Report, a recommendations document related to delays and inconsistencies on environmental permitting in Alberta; and is an ASGA representative for the regulatory policy review framework redesign and reclamation criteria for sand and gravel pits in Alberta.
She also sits on Lakeland College's Advisory Committee for the Bachelor of Applied Science in Environmental Management (BASEM) program. This committee is dedicated to improving the program by keeping the BASEM program relevant to industry and regulations.
In her spare time, Lesley believes in helping those in need, and uses her favourite past-time to offer assistance.
"Lesley and Aspen Land Group feel it is important to give back to the community and charities, particularly the Edmonton Women's Shelter," Michele says. "As a talented quilter, Lesley enjoys creating beautiful hand sewn quilts. Many of these quilts are donated to the Edmonton Women's Shelter to make a difference in the lives of women and their children."
---
Tyson Craiggs
Aggregate Resource and Lands Manager
Terus Construction Ltd.
Surrey, B.C.
Tyson entered the aggregate industry at a very young age, working for his father's gravel business in Mission, B.C. The only time Tyson stepped away from his family's business was to play for the B.C. Lions in the Canadian Football League from 2004 to 2009, including as a member of the 2006 Grey Cup championship team.
"I was working half-time for him during that time, when footballl season was in the offseason. Once I finished my football career at the end of 2008, I ended up working full-time for him in the business," Tyson says.
Tyson took over managing his family's gravel business and was vice-president of operations from 2008 until last year.
"I was the vice-president of operations, so I handled everything from daily production to sales and dispatching," he says. "With the knowledge I've got over the years, I've really learned all aspects of the business. I've been able to have a little bit of everything, which has given me a vast knowledge of the industry, as a whole. Right from the permitting aspect of the business all the way to getting paid for that load of gravel that gets delivered to the site… there isn't one aspect that's more important than another."
In 2019, Tyson's father decided to retire and sold the gravel business. This is when Tyson decided to join Terus Construction as aggregate resource and lands manager.
"Being a large paving contractor in the province, we have a vast need for aggregate. Without aggregate you can't make asphalt, so staying ahead of the business and making sure the guys in the field are looked after is important," he says. "Paving roads 20 years from now, are you going to have the gravel? Having those things locked is so important for this business."
Tyson says one of the most interesting aspects of being in the aggregate sector is the vital role it plays in roadbuilding.
"What really intrigues me is getting to the point that you're building the road. There are a lot of steps that it takes to get here, and later in my career, that's what has been really driving my interest in the business," he says.
In addition to his work at Terus, Tyson is the president of the British Columbia Stone, Sand & Gravel Association (BCSSGA), where he has been busy with major projects.
"One of the deliverables that I've been working hard on for the last couple of years is streamlining the five-year mine plan renewal process. It's had some unintended consequences from when it was implemented. They've lumped the policies into catering to large mines, and it has really had an adverse effect on small producers in B.C. The average number of employees of a producer in B.C. is two to six. The policies they've implemented are meant for mines with 2,000 people working in them. I've been working hard to protect small business and smaller producers," he says.
Derek Holmes, executive director of the BCSSGA, says that Tyson has been instrumental in positively shaping the aggregate industry in B.C. for a number of years.
"Going into his second term as president of the BCSSGA, Tyson has successfully solidified the ongoing relationship all producers have with the Ministry and advocated for meaningful change in policies that create a more transparent, fair and efficient regulatory permitting and compliance regime in the province. His provincial priorities are timely permit renewals, fair regulations that support the small operators in the province who make up the majority of the producers, and membership growth. He has grown the association by 30 per cent in his time as president and advocated for fair representation by including producing members from each of the five mining regions of the province on the Board of Directors and on the four association committees: safety, sustainability, membership and government relations," Derek says. "Tyson is a tireless advocate for the industry and takes every opportunity to promote and grow awareness of aggregates in B.C. with stakeholders. He has demonstrated leadership in his industry association roles and within his company's organization and continues to strengthen B.C.'s backbone industry."
---
Liam Page
Technical Applications Specialist
Haver & Boecker Niagara
St. Catharines, Ont.
The first time Liam Page walked through the doors at Haver & Boecker Niagara, he had just stepped off of a school bus. In his third year at the University of Toronto's Lassonde Mineral Engineering Program, Liam was attending the company's annual U of T Day, where students have the opportunity to learn about screening first-hand from the engineering and sales team.
"It comes down to an interest in geology, originally. My parents kept telling me you'd be really good in engineering, so I decided to try engineering with an interest in geology. Geology is interesting, there's so much variety that can be made with it. Part of the reason I wanted to go into a field with geology is that any project you work on will always be different. Because the rocks are different, you're always going to have different challenges that come up," Liam says. "If you're working with steel and you get a bad batch you send it back. You can't say that about your mine. If the rocks aren't great, you have to find a way to work around it. So, inherently, there's a lot of different problem solving that goes on."
Later, after being selected as one of two students from U of T to participate in the Canadian Mineral Processing Conference, he learned that Haver & Boecker Niagara was interested in hiring a mineral engineering student to fill their technical applications specialist position. Liam decided that this was the career path for him.
"We recognized the value in bringing on board an engineering graduate from the program. Working for an equipment manufacturer is a unique experience for him as most graduates from the program would seek employment from a mining producer," said Karen Thompson, Haver & Boecker Niagara's Canadian president.
So, Liam graduated with honours from university, packed up his things, bought a car, rented an apartment, and within a week marked his first day with the company.
"Liam brings a new, targeted engineering perspective to our well-established company, which has designed and sold machines based on a combination of field processing experience and mechanical design engineering. While our method has been successful based on hands-on experience, hiring Liam has created a best-case scenario to understand our customers' processes in depth and allows us to provide the best processing solutions possible," Karen says.
Liam communicates with processing customers regularly — often through visits to their operations — to discuss challenges. He works to increase their efficiency, productivity and overall ROI by coordinating custom solutions with Haver & Boecker Niagara engineers.
Duncan High, Haver & Boecker Niagara's process equipment technology manager and Liam's supervisor, complimented his skill set, saying that he is highly effective at analyzing information, pinpointing challenges and inefficiencies, and presenting solutions and recommendations for improvement in a clear and actionable fashion.
"Liam has helped to round out our team with his process knowledge from his education as well as his on the job training through tackling various requests. He's been a tremendous asset to our team," Duncan says.
---
Matt Bertram
Project Engineer
Skelton Brumwell & Associates Inc.
Barrie, Ont.
Matt Bertram grew up in a family immersed within the construction sector. His great grandfather owned a construction company in the Barrie, Ont. area in the 1930s, which he ran with his brothers. They started with a bulldozer and a backhoe and slowly grew from there to build a general contracting firm. Matt's father worked there as well, which gave Matt the opportunity to experience the sector from a very young age.
"We had Tonka trucks at home and the real things in the pit," Matt recalls. "I had summer jobs working construction, and in the pits, helping out with the rehab of a pit and the redevelopment of it once its finished. At the same time, I was in school for engineering working with Skelton, Brumwell & Associates Inc."
At first, Matt spent most of his time at SBA doing municipal design work at the firm, but his interest in pit and quarry work was still very much alive, so he jumped on opportunities to do pit and quarry work whenever the opportunity was available. A few years ago, he requested to change departments at SBA so he could work on quarries and pits on a regular basis.
"I still do a little municipal design work, but 70 to 80 per cent of my work is in pits and quarries," he says. "I feel like I've come full circle. I kind of shied away from it when I was doing municipal engineering work, but then when I got into more and more aggregate work, it felt like what I should have been doing."
Matt celebrated 10 years with SBA this year and is always happy to spend his time sharing his experiences with his more junior colleagues.
"Matt is a role model to me. He began his career in engineering for site grading and site servicing, but developed a passion for the aggregate industry and has since jumped in with both feet. He is an inspiring example of taking initiative for your career, following your passions, and having the courage to learn new skills," says Kristen Hinde, project engineer for SBA. "Matt is dedicated to his work and his clients, but I believe he should be most recognized for his capacity to mentor junior staff. Matt is the type of person who will go out of his way in devoting time to help others to learn. He is honest and candid, patient, and willing to share his expertise. He has a genuine desire for others to benefit from the knowledge he's gained over his career. Matt's willingness to teach was evident when he presented on aggregate licensing at the Aggregates 101 training course with the Ontario Stone Sand and Gravel Association (OSSGA) in fall of 2019. And as a more junior engineer with SBA, I can testify that his guidance has led me to where I am today. The importance Matt places on mentorship shows his dedication to the future of this industry."
Matt is actively involved with the Ontario Stone, Sand and Gravel Association (OSSGA) and is a member of the Environment Committee.
"As a result, he is aware of changes to environmental regulations and the impacts to aggregate operations. He is a source of knowledge for clients and staff of our company," Kristen says.
Matt's favourite aspect of working in pits and quarries is that every site is different.
"They all have their own unique landscapes and challenges. What you do with someone in Eastern Ontario is different than what you do in Southern Ontario. I really love the unique nature of that," he says. "I'm like a big kid every time I go out. I think I've really found my niche."
---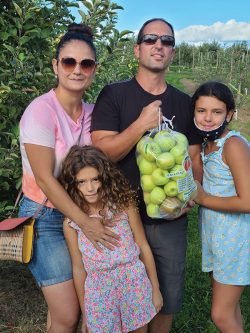 John Divizio
General Manager
Recon Aggregates
Concord, Ont.
When John was offered the opportunity to make the jump from regional sales in the waste disposal sector to overseeing a new mobile crushing and screening services company servicing Southern Ontario, he was unsure at first.
"It got a word of mouth referral and I was pitched the idea. I was hesitant at the time, but then I decided to dive right into it and take the company from the ground level," John says. "I really had to come in and look at things with a wide lens and see what the next three to five years were going to look like."
Since John accepted Recon Aggregates' offer in July 2019, he has taken the company by the reigns and pushed hard to showcase its services in the extremely competitive region.
John's results in such a short time have been impressive.
"John has turned this company around since his arrival," says Teresa Nicolo, office manager for Recon Aggregates. "He's grown the customer base from two clients to 10 in just over 18 months. Gross sales have tripled. He has restructured the company and revamped its equipment as well as our supplier base. We now have a strong network of supplier partners. No one knew who we were two years ago. Now, we crush for the largest players in the market. Our customers and employees love him."
In addition to exponential increases in clients and revenue, the company has also purchased a new property in Schomburg, Ont., where they will set up a new office as well as accept aggregates to crush and re-sell as recycled materials. The new office is expected to open in spring 2021.
"We've grown very quickly. Never a dull moment for sure, which has been exciting," John says.
"I've been given the freedom to go out there and go at it. Be aggressive, take calculated risks and drive this company forward," John says. "From soliciting new business to managing current clientele, to training, every day brings something different, which I really like. If I was tied to a desk every day, I probably wouldn't like what I do… it makes waking up at four in the morning a little easier."
The COVID-19 coronavirus pandemic has created new challenges for John and his team, which has required them to be extremely flexible.
"It's been an unpredictable season with some customers having yards shut down, changing the schedule. Normally, we have the year booked in quarters, but now we're almost week to week," he says. "People are struggling because they're closing yards, then opening yards and there's a mad scramble. No forecasting is happening. It's been so hard to get any sort of normalcy, so there's a bit of a juggling act in that sense."
While the smooth development of Recon Aggregates' new property is one of John's current goals, improving workplace safety isn't far behind.
"I think the next short-term goal is CORE certification in the next 12 to 18 months," he says. "We really want to be the gold standard in crushing and screening in Ontario. It's one of those boxes I'd like to check for sure."
John offered a humble response while accepting the Top 10 Under 40 award, saying that it is the result of a great overall team effort.
"I think it's just a testament of the company. You get pegged as the individual nominated but it comes from the top down, from the ownership to the guys with the boots on the ground," he says. "It really wasn't achievable without the individuals within the organization and our partners – Team Float Service, Powerscreen of Canada, Toromont CAT and Luma Lube – they were really critical to our success. There were some tough times that without these strong partnerships, it just wouldn't have been possible."
---
Joe Nolan
Co-owner/operator
Premier Concrete/Parlan Precast
Seaforth, Ont.
For some people, the entrepreneurial spirit is alive and well from a young age. One of those people is Joe Nolan, co-owner of Premier Concrete.
In 1996, at the young age of 16, Joe Nolan set his mind on becoming his own boss. After time spent working as an employee in the construction business, his determination lead to the start of his own concrete construction company. Joining forces with his cousin, Jeff Partridge, the two of them decided this would benefit them both and they set forth on the road to becoming young entrepreneurs and they named the newly formed company Premier Concrete.
"With no money in their pockets, they drove Partridge's Buick Regal loaded with wheelbarrows and tools in the trunk from job site to job site. Driveway and sidewalk construction for family members and close friends who trusted their ability and wanting to support them in their endeavors was the start of their success. During the early days of the newly formed company, things were a challenge and some days calling it quits would have been an easy way to go, but never giving up was the test that Joe was aiming for an A+ in," says Lynn
McClure, office manager for Premier Concrete.
A few years later when things were going well, and wanting to continue growth for their business, they decided to incorporate the company. Bridge work was the next step in their goals for expansion, but getting bonded was proving to be difficult. After being turned down by many bonding companies they finally were able to successfully get bonded.
"We kept at it to get three years," Joe says. "Then three years later, with reference letters coming in, that's how we got into it. I was 16 when we started it in the first summer, then at 18, we did our first incorporated financial statements to the government."
Things started out by getting small municipal contracts for bridge work. Within a few years, they were building multi-span, million-dollar bridges.
"Challenges arose in the industry for pre-stressed girders. Having to wait six weeks for girders for a job in Grey County lead them to realize the need in the industry for them. So, the question arose to them, why not manufacture their own prestressed girders?" Lynn says.
The process of obtaining CSA approval began. Realizing they were up against something they were not familiar with and looking for guidance, they were introduced to a former CSA inspector who recently moved to the area. He was more than happy to share his knowledge and guide Joe and Jeff through this new endeavor. And so, Parlan Precast (Partridge Nolan) was formed.
Premier Concrete Inc. still operates as a bridge contractor and all profits from this company supported the newly formed Parlan Precast. Starting out producing for their own use, orders began to come in from other contractors. Parlan Precast continues to reinvest and upgrade to continue to comply with the changes in CSA and OPS.
This fall, Parlan Precast will begin the construction of a new 30,000-sq.-ft. facility that will house the casting to curing process to comply with required specifications.
Nolan and Partridge own and operate Premier Concrete Inc. and Parlan Precast. They are both very involved in the day-to-day activities of the two companies. In the 20 plus years in business and over 20 employees, no concrete has ever been poured without one of them on-site to guide and work alongside their employees.
"Nolan's determination, hard work and never give up attitude, has led him to the successful businessman he has become today," Lynn says.
---
Arun Wadhawa
Operations Manager, Asphalt,
Pave & Construction Lafarge Canada
West Kelowna, B.C.
Arun Wadhawa has always had a passion for function and design. Those interests drove him to pursue an education in civil engineering. After graduating with a diploma in civil engineering from the British Columbia Institute of Technology, Arun moved from his hometown of Abbotsford, B.C. to Ontario, and obtained a bachelor's degree in civil engineering at Lakehead University. During his time in school, Arun was able to obtain a work term with Lafarge Canada in the company's ready-mix quality control division. This experience turned into his first full-time position with the company as a quality assurance/lab technologist.
Arun's first major project with the company was working on the Port Mann/Highway 1 Improvement Project, which ran from 2010 to 2012.
"I helped build that bridge and fell in love with the industry," he says. "Building materials is where I found my niche, my passion."
Over a summer early in his career, Arun had the opportunity to work in a mine, and fell in love with mining and road construction.
"I ended up realizing I wanted to specialize in mining, and got my master's degree in mining and mineral engineering at Queen's University. I then moved to Calgary for mine planning working for Lafarge Canada. Then the opportunity came up to manage a production operation in Kelowna and I fell in love again," Arun says. "I've been with Lafarge since I was 20, it's been a decade now."
Over the past decade, Arun has had the opportunity to work in multiple provinces in both engineering and operations for Lafarge Canada. Notable projects include: the asphalt resurfacing of the William R. Bennett Bridge (2019); Kelowna Lincoln – Ford Grade Construction and Asphalt Resurfacing project (2019); Orchard Park Mall asphalt resurfacing (2019); mine permitting, planning, reclamation, and expansion projects across B.C., Alberta and Saskatchewan in multiple locations (2015 to 2018); and the Port Mann/Highway 1 Improvement Project.
"Each of these notable projects represents a significant milestone in his career with increasing responsibility," says Jessica Ritchie, human resources coordinator for Lafarge Canada. "He delivers his projects on time and on budget. To Arun, there is nothing more important than leading safe operations. He has also been a part of the complete mine life cycle permitting new and existing aggregate properties, mine design activities, such as leading exploration campaigns and analyzing/quantifying aggregate reserves, mitigation of environmental issues, land use conflicts and reclamation certificate applications."
Arun is currently working his first year as operations manager for Westlake Paving and Aggregates, a division of Lafarge Canada Inc. He oversees an asphalt plant that services various segments such as municipal, industrial, and commercial projects. He is also completing a postgraduate certificate in quarry management and operations through the University of Leicester to further refine his operational and managerial fundamentals for the profitable and responsible production of quality aggregates.
Arun really enjoys the challenges that the industry throws his way.
"It's a very dynamic industry," he says. "Whether it's the weather, the intricacies of the job we're working on at the time, unscheduled downtime we have at the plant, people calling in sick, the daily challenges of the job make every day a little bit different. It keeps you on your toes."
Arun's future long-term goals include continuing to climb the corporate ladder.
"Without question in five years, I think I'll be a general manager," he says. "After that, my goal will be to add value to whatever business I'm running. Hopefully 15 years from this point forward, I'll be a vice-president somewhere, and then the sky's the limit."
---
Jeevan Wadhawa
Quarry Manager
Lafarge Canada
Vancouver, B.C.
Jeevan Wadhawa was introduced to the aggregate industry while studying at the British Columbia Institute of Technology, where he obtained a bachelor's degree of business administration and a diploma in operations management.
"Lafarge had actually done an industry project with our operations management program. As students, we were asked to solve a problem and present our findings to our professor and Lafarge, and that's how my interest started in the industry," Jeevan says. "They were reconfiguring one of their depots and looking to optimize different products in the yard to produce savings for offloading and loading. It led me to pursue trying to find a job with Lafarge."
At the time, Lafarge Canada did not have any employment opportunities that matched what Jeevan was looking for, but he relentlessly pursued a position with the company until they created an opportunity for him to join.
"The CEO still bugs me about it," Jeevan laughs. "There were no jobs at the time when I applied, so I badgered them five or six times to give me an opportunity. They created a job to give me an opportunity because of my persistence."
Jeevan started out as a quality manager and fill site manager with Lafarge Canada in 2010, then became an assistant plant manager at the company's Pitt Meadows Pitt River Quarries, before being promoted to a plant manager and supervisor for the company in Abbotsford, B.C. He is currently the mine manager and plant manager for central aggregates in Abbotsford, B.C. and quarry manager and plant manager for the company's Pitt River Quarries.
"Jeevan is proud of a project that supports the concept of a circular economy," says Jessica Ritchie, human resources coordinator for Lafarge Canada. "By ensuring that items that may enter the waste stream are redirected, repurposed and given a new life within our plant, Lafarge supports the sustainable growth of the Greater Vancouver Area."
One of Jeevan's biggest successes to date was putting together a business plan to grow the recycled aggregates product line after studying the internal and external market. This plan included entering into the field of custom crushing, on site crushing services, as well as servicing Lafarge Canada's core business needs focusing on recycled products.
"This initiative resulted in the financial turnaround of this product line from a loss in 2018 to delivering a healthy profit in 2019," Jessica says. "The results demonstrate that financial performance and environmental concern can coexist and result in economic and environmental success."
Jeevan says that one of his strongest character traits that help him succeed in this business is the same attribute that got him his position with Lafarge Canada, his persistence.
"Einstein said, 'It's not that I'm so smart, I just stay with problem longer.' That quote still stays with me," he says.
---
Holly Shurey
Plant Manager, Central Aggregates
Lafarge Canada
Vancouver, B.C.
For Holly Shurey, being stuck indoors all day just wasn't for her. After working a short stint as a medical office assistant (MOA) after graduating from high school, she quickly realized that a typical office job did not suit her.
"I wanted to work in construction or with heavy equipment," Holly says. To get into the industry, she left her position as an MOA and started out with a temp agency working as a general labourer on a construction site for Lafarge Canada.
"I jumped in and soaked up all the information I could, and kept learning more and more," Holly says. "I was working on the ground as a labourer and quality control and worked my way up from the bottom. I showed my initiative and worked hard, and an opportunity came up as a superintendent. I ended up getting the role and was a superintendent for over a year."
While working as a superintendent, a mine manager position opened up within Lafarge Canada. Holly jumped on the opportunity to apply immediately.
"I fought for the job and have been a mine manager for a year," she says.
Holly thanks her family for much of her success to date.
"My grandfather and my father have always worked in the construction industry. My father worked in the aggregate industry. They've always inspired me and supported my goals. If it wasn't for my family, I don't think I would have been as likely to take those risks. Watching my father and my grandfather succeed in this industry, and similar industries, was an inspiration for me."
Holly currently oversees a wash and crush plant that supplies 13 different ready-mix plants. She has completed some significant projects during her time with the company.
"Holly worked with cross product lines and used her QC background to maximize output of a high demand product and minimize waste," says Jessica Ritchie, human resources coordinator for Lafarge Canada, adding that the project resulted in substantial cost savings and maximized profit. "It helped extend our sand and gravel reserves."
Holly says she has already taken steps towards her next long-term goal with the company.
"My long-term goal is to utilize and repurpose the waste material to expand our financial gains and create a market for niche materials working with our sales department," she says. "It's just about thinking outside the box."
Holly enjoys lending her time to other young professionals to help develop and mentor future leaders and personnel to their maximum potential.
"The thing I love most about my management role is leading people and developing people, helping them succeed. I find a lot of fulfillment in that," she says. "I hope that I can be proof for other young women that it is possible to start from the ground up as a woman and make your way up in this industry. All it takes is a little hard work and dedication."
---
This article appeared in the November/December 2020 issue of Rock to Road.
Ed. note: Apply for this year's Top 10 Under 40 contest here!
---
Print this page