Features Profiles
Celebrating future leaders: Rock to Road's Top 10 Under 40
Rock to Road's Top 10 Under 40
December 4, 2019 By Rock to Road
Welcome back for another edition of Rock to Road's Top 10 Under 40!
Every year we highlight some of the emerging stars from the roadbuilding and aggregates industries from companies big and small, and this year is no exception. From one-man shows to key players in global powerhouses, this year's list showcases people succeeding in a variety of careers and ventures.
Congratulations to all of this year's winners!
---
Anthony Aantjes
Owner
Anthony's Excavating Central Inc.
Wellandport, Ont.
Anthony Aantjes has always had an entrepreneurial spirit. Well before becoming the owner of Anthony's Excavating Central Inc., Anthony was operating heavy equipment. At 14 years old, he rented his first piece of equipment, a mini-excavator, from his parents to work on their dairy farm in Wellandport, Ont. After that he never looked back.
"At 14 I'd saved $10,000 catching turkeys to put on trailers and working in the killing house," Anthony recalls. "I asked Dad, 'If I buy an old backhoe, would you pay me $8 and hour instead of the $15 per hour from a rental yard?'"
His father agreed and Anthony owned his first piece of heavy equipment.
"Most of the work I got was for snow removal," he says.
Anthony was just getting started in the world of small businesses.
When he was 20 years old he started up Anthony's Excavating Central Inc., which has grown over the past 16 years to having 20 full-time employees all working within the excavation business.
The company's main area of expertise is the excavation of drainage systems in agricultural, residential and industrial applications.
"Anything to do with water is kind of our forte," Anthony says.
The company has also performed excavation work for a large number of demolitions and foundations projects, as well as road cuts, site servicing for subdivisions, shoreline protection, road construction, fine grading and much more.
About five years ago, Anthony expanded his operations and started Ontario AGRA, a Niagara-based landscape materials, piping and plastic tank supplier.
And just over two years ago, Anthony opened up KOR Rentals in Wellandport, an equipment rental house servicing the construction sector that offers full-sized excavators, mini-excavators, skid steers, haul trucks, backhoes and other types of heavy equipment used across the
construction industry.
Anthony points to his humble upbringing as the main reason for his current success.
"When I grew up on the farm you didn't get handouts," he says, adding that his parents were always fair, open and honest with him. "It helps build character and teaches you to work hard."
---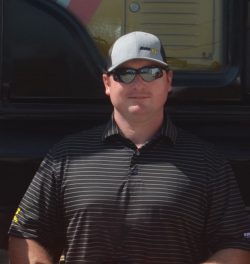 Cory Brekelmans
President
Bre-X Construction Inc.
London, Ont.
Cory Brekelmans has taken the team philosophy he learned on the ice playing hockey over the years and applied it to his off-ice role as the president of Bre-X Construction Inc.
Since Cory and his two younger brothers, Chris and Curtis, purchased the company from their father Gerald in 2013, the company has grown significantly. Cory says that teamwork is the reason for the company's success.
"We've got a lot of good, experienced people over the years. The people we've surrounded ourselves with have been very helpful. We come from a hockey background and teamwork makes a big difference," Cory says. "Having a crew is similar to having one line in hockey… we have a lot of family values and work hard, and we strive to influence them using our education after so many years of playing on a team."
Cory manages the company's fleet and the staff of about 100 people, while helping oversee the vision of Bre-X Construction with his brothers.
Although Cory made it to the OHL (Ontario Hockey League), he isn't the only member of the Brekelmans to play competitive hockey. His brother Chris played NCAA Division 1, while Curtis was the captain of his Division B team.
"We've always been competitive amongst each other, and we use that competitiveness against our competitors now," Cory says, who adds that his brothers both play vital roles within the company. "A huge part of my success is my two brothers. They're the brains, I just get the work done… Chris and Curtis are very smart people. I'm able to do my job because they take a heavy burden off of me."
The company has been a family affair since Gerry Brekelmans started it up in 1964. Family values are something Cory and his brothers still promote at the company 55 years later.
"It's been busy, but its been a lot of fun, too," Cory says. "We have our own Christmas party, our own kids party, we do stuff with the alumni that's retired… we've had a lot of good people over the years at Bre-X and can't stress how valuable that's been."
Cory says his favourite thing about working at his family's company has definitely been the people.
"I really enjoy working with our group. We have a lot of dedicated employees with strong work ethics," he says. "I know their kids, who their grandkids are, it's been fun to have that network. We pride ourselves on our quality work, and a lot of that we can attribute to the people we have."
When it comes to the people Cory is thankful to have by his side, there's nobody he thanks more for his success than his parents.
"I want to say thank you to my father and my mother. They're a huge part of our success as a family, to me, Chris and Curits," he says. "The values they instilled to us at a young age. My father, I don't know anyone else who works that hard. My father doesn't come into daily operations anymore but he's still the first guy here when we've had an issue. My mother has been hugely supportive. I can't stress how big of an impact they've had on our success… the perseverance part of it, the positive thinking; we can attribute that a lot to our mother and father. They deserve a lot of credit, they were a huge impact on us."
---
Shannon Ladewig
General Manager, GVA RMX
Lafarge Canada, Inc.
Surrey, British Columbia
Shannon Ladewig joined the Holcim side of LafargeHolcim back in 2003 in his home country of Australia. He started there through a graduate program and
really enjoyed the experience.
"You work hands-on with the business for about two years, operating the plant and the equipment, driving dump trucks, loading equipment… it really appealed to me after university," he says. "I didn't
really want an office job my whole life."
Shannon is currently into his second year working in Canada, joining Lafarge Canada's operations as general manager for the Greater Vancouver Region. He is currently overseeing sales, commercial, safety, manufacturing operations, and distribution functions, for approximately one million cubic metres of concrete and associated services, utilizing about two million tonnes of aggregates annually through ready-mix production to service numerous segments, including infrastructure and road construction.
"With responsibility of 10 site operations employing 186 employees, Shannon's leadership is critical to Lafarge's success in the region," says Lafarge Canada human resources manager Annette Kayes. "Having been involved in the construction materials business for 16 years with Lafarge, Shannon has a strong aggregates background, with both line management and major project management experience. This aggregates experience, combined with developing expertise in the downstream ready-mix business has allowed Shannon to prosper and become a highly capable and recognized talent within the construction materials community."
Beyond his existing role, Shannon is currently a key member of the Lafarge Circular Economy project team, working to develop innovative uses for reclaimed aggregate derived from waste concrete and materials in the Greater Vancouver market.
Shannon's commitment to community and helping others was exemplified when he put his career temporarily on hold, leaving his role and taking four months of unpaid leave to undertake a mission with Global Vision International. Shannon worked and taught construction and education in underprivileged communities in remote parts of Peru and Ecuador.
Shannon says the business is going to continue to grow, and if there are mergers and acquisitions, he would like to be part of that growth story, as well as get deeper into strategy-specific roles.
"I don't necessarily have a defined way on how I would contribute to that," he says. "The opportunities will come if I'm delivering results."
---
Steve Lafontaine
SL Excavation Inc.
Owner/Operator
Almonte, Ontario
Although SL Excavation Inc. is new to the construction scene, starting up in March 2019, its owner Steve Lafontaine is an industry veteran who already has decades of experience under his belt.
A native of the Maniwaki, Que. area, Lafontaine got his first taste of operating heavy equipment while working for his father in the summertime at the early age of 12 years old, moving up to working at a heavy equipment repair shop at 14 years of age. When he was 17, Steve jumped on an opportunity to operate some heavy equipment in Quebec's forestry sector, working a night shift as a log loader operator. Not long after taking this position, he acquired his AZ truck license so he could expand his skill set, and haul sand and gravel for the logging roads.
A short while later, Lafontaine was asked by a friend (also working as a log loader operator) if he could drive up to northern Ontario and cover his shift for two weeks while the friend visited family. A couple weeks turned into four years.
Despite enjoying his time in forestry, Steve really wanted to try his hand in the construction sector, and relocated to
Ottawa to operate heavy equipment for a local contractor. He stayed there for 10 years, working his way up to the position of foreman, overseeing multiple projects
simultaneously while also operating excavators, backhoes and dozers.
After leaving that company, Steve went on to work on the high-profile Ottawa LRT project as the general superintendent for three years until the project's completion. Afterwards, uninterested in relocating again, Steve joined a local division of Ledcor and worked as a project superintendent overseeing a variety of infrastructure work.
He left Ledcor to start up SL Excavation Inc. this past March and he's been busy ever since, working as a contractor for the
Tomlinson Group of Companies.
"Steve has spent his whole life learning and mastering his skills as an operator, among many other skills he humbly has," says Cynthia Mathews, Lafontaine's long-time partner. "From a very young age, he knew what he wanted to do in life and he worked hard at getting there. From logging to construction, he always gave it his best, and being a heavy equipment operator has always been his passion. He soon found himself running the show, rather than the equipment. You'd think being superintendent at a couple big gigs here in Ottawa would have topped it all off, but Steve decided to go back to his humble beginnings and live his real dream. Operating his excavator and sharing his expertise while running his own business is how he spends his time now, and he loves it."
---
Tyson Mackay
Orca Sand & Gravel
Mine Manager
Port McNeill, British Columbia
For Tyson Mackay, there's nothing more important than keeping his operation running as safely as possible. As the mine manager for Orca Sand & Gravel in Port McNeill, B.C., he is responsible for the site's 1,200 TPH plant, permitted for up to six million metric tonnes per year.
After working with Polaris as a contractor during the construction of the quarry, Tyson transitioned to full-time employment with Orca Sand & Gravel in 2012. He started on the ground before a promotion becoming the safety and loss prevention manager.
"Under his leadership, Orca has achieved record safety and production levels," says Mike McDonald, manager of technical services at Orca Sand & Gravel. "The last lost-time incident was September 2015 – nearly 1,500 days ago – and the company has earned seven Stewart O'Brien Awards in 12 years of operation. In the past year, Orca added a third shift of about 20 new employees. Tyson's guidance and unwavering commitment to safety ensured that these folks were integrated without incident. Further, through the past two years, Orca has set surpassed internal monthly and annual production records – exceeding the previous annual production total by 50 per cent."
Mike says that Tyson has worked tirelessly to build and maintain a high level of first aid and mine rescue capabilities on the site. Until recently, he sat on the B.C. Safety Coordinators and Mine Rescue Committee.
"In 2017, as captain of the mine rescue team, he led the three-person first-aid team to a second-place finish in the regional competition, which resulted in Orca's first appearance in the B.C. Provincial Competition," he says. "That year also saw him receive a Chief Inspector's Award for his role, along with the Orca Mine Rescue team, as a responder to the Woss train derailment. Going forward, Tyson will continue to lead a dynamic management team at the Orca Quarry as it grows to meet production and sales demand while being recognized as a leader in safety and environmental stewardship."
For Tyson, safety is a matter he takes very personally.
"Seeing people hurt, seeing people not get to go home at the end of the day, and the aftermath, that's really tough. Unfortunately I've had some experience with it," Tyson says. "I don't want anybody to come to work and not be able to leave the work the way they came in. I take it personally."
Not surprisingly, Tyson's favourite part of the job is the people he has built
relationships with over his time at the company.
"I really enjoy the camaraderie," he says. "I enjoy the mining industry in B.C., and all the people involved."
Despite his company's impressive safety record, Tyson says there's always room for improvement.
"It's always got to be made better. You're always looking for ways to improve it," he says, adding that people saying getting hurt is just part of the job doesn't fly with him. "I don't accept that. I don't think those risks are necessary. There are cost-effective ways to make sure those people are safe… we have to believe that getting to those zeros is what we need to do at the end of the day."
---
Spencer Russell
National Technical Lead
ELRUS
Calgary, Alberta
Being the grandson of ELRUS founder Roland Russell makes being the national technical lead for the company a family affair. Although Spencer began working for the company when it opened its Saskatoon branch in 2013, he was introduced to the business at a far earlier age.
"Essentially growing up, I would spend every Saturday and Sunday with my grandfather," Spencer recalls. "His idea of the weekend was being at the office. I was introduced and surrounded by our equipment at a very young age. It was always kind of in my blood through family, but it was introduced to me and sparked in me right out of the gate. It was a no-brainer."
ELRUS CEO Carollyne Coulson recalls Spencer spending endless hours with his grandfather around the company's shops and touring western Canada with him, going to conventions and customer sites.
"Spencer started working summer jobs focused on equipment environments about the age of 14," Carollyne says. "This focused area of interest continued throughout school and his first job out of high school was working for Russell
Redi-Mix, one of Canada's premier contractors, where he got first-hand exposure to the challenges of the Canadian crushing environment. He started with ELRUS in our Saskatoon branch when it opened in 2013, under the mentorship of Jared Medlang, assisted by ELRUS' most experienced mechanical guru, Brent Martens. Between Roland, Brent and Jared, Spencer has been mentored by real industry pros and he soaked it up, blending this into his natural curiosity and eye for all things mechanical."
Spencer has gone on and became the first person to be factory trained by Sandvik in Sweden with the new certification standards.
He has been a key person and technical lead on some key projects for ELRUS, including most recently, the installation of three Sandvik CH660 500-hp cone crushers at the Martin Marietta installation in Wyoming, along with many other installations across Canada and the
United States.
Spencer's favourite aspects of the business are the opportunity to take things apart and solve problems, while creating great relationships with people in the
industry.
"I've got a lot of close friends out of it," he says.
Carollyne says his big energy, enthusiasm and genuine impulse to be of service to ELRUS' customers, combined with his curiosity and mechanical savvy, bring a big contribution to the ELRUS team.
"Currently stationed in Calgary with the mechanical and technical services team, Spencer brings a well-rounded expertise and experience well beyond his years and balanced perspective to solving problems for our customers – including forays into product development, effective field service process solutions, and mechanical that is well needed in our industry," she says.
---
Matthew Sisson
Chief Operations Officer/Partner
The B-Town Group
Fenelon Falls/Orillia, Ontario
The B-Town Group is a family-operated company that specializes in limestone crushing and dimensional landscape stone from its five quarry locations. From the beginning, Matt Sisson has had a unique ability to complete tasks others found difficult to do.
"Matt never returned a request without completing it," says Bill Sisson, founder of the B-Town Group.
Although he started his career at the company as an operator and a driver in 2008, Matt has been operating equipment since he was 13 years old.
"I got into forestry when I was a teen and my old man had a trucking company," Matt recalls. "His main diet of work was trucking dimensional limestone, so he decided he was going to take on a small project where he was going to produce his own stone and I came on with him."
The B-Town Group company has grown quickly over the past 11 years, going from a three-man operation to 35 employees. And as the company has grown, so have Matt's responsibilities. As his career began to develop, Matt took on more of the company's day-to-day operations, and is now the chief operations officer.
"Always leading the way from work ethic to dedication, it became clear the employees looked at him as a leader," Bill says. "Early in 2017 he recognized the need for the employees to be trained in a more timely matter, and took it upon himself to become a NORCAT certified trainer. During the 2018 season, he began a service program that would not only track the services and intervals but also formulate costing and downtime for each unit. As the 2018 season continued to progress he was also responsible for the acquisition of an Xcentric Ripper, which proved to be a game changer in his production of high quality crusher feed and leaving the dimensional material hidden below unscathed and ready for extraction for number 1 dimensional material. In a time when our industry depends on the next generations to come through, Matt exhibits all the qualities to succeed."
Matt's favourite things about working in his role as COO are being able to create stable positions for his employees, and keeping a family atmosphere at the company.
"I enjoy a guy understanding the importance of keeping a machine productive… I've built my crew from scouting internally, helps me promote people by watching how they work," he says, adding that employees' attitudes will always be reflected in a company's products and operations.
When it comes to future goals at the company, Matt's focus is all about optimization.
"My plan is to continue on the path I've been on, which is refining and finding efficiencies, and training good
people," he says.
---
Stephanie Voysey
Manager, Environment and Public Affairs, B.C.
Lafarge Canada Inc.
Coquitlam, British Columbia
Stephanie has been with Lafarge Canada Inc. for approximately 12 years. Prior to moving into her current role of manager, environment and public affairs B.C., she had previously worked in the capacity of a process engineer in the company's cement plant in Richmond, B.C. While working as a process engineer, she developed a strong sense of protecting the environment and moved into the role of environment coordinator for the cement plant.
"I had worked for five years to get it more efficient, so I knew exactly how it was polluting, so I was a good fit," Stephanie says. "Eventually it became a regional role. I got to know some of our other divisions as well."
Lafarge Canada human resources manager Annette Kayes says that Stephanie has a strong sense of understanding when it comes to combining sustainability and operational goals.
"Stephanie has led several past projects and initiatives that have had positive results for Lafarge Canada Inc.," Annette says. "Such projects were: increasing alternative fuel substitution into cement kilns to decrease greenhouse gas footprints; and the Environmental Management Act for permitting (air and water) for multiple Lafarge Canada Inc. sites. With respect to the permitting initiative, this permits Lafarge Canada Inc. to operate, and authorizes emissions into the atmosphere while ensuring that we are fully compliant with regulations and rules. "
Annette adds that Stephanie is currently working on the project titled, "Environmental Product Declaration for all Asphalt Products in the Greater Vancouver Area."
"The main highlight of this project is recycled materials, circular economy highlight, and updated fill-site acceptances by ensuring that procedures are compliant and acceptable under the ministry's land site standards," Annette explains. "In addition to this initiative, Stephanie is also involved in reclaiming industrial lands and returning those industrial lands to the agricultural land reserves by following the strict guidelines of the government in
reclaiming industrial lands."
Stephanie and her team are responsible for Lafarge Canada's operations throughout the entire province of British Columbia, as well as some sites in the U.S.
Her favourite thing about her role at Lafarge Canada is that there is never a
boring day.
"With over 80 sites in B.C., Oregon and Washington, there's always a site that needs some attention," Stephanie says.
When she's at home with her family, Stephanie still tries her best to keep her environmental impact as small as possible. She knits most of her own sweaters, owns an electric car, doesn't buy single-use plastic bags, brings her own coffee mug from home, and even brings Tupperware to take home leftovers when she goes out to eat.
When it comes to her interests, they're impressively varied.
"I like curling, I have a motorcycle, I know how to shoot a gun and I'm a
passionate knitter. My interests are broad."
---
Geoff Wheeliker
Business Development Manager
Machinery Supply
Airdrie, Alberta
Like many of his colleagues, Geoff Wheeliker got his introduction into the world of aggregates through a family member. In 2012, his uncle Brent convinced Geoff to leave his current sales role, selling recreational vehicles in Red Deer, and move to the Calgary area to try his hand in the aggregates industry.
"It took some thought because it was a pretty big jump," Geoff recalls. "My uncle Brent worked in the industry since 1990, so he was a pretty big sounding board and inspiration in my career. He's no longer with us, but he was a pretty big deal for me. He was very well respected in the industry."
While working with his first employer in the aggregates sector, Geoff took on a variety of roles where grew his knowledge of the industry.
"I rolled up my sleeves and grew into the position I have today," he says.
As the business development manager for Machinery Supply, Geoff has continued to grow by learning every facet of the business from sales and parts to technical sales support.
"Machinery Supply gave me the
opportunity to grow," he says. "Everyone there loves what they do, and that's tricky to find, that passion in a challenging and dynamic industry… it was a great move for me."
Geoff really enjoys immersing himself in the dynamic and challenging aggregates industry.
"Literally, there's no two days that are the same," he says. "One of the things I really like is the challenges that customers lay in front of you…. I like to help them out and find a solution that works for them."
Meeting the people within the industry is one of Geoff's favourite aspects of his role.
"The industry is full of really smart people who have been doing this a long time," he says. "Being a sales guy, service guy, parts guy, you get to build long-term relationships with these people."
His long-term goal is to continue growing Machinery Supply's customer base and to keep building up strong relationships in the industry.
"At the end of the day, taking care of your customers takes you to great places," he says. "I like keeping the customers happy and working with them any way that we can."
In his spare time, Geoff likes to spend his days with his wife and three-year-old, visiting the grandparents and going camping as a family. Geoff and his wife also enjoy volunteering within their community, whenever possible. Geoff really enjoys planning out fun activities through his local homeowner association.
"I love our community and volunteering," he says. "It's cool to see everyone enjoying what you've done. It's a lot of fun."
---
Rueben Wohlgemuth
President
South Mountain Enterprises Inc.
Pine River, Manitoba
What do you do for employment when you live in a town of just over 100 people in rural Manitoba? Well, if you're Rueben Wohlgemuth, you run your own business.
Rueben is president of South Mountain Enterprises. When a contractor he had been working for as a grader operator several years ago decided he wanted to sell his contract to service and maintain roads in Mountain, Man., a municipality located more than 400 kilometres northwest of Winnipeg, Wohlgemuth jumped at the opportunity to go into business for himself.
The experienced heavy equipment operator purchased his own excavator, motor grader, backhoe loader and gravel hauling trucks; and now his company currently services the Municipality of Mountain.
Along with three full-time employees, and a few part-time staff and an office
administration staff member, Rueben offers a wide variety of services including land levelling, driveway construction and repairs, private road construction and maintenance, drainage ditches, snow removal, yard maintenance and landscaping services, tree and stump removal, septic system installations, and basement excavations.
Operating out of his office in Pine River, Man., where Rueben lives with his wife and five children, he no longer has to leave home for long stretches to work remotely. Something he and his family appreciate.
"Balancing family life and business is a busy life," he says, adding that he plans on building a seperate office outside of his home to accommodate his ever-increasing workload. "I have a couple of tenders out there, they're getting bigger and bigger. Things are constantly changing, never sitting still. I enjoy it."
---
Print this page