Getting the data you need
December 3, 2018 By Andrew Snook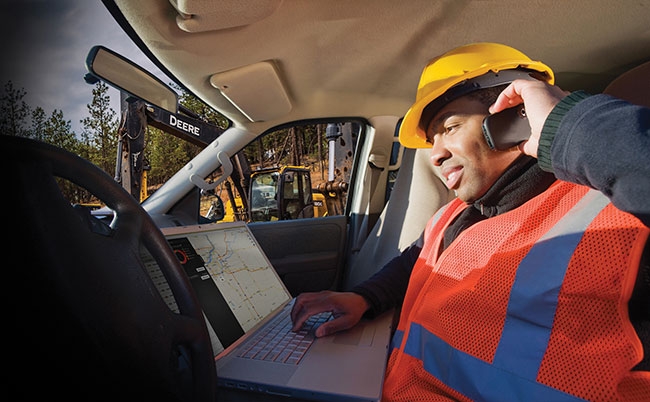 When telematics solutions were first introduced, fleet managers and owners were excited at all the possibilities to optimize their operations that the data they received from their fleets offered them.
But in recent years many fleet owners and operators have grown out of love with some aspects of telematics. This is due to the amount time they've had to dedicate to staff members filtering through the almost infinite amount data available, to find the information they require to run their operations more efficiently. This is a fair complaint, of course, since the main advantage of telematics systems is supposed to be that they will save operations time and money. Several equipment manufacturers have recognized this issue and having been releasing solutions to counter this issue.
At John Deere, for example, the company's WorkSight system removes the noise from the incoming data so the user can focus on the data they need to run their operations smoothly without having to dedicate staff to data crunching.
"WorkSight is delivering value to customers from telematics using a two-pronged approach," explains Paul Garcia, product manager for John Deere WorkSight. "First, we are transitioning the user interface from our JDLink legacy website to the JDLink Dashboard. The JDLink Dashboard is insights focused, for example, the dashboard tiles show machines listed with the highest idle time, machines with low fuel levels or those over- or underutilized in the past seven days. This helps fleet managers find machines that might need attention. "Second, our corporate Machine Health Monitoring Center reviews the health of connected John Deere machines. When an issue is found they work with the product engineering team to develop a solution and share that information with our dealers. Dealers use the information to work directly with customers to resolve issues, which leads to increased uptime. With Deere and our dealers monitoring machine health, our customers have more time to focus on running their business; whether it's moving dirt or building roads."
At the Wirtgen Group, the WITOS FleetView telematics solution allows users to customize their dashboard so they only see the information they are interested in.
"We have a pretty big system that has a lot of data but we don't necessarily tell customers what in the data that they want to see," explains Wirtgen Group telematics expert Tommy Wilson. "They get to pick and choose. Their dashboard is completely customizable to see exactly what parameters they want to see day to day."
At Volvo Construction Equipment (Volvo CE), the company dived into upgrading its telematics system after discovering some of its customer base was getting overwhelmed by the amount of data coming in, unsure of how to best take advantage of it.
"We had all these tools, and they really weren't taking advantage of it… too many resources, too much time," Volvo CE connected services product sales manager Dave Adams explains, adding that customers started requesting that Volvo CE monitor and filter data for them.
Volvo CE listened to their customers' requests and began by monitoring data for a small number of key clients across the U.S. and internationally two years ago. The response from customers was extremely positive, so the company expanded its services and built the Volvo Uptime Center in Shippensburg, Penn.
The Uptime Center works with Volvo CE dealers to provide technical support, parts support and case management. Volvo CE started offering ActiveCare Direct as standard to customers in July 2017, with the first year of service free of charge. The new system has not only re-ignited the company's clients in telematics data, but it has also substantially expanded the construction equipment manufacturer's customer base.
Advantages customers have experienced using the new telematics systems include improved communication between the job sites and dealers; faster ordering of parts and services; right-sizing of asset fleets by application; improved operator awareness and training; reduction in machine-misuse cases; decreases in idle time; reduced fuel costs; and decreases in repair costs and time.
"Now they pretty much just sit back and wait for monthly reports to come in," Adams says.
Training and ROI
Wirtgen Group's WITOS FleetView telematics solution informs users on the location and operation state of their machines at all times; simplifies scheduling and planning processes for maintenance; and allows for faster response times in the event of faults.
In addition to using the data collected for improving planning on job sites, and for increasing efficiencies on the maintenance side of the business, it is being used to identify opportunities to better train operators. Using the data for training is particularly helpful for companies that run multiple pieces of the same model of equipment in their fleet, allowing for very accurate comparisons among operators in terms of production numbers, idle times, and reasons for wear and tear on equipment.
"To know how to get more life out of your machine, to get more life out of your parts, it's just the added benefit that you can use all this information, put it out on paper and show actual physical evidence to an operator," Wilson explains. "It's not just our opinion anymore, that's a really cool aspect to it."
Future uses
Adams says Volvo CE is always working towards providing further value with more predictive maintenance data, with the goal that it will eventually result in assisting companies with having no unscheduled downtime. New capabilities are constantly being added to ActiveCare Direct, such as oil analysis and component life replacement criteria. The goals is that the telematics system will offer its customers predictive maintenance schedules similar to those used in the airline industry – constantly offering guidance on machines before they fail.
At John Deere, the WorkSight system is quickly gaining popularity among John Deere's customers.
"We are seeing an increasing number of customers integrate the JDLink Machine Data Application Program Interface (API) into third party business systems," Garcia says. "WorkSight has four providers: Foresight Fleet Intelligence, HCSS, LHP Telematics and Verizon Connect, that have already done the integration work. Using a mixed fleet solution gives customers a fleetwide view of their machines. This solution enables customers to see data from all their machines regardless of equipment manufacturer, which improves efficiency.
"WorkSight will continue to focus on delivering value through connected machines. Today we deliver value by increasing machine uptime; but we have on-going projects that will deliver value through productivity improvements."
The data collected through telematics systems like WITOS FleetView will be used by contractors in the future to get a more accurate understanding of their operating costs per hour on a job site, and this will lead to changes in buying pattern trends, explains Brodie Hutchins, vice-president of dealer development at Wirtgen Group.
"Over the last 20 years or so, just like with automobiles, people don't buy equipment anymore to the extent they used to," Hutchins explains. "They're leasing cars, they're paying a fee to keep them each month. Rollers, for sure, have gotten there, customers want to rent them and maybe get a rental-purchase option. But mills and pavers for the most part are capital purchases or an asset. At some point these contractors are going to want to know exactly what their costs are going to be per hour on these things, or per tonne. This is how you really zoom in on understanding ownership costs… more equipment is going to be leased or rented with a purchase option."
---
Print this page