March 13, 2018 By McCloskey Washing Systems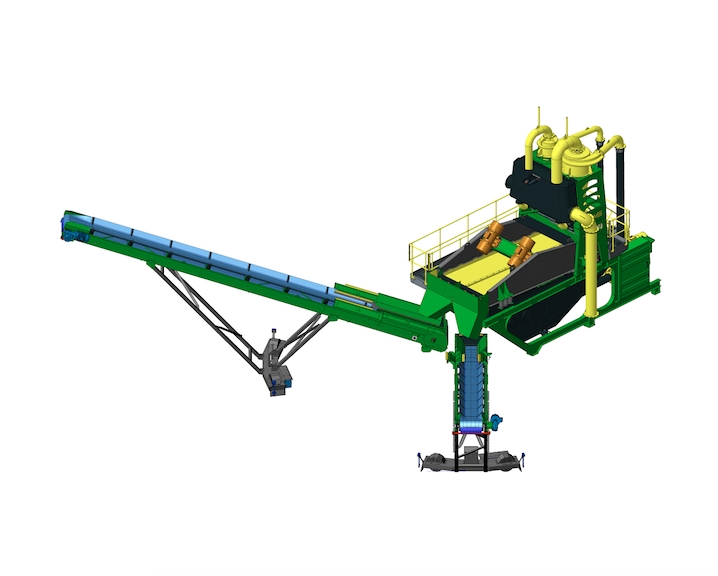 March 13, 2018 – Washing equipment specialists, McCloskey Washing Systems (MWS), launched a new product line – The Compact Sand Plant (CSP) at the AGG1 and World of Asphalt Show, which took place from March 6 to 8, 2018 in Houston, Texas.
The new additions to the MWS product range are compact sand plants, CSP 60, CSP 120, CSP 200 and CSP 250 single and twin sand plants. The range has been designed to give the ultimate choice and flexibility to meet customers' expectations.
Commenting on the decision to unveil the product line at NSSGA's flagship event, Sean Loughran, McCloskey Washing Systems director said: "AGG1 is an important event for us. We have a strong global presence, and this is the perfect platform to showcase our products. As specialists in the design, manufacture and commissioning of wash plants, key members of our team will be in attendance.
"We have an aggressive road map, a clear vision of where we and our dealers should be positioned in the coming years. We have a commitment to grow our businesses together, to provide world class products, and deliver exceptional levels of customer service."
The McCloskey Compact Sand Plant range enables superior separation efficiency, produces the driest, drip-free final washed sand product, and produces up to two in-spec sands, to your desired grade, at up to 250 total tph.
As with all McCloskey products, these plants have been designed with the machine operator in mind. In addition to the highest level of quality and performance, significant benefits include simple and fast assembly times, ease of operation, low maintenance and an overall reduced footprint.
The McCloskey S130 and S190 Tracked Rinsers, paired with the right size Compact Sand Plant, offers a portable wash plant option for up to 250 tph total sand production and an overall production of sand & aggregates of 400+ tph. By simply building up an elevated terrace on site to elevate the S130 or S190 Rinser nominally 7 to 8 ft. above the ground grade level that the CSP sits on, the tracked wet screen has plenty of elevation for gravity flow to move sand and water to the sump of the CSP.
Each CSP is individually tailored to suit any application, regardless of desired tonnage, from 20 tph to 250 tph, or silt percentage in the feed material. McCloskey engineering and application teams have extensive experience in the design, manufacture, installation, start up, operation and maintenance of compact sand plants and, as such, ensure each is suited to the application and requirements.
The McCloskey Compact Sand Plant Range is designed to:
– Produce in-spec sand(s) to desired grade;
– Focus on the machine operator;
– Produce drip free sand products off the end of the dewatering screen;
– Ensure the final washed product has the highest level of quality and performance;
– Eliminate the loss of quality fines to settling ponds or water treatment plants;
– Easily be placed into new or existing operations; and
– Provide a skid-mounted semi-portable sand plant.
McCloskey International has a distinct heritage of specialist technological expertise, which has gained the group its international status as one of the world's leading manufacturers of screening, crushing and washing providers. McCloskey Washing Systems has become a leading player, offering a broad product portfolio, including; modular wash plants, sand wash and fines recovery plants, log washers, modular, mobile and static rinsers, hoppers, feeders, conveyors, de-watering screens, as well as the addition of combination plants and water treatment systems.
"We have had a busy year of new product development," said Craig Rautiola, technical sales and applications manager for North America. "This new product range follows a stringent and strenuous development cycle, which has seen the machines tested and proven in challenging and diverse product applications across the globe."
Designed as a flexible, user-friendly and efficient wash plant, other key features of the CSP range include:
• Capacity of up to 250 tph
• Superior separation efficiency
• Fast assembly times
• Ease of operation
• Low running and maintenance costs
For more information and for a full range of washing equipment offered by McCloskey Washing Systems, visit mccloskeywashing.com or you can follow MWS on LinkedIn.
McCloskey Washing Systems (MWS) designs and manufactures a full range of modular, mobile and static washing equipment for the aggregates, waste & recycling, mining and construction & demolition sectors.
A division of McCloskey International, McCloskey Washing Systems shares a customer driven approach to product development that has led to the investment in a new centre of excellence, which will complement the existing facilities in the UK, Canada and the USA.
---
Print this page