December 5, 2018 By Andrew Snook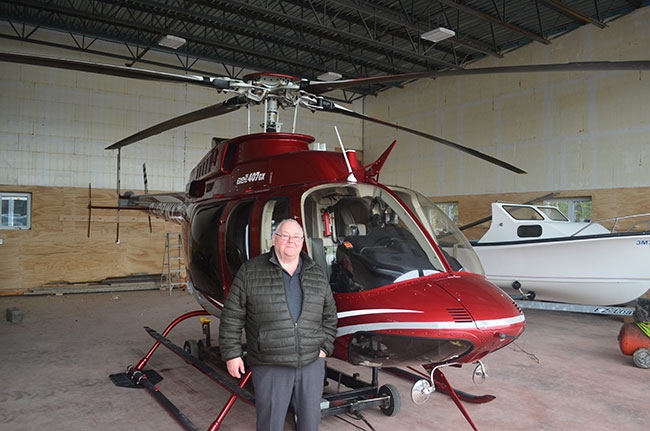 Anyone who has ever spent anytime in Gander, Nfld. will tell you: this is an aviation town. Being my first trip to this part of The Rock, I was unfamiliar with the aviation industry's impact. As I drove around the town of 11,000-plus residents, I passed by entire neighbourhoods that honoured the pioneers of aviation. In most cases, I would have had no idea. Fortunately for me, I was driving alongside long-time Gander resident Jerry White.
"Every street around here was named after a famous aviator," he says as he takes me on a tour of a sub-division his crews were worked on recently.
Jerry's company, The McCurdy Group of Companies, has offered trucking, equipment rental, roadbuilding and excavation services in the aviation town and the surrounding area for 55 years. Under the company's current umbrella are: McCurdy Construction & Equipment Rentals; McCurdy Ready Mix (a supplier of aggregate, concrete, and concrete products); B & M Paving (which provides asphalt paving for commercial new construction, repairs and resurfacing, parking lots, roadways, and highways and residential sectors); and True North Springs, a natural spring water company.
Jerry's journey started out in Norris Arm, Nfld. about 60 kilometres from Gander, when he purchased an old truck for $75 that he used for hauling pulpwood to an old Bowater plant in 1963. Jerry used it for the first few years, before buying another used truck for $150 to supply hauling services around the area for various industries. In 1969, he decided to grow his company when he jumped on an opportunity to expand into Gander and started up McCurdy Construction & Equipment Rentals.
"I bought a company that had gone into bankruptcy in Gander and built the company up piece by piece," he says.
No interest
After purchasing the company and entering the construction sector, Jerry began to offer road building and excavation services throughout the area. One of the first things he decided to do for the financial health of his business was save up enough capital to prevent having to rely on loans from financial institutions. He bought his equipment at bargain prices, whenever possible, and gained his financial independence a few years later in 1974.
"That was the last time I ever financed anything," he recalls. "We've never paid a cent of interest to bank since 1974. You've got to manage pretty tight to do that. You've got to know where you're headed… I sort of grew the company a little bit at a time."
These days his fleet is comprised of between 100 and 120 pieces of equipment between his trucks, tractors, excavators, crushers, asphalt plants and paving equipment.
"We have all the different gear," he says, adding that he's particularly happy with his Gencor 250 asphalt plant that he purchased 10 years ago; when he was forced to retire his old asphalt plant that didn't meet changing emissions requirements. "You need to have the right equipment, and rightly so, you've got to look out for the environment."
Busy times
His busiest company under the McCurdy Group umbrella, B & M Paving, has worked on a various important infrastructure projects over the years, including roadbuilding work on the Trans-Canada Highway and paving work on the Gander International Airport's taxiways. Jerry's company also constructed the first tilt-up office building in Newfoundland, a 60,000-sq.-ft. complex he later named The McCurdy Complex that he built for his own use. At peak times over the years his company has employed upwards of 100 people, with slower periods ranging between 25 and 28 people.
"At one time we were doing a lot of heavy lifting projects, but we were struggling with people leaving for Alberta to work for oil companies," Jerry recalls. "That all seems to have come full circle now."
These days much of B & M Paving's work is excavation and foundation preparation work for sub-divisions going in around town. It is currently working on 150 lots around town and Jerry is looking at getting another 3,000 acres developed. For all the aggregates needed for The McCurdy Group's operations, Jerry runs his own crushing and screening operations.
"We do between 100,000 and 120,000 tonnes per year," he says. "It's mostly for our own projects. I own quarries and sand pits in the area."
None of the aggregate tends to travel very far to get to project sites. Jerry believes one secret to his success is not straying too far from his base of operations.
"We keep the radius as tight as we can," he says. "We get out further only when we need to. I learned that very early in the game."
A family affair
Jerry has been teaching his children how to follow in his footsteps with the business. He has three daughters, and two of them work with him every day. His daughter Linda started working with him at an early age.
"She started out at 12 years old working with me in the summertime," Jerry recalls, adding that since then she has gone to school for her Bachelor of Commerce degree and now runs the accounting side of his business.
Through all the ups and downs that come with running his businesses across more than half a century, Jerry looks back at his experiences with great fondness.
"It wasn't really a challenge, more of a pleasure than anything else," he says. "You start off with one little thing and you grow it."
If there were any one piece of advice that Jerry would give up-and-coming business owners for managing the ups and downs that come with operating within the construction sector, it would be this:
"There a lot of people doing good when they're on the top of the wave, but you've got to be prepared for the
bottom."
---
Print this page