Features
CONEXPO and COVID-19
Show a success despite virus concerns
May 5, 2020 By Rock to Road Staff Report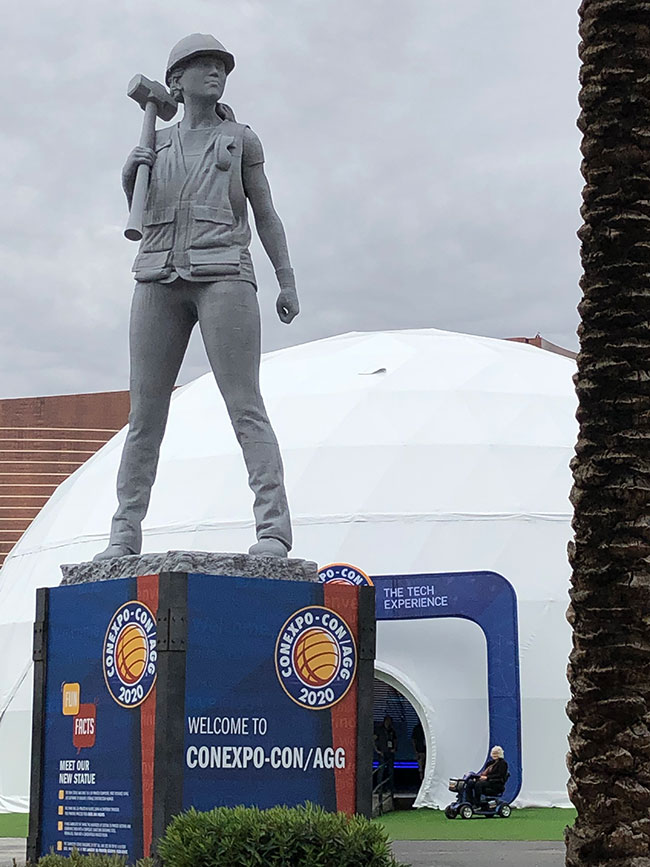 It was certainly a year like no other for CONEXPO-CON/AGG 2020 in Las Vegas. Concerns around COVID-19 – officially declared a pandemic in the midst of the show – certainly impacted the attendance numbers (official attendance numbers have not been released as of yet) and it had many exhibitors and attendees concerned.
There was enough concern that show organizers AEM sent out a press release on the Thursday of show stating that CONEXPO-CON/AGG 2020 would be shut down one day early.
That said, the majority of exhibitors at the show were very happy with the attendees.
"Despite the lighter attendance, we're still seeing great quality attendees come through," said Sean McLanahan, president and CEO of McLanahan Corporation, during his company's press event. "We're still having a good quality show."
That sentiment was echoed by many exhibitors throughout the show.
"We're extremely pleased with the turnout of exhibitors," said Domenic Ruccolo, CEO of the Wirtgen Group.
Several exhibitors mentioned that concerns surrounding the virus scared away all the "tire kickers" and left just the serious customers to speak with about their latest technologies, and that was fine by them.
John Deere discusses roadmap for future
During CONEXPO-CON/AGG 2020, John Deere's CEO John May offered press from around the world a glimpse into the company's plans for future growth.
He highlighted John Deere's three priorities to ensure it continues to make industry-leading construction equipment: 1) Precision technology, 2) Exceptional service, and 3) Smart investment.
Precision technology
May said that technology is the key to helping customers solve their most pressing challenges: skilled labour shortages, safety, productivity and uptime.
"Our WorkSite technology – such as grade control, payload weighing and automated systems – is an example of how we're helping customers meet those changes," he said. "By intensifying our investment in precision technologies, we believe we will make more productive equipment, and thus, have more profitable customers."
Exceptional service
May said that Deere is planning on providing exceptional experience to customers by growing and expanding its aftermarket capabilities.
"Customers want real-time, connected, customer support," he said. "They want to be able to track the health of their machines and predict machine downtime. We are responding by making our customer support the best in the business. For example, we're using data analytics to identify preventative maintenance, improve customer uptime, and increase the post-warranty value of their equipment."
Smart investments
Making smart investments in people and John Deere businesses is the third priority.
"Deere is a technology solutions company, and we will continue to invest in research and development. In fiscal 2019, we did that at a rate of nearly $5 million a day," May said. "We're also going to invest in partnerships that can help us bring solutions to make quicker – or give us access to – new and innovative technologies."
These three priorities will create the necessary conditions to allow John Deere's construction business to continue to thrive, May said.
"Despite the cyclical nature of the construction industry, we think the long-term trajectory is going to be very, very positive," he said. "Around the globe we see three macrotrends: first, we see a growing population; second, we see an expanding middle class; third, we see increasing urbanization. Each of these means more demand for construction equipment. Especially the kind of construction equipment we build."
Astec Industries showcases technologies
Astec Industries had a wide variety of new equipment on display, and Rock to Road had the opportunity to hear more about out a few of the new releases.
Roadtec
At the Roadtec booth, the all-new Shuttle Buggy 3000 (SB-3000) material transfer vehicle was unveiled. Kyle Neisen, product manager for Roadtec, said it was time for a makeover of the old Shuttle Buggy, which had not been significantly updated in some time.
"The Shuttle Buggy 2500 has been our staple in the industry for a long time," Neisen said. "We really felt there was a big opportunity to revamp it and make a better machine. We did a lot of homework and talked to a lot of customers."
The company spent years collecting input from their contractors to ensure that lots of operator input was put into the design of the SB-3000.
That contractor-fuelled input led to several new features, including its 4-wheel steer for easier maneuvering on jobsites with small footprints; a seated operator station located inside the machine for increased safety of ground operators; a place for operators to store truck tickets; a clean-out tool holder; and shovel holders.
KPI-JCI & Astec Mobile Screens
At KPI-JCI & Astec Mobile Screens, some impressive changes were made to the Kolberg-Pioneer Hybrid FT4250CC impact crusher. The unit now has an added prescreen in the feeder and features the company's new patented hybrid diesel-electric technology (440hp diesel/400hp electric). Astec's Daniel Filsinger said that one of the big benefits of being able to switch between electric and diesel for dirtier crushing applications.
"If you're crushing asphalt, for example, running off electric you don't need to worry about clogging up the diesel engine," he said. "It also helps in areas with high noise and emissions regulations. But it's also a good machine for everyone, because it's cheaper to run."
The K350+ Kodiak Plus Cone Crusher was also on display. One of the big advantages of this model is that it can be swapped into a chassis with a K300+ with relative ease, offering an operator more power in the same footprint.
Another interesting display at the booth was the company's water clarification system, which allows producers to manage their wastewater more efficiently.
"The typical way to handle that is to put it in a settling pond on site," he explains. "Those are really costly to maintain, sometimes you have environmental issues that pertain to those, so we have a new product offering that helps you manage that and recover up to 95 per cent of that water."
The new water clarification system's process involves adding flocculent to the wastewater to help stick the waste particles together and settle at the bottom of a tank. That sludge that forms can then be placed in a filter press, with the press recovering additional water from the sludge.
"You get these nice, manageable-sized pieces that we would call 'sludge cakes' that you can scoop up with a loader, put in a truck, use as backfill and very easily manage; and of course, you also get clarified water at the end of the process to put back in your system."
Liebherr unveils new tech and innovations
Andreas Böhm, Liebherr German manufacturing group's CFO, and Peter Mayr, managing director for Liebherr, offered updates about the company and information on its latest equipment and tech innovations announced at the show. Böhm said 2019 was a successful year for the company.
"Overall turnover of over 11 billion Euro was a new record for the company, making it our third record year in a row," he said. "Compared with the previous year, we enjoyed a double-digit increase in turnover. These figures are quite impressive as the International Monetary Fund's research showed global economic growth slowed to 2.9 per cent in 2019."
Another area of growth was Liebherr's headcount. The company created 3,000 new jobs over the financial year, bringing the total number of Liebherr employees to 48,000 worldwide. Böhm stated the company is looking forward to another positive year.
"We're expecting stable to slightly positive sales development in 2020. The international Monetary Fund has forecasted economic growth to ride 3.3 per cent, with growth in emerging and developing countries expected to increase to 4.4 per cent. This bodes well for our continued focus on modernizing company locations and intensifying the group's global market presence," he said.
Mayr presented on several new innovations Liebherr is bringing to North America.
"The earthmoving equipment and material handling product area is an important one for Liebherr USA," said Mayr. "We have increased our footprint, just covering a few states on the east coast to almost 100-per-cent coverage today. We hope to continue to expand in 2020 with the equipment and innovations we're presenting today."
Some of new machines and technologies announced included: LH 30 M Industry Litronic and LH 60 M Industry Litronic material handlers, specifically designed for scrap handling; the A 922 Rail, suitable for use on railway tracks and for road construction; the LRB 355.1 piling and drilling rig; R 926 and R 938 crawler excavators; new generation 8 crawler dozers with operator assistance systems; and the THS 110 D-K Crawler concrete pump.
PPI unveils smart idlers at CONEXPO-CON/AGG 2020
At the PPI booth during CONEXPO-CON/AGG 2020, Jim Masek showed off ‪PPI‬'s new idler rolls equipped with Vayeron Smart-Idler technology.‬‬
The Vayeron technology can predict and report on idler failures, making it possible for quarry managers to reduce their conveyor downtimes and reduce conveyor maintenance costs.
"It's basically a sensor technology inside an idler roll," Masek explains. "It will tell you the condition of the bearings, temperature of the bearings, any shell wear, and whatever else is happening with the idler roll."
Features include autonomous and online 24/7 monitoring; predictive maintenance insight; pre-emptive detection of idler failure; increased safety; reduced downtime; reduction in spares inventory; increased productivity; and improved operational data.
The capabilities of the Vayeron Smart-Idler technology include: bearing temperature sensing; vibration sensing (acceleration enveloping spectral analysis to detect bearing problems early); RPM sensing; shell wear and buildup detection; and wireless communication.
"It connects to the gateway wirelessly, so there's no wires connected to any of the rolls, and then it goes back into the Internet of Things and displays on a dashboard at whatever company's website needs to be shown," Masek says.
K-Tec and Ashland announce new partnership
K-Tec Earthmovers announced at CONEXPO/CON-AGG that it has merged with Ashland Industries and the two presidents are excited about the new partnership.
"Almost two years ago an investment firm in Austin, Tex., acquired the majority of K-Tec Earthmovers," said K-Tec president Mike Palitsky. "At that time K-Tec and the ORG [Owner Resource Group] team met and decided that the goals for the next few years would be that of growth. Part of that strategy was mergers and acquisitions and we were asked to come up with a list of all of the potential targets that we wanted to have in the earth moving industry. This company was at the top of the list and today I'm proud and excited to announced that we have merged with Ashland industries."
Palitsky said that the newly merged organization will be led by himself.
K-Tec operations will continue in Rosenort, Man. and Ashland operations will continue in Ashland, Wis.
"In the weeks leading up the announcement, the Ashland team and K-Tec team met several times and it was readily apparent that the fit was really there and we couldn't be happier with the fit of the two companies," said Palitsky.
He added that the merger will allow for numerous organizational synergies, such as improved production capabilities that will shorten production lead times; and having multiple locations to better serve existing customers.
K-Tec stated that it will not be making any changes in the 2020 sales program. The company will be meeting with each dealer to gain their feedback on what their ideal business outcomes are, and how the company can help them succeed.
Ashland president Randy Rust said he is looking forward to the merger and thanked his employees, dealers and customer for their dedication and hard work.
"I think we can see an exciting future for both of our companies coming together, he said.
Sany America discusses Canadian market
A little rain didn't slow down the Dancing Excavator demo at Sany America's CONEXPO/CON-AGG booth. Nor did it stop CEO Doug Friesen from talking about the company's vision for its American and Canadian markets.
CEO Doug Friesen spoke on the entire North American market, including how Sany has begun working on how to better serve the Canadian market in 2020.
"Our approach to the Canadian market has started to shift," said Friesen. "The Canadian market is a part of the North American group and we've been supporting the Canadian markets completely. What we would like to do is to have it become its own entity. Just like we have Sany America, we'd like to see that in Canada. We believe that the Canadian market is important."
Friesen said during this transitional period, Sany will continue to support the Canadian market as it has been as he is expecting it to grow. He said everything began to change for Sany for the better about three years ago. Sany's leadership decided that when it began operations in America that it needed to be localized.
"There's a lot of wisdom in the leadership of Sany right now. Sany has been a global company, but they were mostly known as a Chinese company. Now they're aiming to become localized in all the areas they participate in," he said. "Our services are local and we're trying to localize everything. We've come a long way in three years."
Sany currently has 36 dealerships in America across 74 locations. Friesen's goal is to increase the number of dealerships to around 100 in total.
ALL-IN-ONE WET PROCESSING SOLUTION
CDE unveiled its new 500 ton per hour (tph) Combo X900 at CONEXPO-CON/AGG 2020. This unit was designed for North American operations and can process 500 tons per hour of feed material, including natural sand and crushed rock, containing unwanted clay, silt and other organic contaminants to extract quality in-spec washed and graded sand products that are market-ready straight from the belts. The new design has allowed for a smaller footprint that is 30 per cent (on average) smaller than other traditional wash plant setups, CDE stated. The Combo X900 also features impressive water consumption reduction.
"Our best-in-class water management and on-board water recycling minimizes costly water consumption and ensures up to 90 per cent of process water is recycled for immediate recirculation through the closed-circuit system," stated Kevin Vallelly, director of engineering at CDE.
Another key feature is the COMBO X900's plug-and-play system, which allows the unit to arrive on site pre-wired and pre-tested, ready to process materials within five days as a standalone plant or as part of a larger turnkey solution.
Darren Eastwood, business development director at CDE, said that the new unit uses common CDE components to ensure parts availability and improve production efficiency.
MILLING MACHINE MAKEOVER
Wirtgen Group's flagship large milling machines were on display at CONEXPO-CON/AGG 2020. The company celebrated its world premiere of the W 220 Fi and W 250 Fi flagship models. At first look, the machines appear to be painted black, but that isn't the case at all, they're actually carbon fibre. During a tour of the new F-Series milling machines, milling product manager Tom Chastain said that a huge amount of research and development had gone into these milling machines and that they had a ton of new and improved features.
"We had lots of operator input," Chastain said, regarding the newly designed machines.
The W 220 Fi and W 250 Fi large milling machines serve a wide range of applications at a maximum milling depth of 350° mm/14 in. from surface course rehabilitation and fine milling work to complete removal of the surface. Various drive concepts are available to ensure maximum, optimal milling performance. For example, the W 220 Fi is equipped with a two-speed Dual Shift powershift transmission, while the W 250 Fi has an Active Dual Power dual engine drive. The W 220 Fi has an engine power of 801hp and the W 250 Fi has an engine power of 1,010hp. In the automatic mode, the Mill Assist standard assistance system provides the optimal balance between performance and operating costs. This not only improves milling performance, but also reduces diesel, water, and pick consumption, as well as CO2 emissions.
The machine operator can also preselect a working strategy from "Cost-optimized," "Performance-optimized," or "Milling texture quality." For example, it is possible to define the required milling texture quality on a scale of 1 (coarse) to 10 (very fine) in advance at the touch of a button. Mill Assist also automatically controls the two-speed Dual Shift powershift transmission. Together with the diesel engine, the intelligent control of the two-speed powershift transmission extends both the upper and lower range of possible milling drum speeds. At lower speeds, fuel and pick wear can be significantly reduced. At higher speeds, high milling pattern quality is ensured even in the case of high area performances.
"The machine's display will offer suggestions for improved productivity," Chastain said.
With the Active Dual Power dual engine drive of the W 250 Fi, depending on the project situation and the pre-selected working strategy, Mill Assist then automatically controls just one or both motors. In addition, the engines operate efficiently at optimally adapted speeds. This significantly reduces costs for diesel and cutting tools.
The Wirtgen Performance Tracker (WPT) feature calculates the precise surface milling performance, milling volume, and consumption values for the machine. All-important performance and consumption data are displayed on the operator's platform in real time for the milling machine operator and are also sent to the machine operator by e-mail in an automatically generated report immediately after completion of the milling work.
PARTS PREPAREDNESS
At the McLanahan Corporation's press event, the importance of strong dealer relationships and the fast availability of parts to minimize downtime at quarries and pits was stressed.
"We need to have a lot of parts ready now, " said Mark Krause, general manager for McLanahan, adding that having a strong local dealer is key to the success of their customers. "We used to build for 80 per cent uptime. Nobody wants 80 per cent anymore. People want 90, 91, 92 per cent. Your dealer has to have parts."
Krause added that local dealers typically have the local knowledge of the plants they service, which helps with ensuring they have the right stock in their inventory to minimize downtime.
McLanahan showcased its newest size range for its UltraWASH Modular Wash Plant, originally launched at bauma last year. The UltraWASH is capable of being configured to produce up to three clean aggregates and two washed sand products and is part of McLanahan's complete line of next-generation modular systems.
The UltraWASH 6505 made its trade show debut at the show.
Some of its features include the patent pending Eze-Riser, which allows the operator to cut pump maintenance time in half, and the patent pending Fines Forward Slide and the aggregate discharge hood designed to increase efficiency. Operators can also convert the UltraWASH from a single to double wash system with a convertible sump.
CUSTOMER DRIVEN
The Cedarapids brand of Terex MPS unveiled its portable CRH1113R closed circuit impactor crusher/screen plant. This portable plant was designed with a ton of customer feedback. Jamie Harthoorn, marketing manager for Terex MPS, gave a walkaround of the machine showing off some of the customer-inspired features including its one-piece tow design for easy transport on highways and jobsites.
The machine is self-contained with on board diesel power and generator. The 450hp variable speed Scania diesel engine direct drives both the crusher and 150kW generator with an efficient hydraulic clutch. The rest of the plant is electrically powered for maximum efficiency and minimal maintenance. The new TI4250 crusher has modern hydraulic controlled curtains to make adjustments and maintenance safe and quick. The variable speed diesel allows optimum rotor speed to best match the application and desired product. The new 6'x16' 2-deck screen is the largest in this plant class. It has a unique dual slope design with a steeper top deck to handle heavy loads and quickly stratify material. The lower deck has less slope to increase retention time for maximum screening efficiency. The entire screen can be positioned with more or less slope to optimize production. The new vibrating grizzly feeder is 48" wide x 18' long to handle feed from large loaders. This feeder has a unique convertible 6' long, 2-section grizzly that easily converts from stepped grizzly bar sections to sloped punch plate sections, or combination punch plate and grizzly bars.
Harthoorn said that the unit is still in the prototype testing phase.
"We will not release it for sale until we have 1,000 hours of testing – shot rock, concrete and asphalt recycle," she said. "When we launch something new, we do our own testing and then let customers use it. The customer running the prototype wants to buy it but we can't sell it to him until we complete our 1,000-hour test period. Once we get through the test period, this machine will be sold."
REMOTE COMPACTION
Trimble had a wide variety of technologies for optimizing quarry and roadbuilding jobsites on display at the show. The most impressive display was a control station where attendees had the opportunity to remotely operate compaction equipment running in Dayton, Ohio from the Trimble booth at the Las Vegas Convention Center more than 3,000 kilometres away.
Eric Harris, strategic communications manager for Trimble, showed off the impressive technology by remotely operating a compactor with ease.
"Autonomy is not far away, we're already doing it," he said.
Trimble also launched its Earthworks Grade Control Platform version 2.0 with new features for all machine types, along with the release of the Trimble Earthworks Assistant App for in-cab learning material. These improvements are designed to enable faster ROI, increase productivity and decrease training time for operators.
NIAGARA ON THE WORLD STAGE
Haver & Boecker introduced its Haver & Boecker Niagara brand at the show, officially rebranding from W.S. Tyler Equipment. Karen Thompson, president of Haver & Boecker Niagara, discussed W.S. Tyler's roots in the Niagara Region during her company's press conference.
"The brand of Niagara speaks to my heart. Our company has been operating there since 1930," she said. "By working as one entity, we really bring a lot of power and innovation to the market."
As part of the press event, the company showcased its new F-Class Portable Plant. The vibrating screen features a double eccentric shaft that maintains consistent performance under surge loads while reducing blinding and pegging. The plant can be set up in under 30 minutes, and lowered in less than 5 minutes for easy screen media change-outs.
SEALS OF APPROVAL
Superior Industries' booth received a lot of attention from exhibitors checking out the company's application-specific idler seals.
Superior now offers four application-specific conveyor idler seals: the SpinGuard Wet Seal for applications experiencing unsatisfactory idler life due to high moisture; the SpinGuard Dry Seal for operations that produce dust near crushing or screening equipment; the SpinGuard Low Drag Seal for conveyor owners concerned about horsepower; and the SpinGuard Titanium Seal for the most extreme conditions.
Each class of seal is easily recognized by a unique colour. Wet seals are blue, dry seals are ivory; low drag are green; and titanium seals are silver.
Check out the May/June issue of Rock to Road for Part II of our CONEXPO-CON/AGG 2020 coverage.
---
Print this page