New site allows equipment buyers and owners to calculate their total cost of ownership for the full line of CASE equipment based on real life cost factors such as fuel, labour, parts and maintenance.
February 14, 2017 By CASE Construction Equipment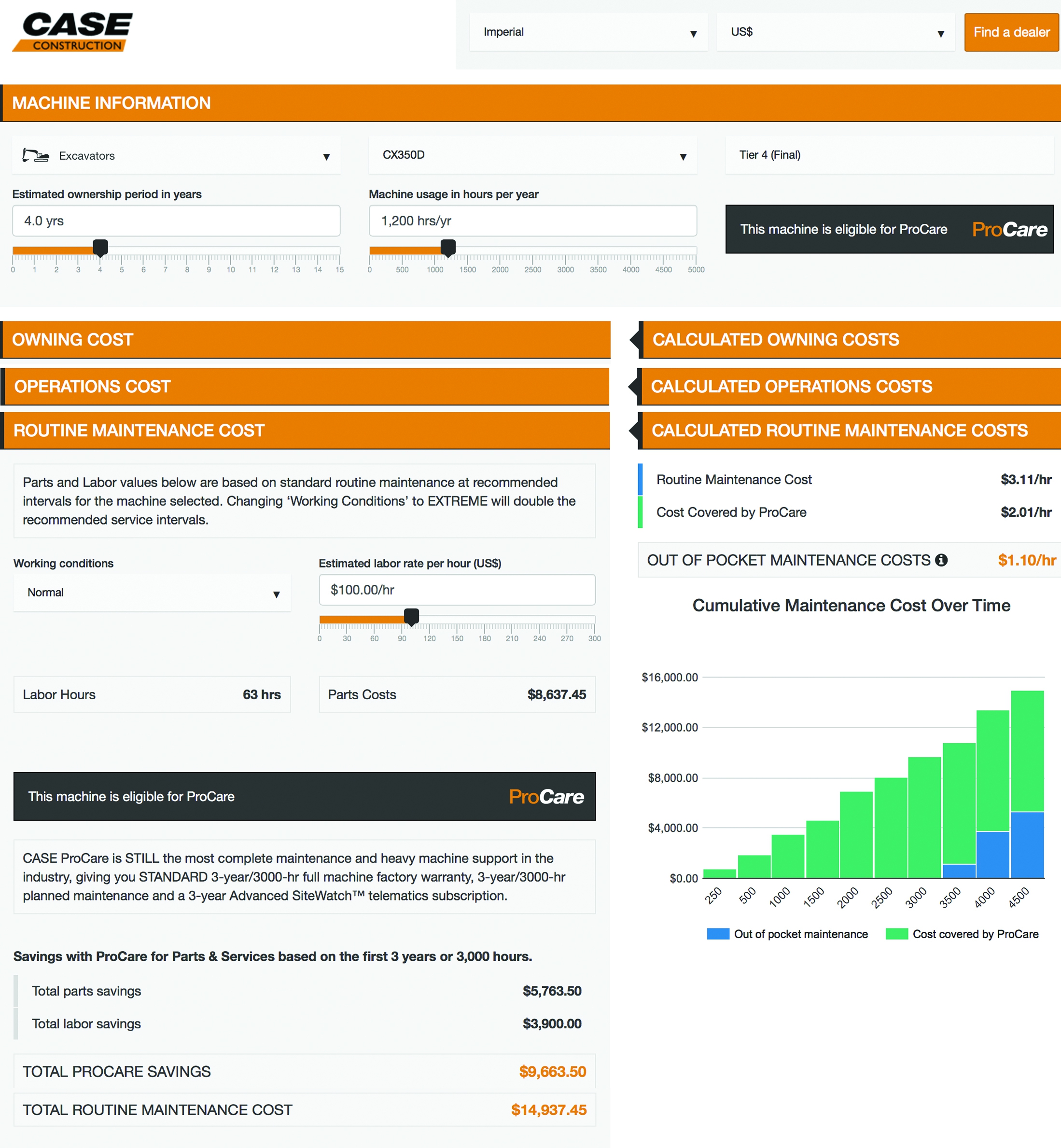 February 14, 2017 – CASE Construction Equipment has launched an all-new Total Cost of Ownership Calculator at CaseCE.com that provides both prospective buyers and current equipment owners insight into lifetime ownership costs. Based on a broad range of operational factors covering the entire line of CASE equipment, the program calculates data in U.S. and Canadian currencies, as well as metric and imperial measurements.
The calculator is free to use and is applicable in the U.S. and Canada.
"Adding equipment to a fleet and growing a business is based on utilization and whether that piece of equipment can be profitable," says Brad Stemper, product manager, CASE Construction Equipment. "We're helping contractors and owner/operators take the ambiguity out of that calculation. We believe in lowering total cost of ownership wherever possible and making operating costs predictable so that businesses can make intelligent buying decisions. This new calculator helps do both by showing the real cost-saving benefits of programs like CASE ProCare matched with dynamic local factors such as fuel and labor costs, and working conditions."
Users start by entering the equipment category and model, then the anticipated length of ownership and annual hours of use. Estimated owning, operating and maintenance costs/factors are then entered to calculate an anticipated total hourly cost for the life of that machine.
"The buyer can then use that number to ultimately make the decision that is best for their business," says Stemper.
For more on CASE, its efforts in lowering total cost of ownership, and to access the new calculator, visit CaseCE.com.
About CASE Construction Equipment
CASE Construction Equipment sells and supports a full line of construction equipment around the world, including the No. 1 backhoe loaders, excavators, motor graders, wheel loaders, vibratory compaction rollers, crawler dozers, skid steers, compact track loaders and rough-terrain forklifts. Through CASE dealers, customers have access to a true professional partner with world-class equipment and aftermarket support, industry-leading warranties and flexible financing. More information is available at www.CaseCE.com.
CASE Construction Equipment is a brand of CNH Industrial N.V., a World leader in Capital Goods listed on the New York Stock Exchange (NYSE: CNHI) and on the Mercato Telematico Azionario of the Borsa Italiana (MI: CNHI). More information about CNH Industrial can be found online at www.cnhind.com.
---
Print this page