September 5, 2017 By Atlas Copco Construction Equipment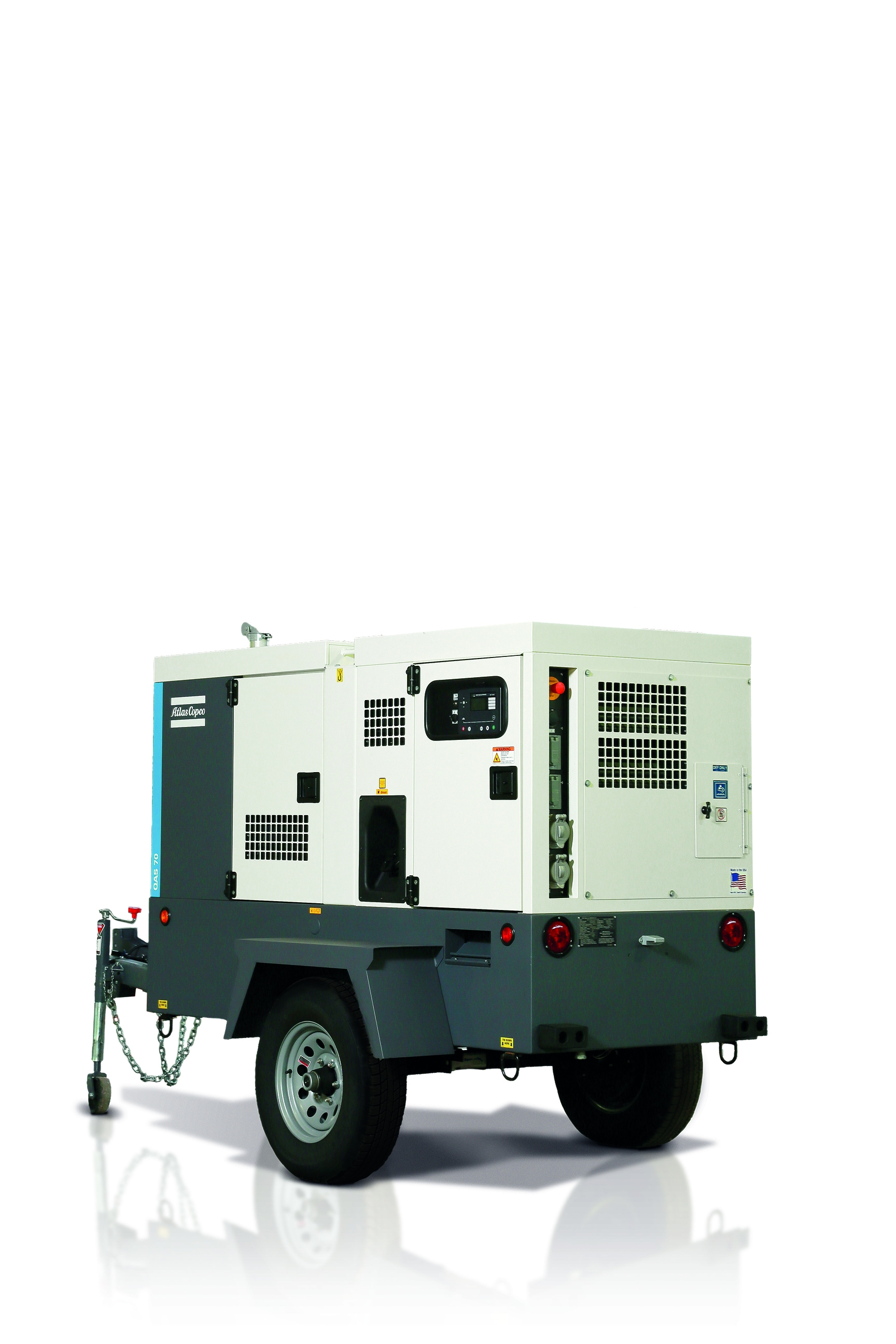 September 5, 2017 — Atlas Copco Construction Equipment North America has introduced a completely redesigned range of eight QAS mobile generators for prime applications. Covering power ratings from 25 to 330 kVA, the fuel-efficient lineup offers the latest Tier 4 Final engines, footprints up to 20 percent smaller than the previous generation, and a superior end-user experience. The new paralleling option is easy to use and provides additional benefits in terms of versatility, reliability and fuel efficiency.
"The Atlas Copco QAS generator evolution is all about the end user," said Mike Marion, vice president, Region Canada. "Every unit in the new range is loaded with features designed to make transport, operation and maintenance as easy and efficient as possible. The series offers ideal choices for a wide range of applications, including demanding environments such as construction, mining and disaster recovery along with general rental, events and more."
Equipped with an Isuzu, John Deere or MTU Tier 4 Final diesel engine, QAS generators pack reliable power into a compact yet rugged enclosure that is weather-resistant and sound attenuated. Each is available in either a skid-mount configuration or an integrated trailer that coupled to its compact design ensures ease of movement.
Easy operation of the new QAS generators begins with an intuitive controller, able to start the generator after just two simple clicks. This controller features the latest technology, including advanced warning and alert parameters. Motor starting capability is out of the question, thanks to its unique AREP alternator excitation system that provides 300 percent overcurrent for 10 seconds. Depending on the model, the generators can reach up to 40 hours of runtime per tank of fuel, with an external one-click fill mechanism for both fuel and DEF that makes refueling simple and risk-free. An ergonomic power terminal board enables operators to connect power cables without bending down. All QAS generators feature a standard external emergency stop button.
QAS generators require less than two hours of service for every 500 hours of operation. Wire routing in QAS cubicles is neat, clean and service friendly and allows for easy access through large access doors and panels. An environmentally friendly spillage-free frame is standard across the QAS generator range.
The corrosion-resistant QAS canopy undergoes a 1,000-hour salt wash test that ensures a corrosion-free life for the generator. Every QAS has a unique foam and layering system inside the doors that ensures water-tightness and improved sound attenuation.
All QAS generators have dual stage filtration with a safety cartridge and dual stage air cleaning. This centrifugal dust separation system and heavy duty filtration system extends generator life.
The complete list of models in the overhauled QAS range includes:
•QAS 25 ID
•QAS 45 ID
•QAS 70 ID
•QAS 95 JD
•QAS 125 JD
•QAS 150 MD
•QAS 250 MD
•QAS 330 MD
When the application calls for generators running in parallel, the unique Power Management System enables the optimization of fuel consumption and expands the generator's life. The Power Management System manages the quantity of generators running in parallel with load demand, starting and stopping units in line with increases or decreases in load.
For more information, visit atlascopco.com.
---
Print this page