Features Education
Inland Aggregates hosts a rewarding race and obstacle course
Inland Aggregates hosts West Country Hearth Attack
August 11, 2020 By Andrew Snook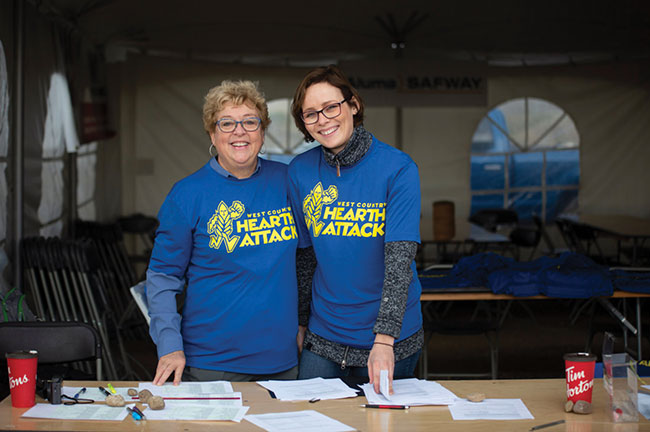 When the organizers for the West Country Hearth Attack fundraising race in Sturgeon County lost their venue for the event, it's unlikely they would have expected a local aggregate producer to step in and serve as host, but that's exactly what happened.
Aggregate producer Inland Aggregates decided to step up and host the challenging obstacle course race last September on its sand and gravel pit located just outside of Villeneuve, Alta., a hamlet about a half-hour drive northwest of Edmonton.
The proceeds from the event go to the West Sturgeon People Aging in Place Foundation, a non-profit that owns and operates West Country Hearth, an assisted living senior's complex in Villeneuve. The mission of the West Sturgeon Aging in Place Foundation, through the facility of West Country Hearth, is "to provide a home where the residents live in dignity and comfort as they age within their community of West Sturgeon."
"Around 15-plus years ago, there was an initiative in the community to explore the possibility of building an old folks' home in Villeneuve," explains Dale Soetaert, land Manager of northern Alberta and B.C. for Lehigh Hanson Materials Limited, the parent company of Inland Aggregates. "There was lots of support from the community and the [Sturgeon County] council was on board. We needed to raise $7.5 million to get this thing going."
Through a combination of provincial support, local fundraisers and raffles, the construction of West Country Hearth was completed about 10 years ago. However, regular funding to cover operating costs quickly became a challenge. To help manage these costs, all the proceeds from the West Country Hearth Attack are donated.
"We didn't want the West Country Hearth to charge too much to keep local seniors in the community," Soetaert explains.
The West Country Hearth Attack was the brainchild of a couple of local residents, who wanted to find a way help out with fundraising the facility. They hosted the first races on an 80-acre property they owned just outside of Calahoo, Alta. But last year, those residents decided to take a break from hosting the event, which quickly grew in popularity and required a large number of volunteers and great deal of time to organize.
The obstacle course race typically requires about 100 volunteers and has about 300 runners that participate each year. In addition to organizing all the people, the course itself requires a great deal of care. It typically has upwards of 30 obstacles that need to be constructed.
"There were no plans to do it last year, so I approached one of the people that do the obstacles and asked if it would make it easier if, potentially, we hosted it on our aggregates site," Soetaert says. "I went forward to my management team, explained the concept, showed there were a lot of other people that do similar things."
Inland was very supportive of the idea, as long as it could be hosted on the site in a safe manner.
"September is near the end of the season – we typically shut down production, but not shipping. The course needed to be designed all about safety. We were doing the course during the day, while we were still shipping, so separation was important," Soetaert says. "But we wanted to show them different aspects of our operations, give them some vantage points."
To offer the runners and volunteers a glimpse into what Inland does in their community, the race organizers incorporated a few industry-related obstacles. This included running along a big plastic water pipe; hurdling large concrete underground utility pipe; and climbing a large sand pile about 150-feet high, to name a few of the obstacles.
"We tried to incorporate as much as we could of our business line," Soetaert says. "We had almost 300 runners, 100 volunteers and 7.1 kilometres over 20 obstacles. The reviews were outstanding. Some things were able to be improved upon. Our site in Villeneuve is just over 560 acres. We've got a large parking area there; we brought in contractors to set up tents, tables and chairs, so volunteers didn't need to that anymore, and to keep cool during the run. There were beer gardens afterwards, it was excellent."
Entry into the race was on a sliding scale. If you signed up early, it cost $50, but it got more expensive as it got closer to the race.
"Every person needs to raise at least $50 through pledges," Soetaert says. "One of our employees raised over $1,200."
Soetaert himself ran the course, along with seven other family members. He says it's not uncommon to have entire families enter the race, which is open to anyone ages 14 and up.
The race raised approximately $43,000, which was the highest total to date.
Awarding experience
In addition to knowing the company helped out a much needed and noble cause, Inland Aggregates was also awarded the 2020 ASGA Award of Excellence for their fundraising efforts. The award was presented to the company at the Alberta Sand & Gravel Association's annual convention this past January.
Inland had planned on hosting the race again this year, but due to the COVID-19 pandemic, it had to be cancelled. The company will potentially play host to the race again in September 2021, according to Soetaert.
"For Inland, community investment is important. We've been operating since the 1960s, and Villeneuve is less than a mile away. Our delivery trucks drive by it every day," he says. "We support the Villeneuve Athletic Association, we provided aggregate and fill sand for the building of the retirement facility. Community investment is a pillar of our business. We want to support the communities where we work, and this is a very logical place to do that… it's a very near and dear place to our hearts."
To learn more about the West Country Hearth Attack, visit www.westcountryhearthattack.com.
---
Print this page