September 17, 2020 By Rock to Road Staff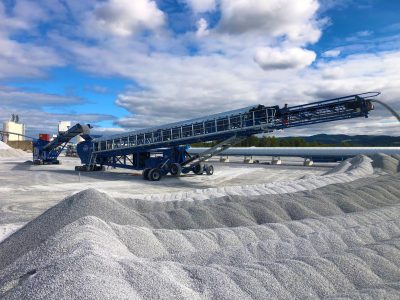 EDGE Innovate has revealed its latest product offering from its material handling product range. The new EDGE MTS140 is a 42.2 metre (140 foot) long, portable telescopic radial stockpile conveyor that offers customers a cost-effective bulk material handling solution.
The MTS140 reduces operational costs by reducing the doubling handling of material and enables operators to create large "in-spec" stockpiles of product by eliminating the compaction, degradation, segregation and contamination of material.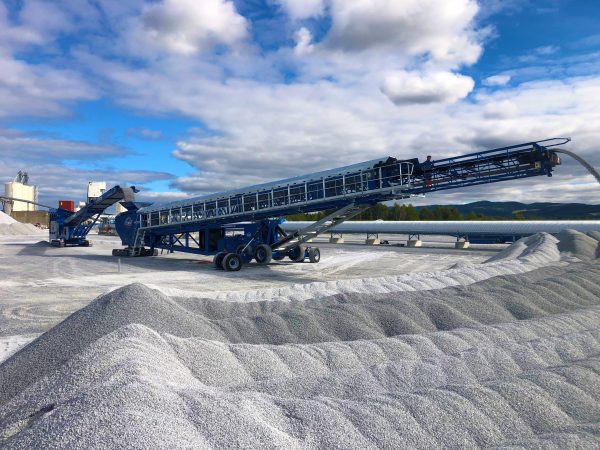 Boasting an array of design features, the MTS-Series spans a massive 140ft (42m) and encompasses two conveyors, an automated stockpiling control system, variable discharge height and the option of direct electric or diesel genset power sources.  The MTS140 utiliszs a HMI control panel for the selection of multiple stockpile programs and gives operators full control when creating precise stockpiles, for the loading of material to carrying vessels, barges or ships.
Additional options available include a track mounted bogie which gives the MTS140 greater application flexibility and is perfect for those operators who wish to frequently reposition their unit.
"The new EDGE MTS140 telescopic conveyor has benefitted from EDGE Innovate's 30 years' experience in the material handling industry and will complement our growing range of port handling equipment which now includes mobile feeders, truck unloaders, track conveyors and wheel mounted radial conveyors," said Darragh Cullen, EDGE Innovate managing director.
Designed to easily fit into four containers for global export, the MTS140 can be reassembled quickly, with minimal civils required. As with all EDGE products, the MTS140 is fully built in Ireland where it undergoes rigorous testing and a detailed pre-despatch inspection before it is shipped to its destination. Our site engineers will be on hand during installation to ensure a fast and efficient reassembly and to provide operational training to onsite staff.
---
Print this page