Popular industry trade show returns to Nashville from March 29 to 31
February 14, 2022 By Rock to Road staff
The World of Asphalt/AGG1 makes its eagerly anticipated return to a live show in Nashville, Tenn. from March 29 to 31.
"We're looking forward to bringing the asphalt paving industry back together in person," says Brittany Weltcheff, show manager, in a statement. "There is tremendous value in face-to-face interactions and learning and we're thrilled to offer hands-on equipment and networking experiences in Nashville."
Attendees can consider registering for the All-Access Badge, which provides access for every day of both World of Asphalt and AGG1 and up to 10 concurrent education sessions. Other badge options are also available.
The following are a small sample of the latest technologies and products that will be on display.
ASTEC
Booth: 2602
Astec opens an exciting new chapter at the World of Asphalt 2022 as its brands are shown together as OneASTEC. Astec brands include: Astec, Roadtec, Heatec, KPI-JCI and Astec Mobile Screens, Peterson-Pacific and Carlson Paving. 
In 2021, the company officially rebranded and combined its subsidiary brands under one name. This restructuring allows the company to simplify business, focus on customers and grow as a connected partner in the industry. With all the brands under one name, Astec continues to serve as a primary resource for all rock to road solutions. Products include: asphalt mixing facilities, asphalt pavers, CIR machines, and recycling solutions. 
At the booth, learn more about Astec's comprehensive line of products for rock to road through a display that includes both detailed scale models and full-size equipment. 
Featured products include:
Astec Self-Erect Storage Silo: An NTEP approved self-erect silo for portable asphalt plants;
M-Pack Asphalt Mixing Plant: High production, large storage capacity and high-quality components make this asphalt mixing plant highly functional.;
Asphalt Terminal: Equipment for an asphalt terminal involves storage, heating, piping and pumping systems. As a single source supplier, Astec designs, builds and services this equipment;
RX-505 Cold Planer: The RX-505 is durable asphalt mill that offers high-function conveyors, automated controls, conveyor belt tensioning, rear object detection and a drum index device.
SB-3000 Material Transfer Vehicle: The maneuverable Shuttle Buggy 3000 features adaptive cruise control, high visibility cameras, easy maintenance access and intuitive controls.
RP-175 Highway Class Asphalt Paver: The 8' RP-175 rubber track paver is ideal for all type sub-grades and paving applications. Full counter-rotate ability and track flotation allow it to pave in tight areas without sacrificing tractive effort or pushing power. This paver includes the newest operator controls.
RP-195 Highway Class Asphalt Paver: The reliable rubber-tracked RP-195 paver is designed for highway work. A fully oscillating frame provides a smooth ride and lays a smooth mat. This paver also features new operator controls with improved functionality as well as and our industry-leading EZIV screed.
CP130 Commercial Class Asphalt Paver: The CP130 combines material throughput and mat quality in a heavy-duty commercial package. With a 130 horsepower (97kW) Cummins® Tier IV engine and heavy-duty components, the CP130 delivers award-winning performance for commercial applications.
J20 Ranger Jaw Plant: The Ranger Line of track-mounted units are easy to use and transport, offering versatility and flexibility. These mobile plants are ideal for smaller operations that require powerful equipment with a limited footprint.
Astec looks forward to meeting with new and prospective customers during World of Asphalt 2022.
www.astecindustries.com
---
ADM
BOOTH: 3131
Designed for maximum asphalt production, the ADM EX 11254 features a 112-in. drum diameter and 54-ft. drum length, handles up to 50% RAP, and produces 400 TPH. Like all EX Series plants, it features counterflow technology and is highly customizable with any of ADM's standard components. Counterflow technology captures residual gases and reintroduces them back to the combustion zone, virtually eliminating blue smoke and hydrocarbon emissions to meet strict environmental regulations. EX Series plants are available in a number of additional TPH specifications. To learn more, contact an ADM specialist today.
www.admasphaltplants.com
---
CDE
Booth: 1120
CDE's AggMax technology is engineered to operate in the toughest of conditions to maximize product yield from the most abrasive of feedstocks. Combining feeding, scrubbing, screening, and sizing on one chassis, the AggMax is suitable for a variety of material streams and across various industries. The unique spiral alignment of its paddles reduces the shock of intermitting loads on the gearbox, motor and bearings. This design ensures consistent material loading and the unique paddle shape ensures maximum attrition with even the heaviest clay-bound feed material. Engineered to maximise the operational life of the plant, each Xtryl paddle is highly durable and incorporates integrated wear protection plates to protect fixings. It incorporates CDE's pioneering Infinity Screen technology, which offers greater screening capability and reduces power consumption. The AggMax also uses CDE's Infinity chutes which provide maximum up-time through their innovative material transfer. Its effectiveness at scrubbing heavy clay-bound material liberates the valuable materials, removing waste and vegetation to protect the downstream systems and making them considerably more efficient due to the plant incorporating a trash screen to float off organic contaminants. The AggMax can be customized to meet specific requirements with four pre-screen, recycling and three product screening options to choose from.
www.cdeglobal.com
---
DUREX
Booth: 1147
Durex Products, Inc. will display its screen media, liners, wear parts, and screen accessories at AGG1, booth 1147. The company offers numerous innovative urethane, rubber, and specialty wire screen media options, which allow customers to fine-tune production and increase tons per hour, while keeping products in spec and lowering operating costs. Durex screen media technologies include its well-known Livewire, Armor, Accuslot and Vibraspan products. To contact Durex Products, call 715.472.2111 or email:
customerservice@durexproducts.com.
www.durexproducts.com
---
Gencor
Booth: 2020
The new Gencor G-Series Portable plant is the latest innovation in small portable hot mix plants providing contractors with all the features of Gencor's award-winning Ultraplant in a smaller compact highly mobile plant that can be erected and operational virtually anywhere.  The G-Series plant is a rugged designed plant built with all the same premium features you have come to expect from Gencor for years of dependable service. Contact us by email at sales@gencor.com or by phone at 407-290-6000.
www.gencor.com
---
Haver & Boecker Niagara
Booth: 2116
Haver & Boecker Niagara has revolutionized its signature Niagara F-Class vibrating screen with new technology for simplified maintenance combined with maximum performance and longevity. The new design retains the technical benefits the original F-Class is known for, such as improving performance in material stratification and reducing blinding and pegging. The vibrating screen is now primarily manufactured with vibration-resistant lockbolts instead of the traditional welding used in previous designs. Bar rails are now fastened to the cross beams with lockbolts, making them easy to exchange if they become worn. The robustness of the machine also permits cross beams to be positioned and lock-bolted every four-feet instead of every two-feet, allowing for better clearance and easier maintenance. The new F-Class design provides the option to upgr https://lippmann-milwaukee.com ade the machine with Haver & Boecker Niagara's new Drop Guard system. The liners provide protection for the machine's cross beams, both reducing wear and extending vibrating screen life.
www.haverniagara.com
---
John Deere
Booth: 2302
Built rock solid with proven heavy-duty components, the new 904 P-tier (coming soon in 2022) is John Deere's two-pass Aggregate Handler loader solution that provides the muscle to take on processed aggregate stockpiles, over and over again. Large tilt cylinders and impressive hydraulic pressures, engine power, and torque make this machine stand out. Outstanding pushing and stockpiling performance, load-and-carry capability, and fuel efficiency also help this lean, mean loadout machine get trucks filled and over the scale quicker, to boost your bottom line in a big way.
It is designed to do the heavy lifting with rugged 7.5-m3 and 7.1-m3 (9.8 and 9.3 cu. yd.) material-handling buckets with integrated spill guards and curved side cutters; factory-installed payload scale that enables more efficient loading and tracking of material flow to maximize productivity; seat-mounted hydraulic controls for easier and more intuitive to operation; and high-capacity, heavy-duty axles with standard axle cooling and filtration deliver durability in difficult conditions compared to previous models. JDLink provides real-time machine data and alerts to help maximize productivity, efficiency, and uptime. To optimize uptime and lower costs, JDLink also enables John Deere Connected Support.
www.deere.com
---
Lippmann
Booth: 1220
The Lippmann 400c cone plant is highly mobile, offers high production and a large stockpile capacity. Rugged and durable, the 400c is designed to take on the most abrasive and toughest materials in the aggregates industry. This 52-inch cone crusher allows you the ability to direct feed the plant and handle the larger secondary rock it might see from a big primary crusher.
www.lippmann-milwaukee.com
---
Luff Industries
Booth: 916
When operating in high wear applications, the Wear Wolf Wing Pulley is the only solution. Luff strives to provide the best to its customers, which has led to the development of the Luff Wear Wolf material. The proprietary material blend, that boasts 66 Rockwell C while maintaining ductile properties, is used when manufacturing the new Wear Wolf Wing Pulley. This masterful material has demonstrated wear properties 4 times better than AR plate and with 100% surface coverage on the contact bar this is also outlasting hard surface welding two to three times. For more information, contact a sales rep near you.
www.luffindustries.com
---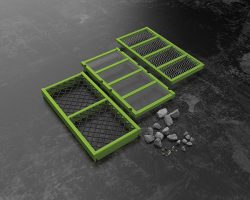 MAJOR
Booth: 2116
MAJOR's FLEX-MAT modular screen media panels deliver increased throughput by providing more open area than traditional panels. FLEX-MAT features up to 40-per-cent more screen capacity than traditional woven wire and up to 50-per-cent more than traditional polyurethane and rubber panels. The modular panels are available in three pattern options: the D, S and T series. The D series features a standard square pattern, which is ideal for precise sizing. The S series maximizes open area, virtually eliminates blinding, and reduces fine contamination. The T series enhances screening for particles below 0.059 inches (1.5 millimeters) and features small openings to minimize blinding. The screen media is secured through either grooved, step, or pin and leg panels. The efficiency-enhancing characteristics of all FLEX-MAT screen media, including modular panels, are created by bonding OPTIMUMWIRE with distinctive lime-green polyurethane strips rather than weaving them. This allows wires to vibrate independently from end to end under material contact. The high frequency of the wires — 8,000 to 10,000 cycles per minute — adds to the vibration of the screen box — 800 to 900 cycles per minute — to speed up material separation and passing.
www.majorflexmat.com
---
Polydeck
Booth: 1238
Upgrade to ULTRAMAX! Launching in March 2022, RUBBERDEX ULTRAMAX is Polydeck's latest innovation in high-performance, extreme open area, modular synthetic media. Utilizing our advanced material science technologies, ULTRAMAX pushes conventional norms by providing open area not seen before in synthetic media. If you are looking for a product that can match the open area of wire, is safer to use, and installs more easily, ULTRAMAX is the upgrade you are looking for. Visit our website to learn more:
www.polydeck.com 
---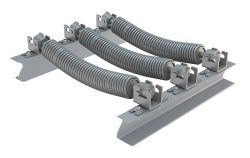 PPI
Booth: 1114
PPI's spring impact roll offers an impact solution that will adjust and flex as materials are beingloaded on the belt. Made for impact, the springs form a trough providing total belt contact with no roll gaps. The durable spring is impact absorbent and self-cleaning, and the flexible nature of the idler aids in installation in tight impact areas.
www.ppi-global.com
---
Process Heating Company
Booth: 3119
The Process Heating Company (PHCo) will offer attendees unique animated videos to show how PHCo's products work, effectively illustrating what sets the company's Lo-Density drywell-style electric heat apart from fossil-fuel burners. From PHCo's unitized asphalt and industrial tank heaters, hot oil circulation heaters, and all-in-one heaters, to its unique distributor truck tank heaters, visitors will discover how PHCo's simple, clean heat source can positively affect their operations — lowering operating costs, improving product quality, reducing maintenance, significantly increasing heater life, and enhancing sustainability. PHCo's electric Lo-Density Unitized Asphalt Storage Tank Heaters, Hot-oil Circulation Heaters, All-in-One Heaters, Drop-in Underground Tank Heaters, and Rigid Tubular Drywell Distributor Truck Tank Heaters all offer asphalt producers, contractors, and municipalities 100% energy-efficient heating. This is because all of the energy is used to heat the product, with no heat or emissions exhausted into the air. The company's Lo-Density heating systems feature low heater sheath temperature, reducing potential damage to liquid asphalt cement and emulsions, while keeping buildup/coking to a minimum in tanks and hot oil systems.
www.processheating.com
---
Superior Industries
Booth: 1314
Superior builds more than a dozen models of its compression-style Liberty Jaw Crusher and will showcase its 30×42 model at AGG1 2022. The 35,000-pound jaw is manufactured with unique features, including an aggressive nip angle for consistent material processing through the life of the liner; a drive guard manufactured of composite material so a single crew member can remove it during maintenance; and push button wedge adjustment to quickly and hydraulically adjust closed-side settings.
www.superior-ind.com
---
Trimble
BoothS: 1467 (lOADRITE), 1952
The Trimble Roadworks 3D Paving Control System for asphalt pavers is the next-generation platform for 3D asphalt paving control systems. Trimble Roadworks is a highly accurate, automatic 3D screed control system that can significantly improve paving productivity and rideability by directly referencing the design rather than a surface or stringline to minimize asphalt usage, reduce waste and overruns and finish projects on time and under budget. The Android-based application runs on a 10-inch (25.7 centimeter) touchscreen Trimble TD520 Display. Trimble Roadworks software has a familiar interface for Trimble users, designed for operator efficiency. Colorful graphics, natural interactions and gestures, and self-discovery features make the software intuitive and easy to learn. Each operator can personalize the interface to match their workflow; configurable views make it easier to see the right perspective for maximum productivity. State-of-the-art software and hardware give operators of all skill levels the ability to work faster and more productively than ever before. Using the Android operating system, users can also download other third-party applications that provide the operator with additional useful tools inside the cab.
www.trimble.com
---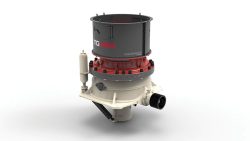 TEREX MPS
Booth: 1152
The Cedarapids TG420 is a 422-hp bronze bushing spider bearing cone. The TG Series of cones provides nominal maximum feed sizes and applied power similar to current Cedarapids cone offerings, but the numerous eccentric throw options and liner configurations allow for increased application versatility. From a course secondary right through to fine quaternary, the TG Series cone crushers will consistently exceed all performance expectations.
www.terex.com
---
Terex Washing Systems
Booth: 3327
The Terex Washing Systems FM 200C is a static sand washing and classification unit designed to be both cost and energy efficient on a single compact chassis. The FM 200C utilizes centrifugal force within the hydrocyclones to remove clay, silt and slime from sand to bring it into the desired specification. With a throughput of up to 200 tonnes per hour the FM 200C is a robust sand plant that can be seamlessly integrated alongside other Terex Washing Systems products. The unit features a robust, easy to assemble steel construction complete with galvanized walkway and handrails to provide easy access; low maintenance and simple operation with self-regulating cyclone tank; the pumps and cyclones have replaceable rubber liners for extended wear life; and the high-frequency dewatering screen reduces residual water content in your final product to 10 to 15%. The all-electric plant is pre-wired to a control panel or isolators to integrate with other equipment.
www.terex.com
---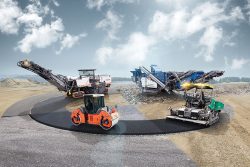 WIRTGEN GROUP
Booth: 2302
Wirtgen Group will be showcasing 10 of its latest technologies, including the North American debut of Wirtgen's W 120 Fi, continuing on the success of the F-series machines debuted at CONEXPO-CON/AGG.
Kleemann will showcase the MR 110i EVO2 mobile impact crusher with the intuitive operator's interface, SPECTIVE. With a crusher inlet of 1,100 mm and numerous technical highlights, a formidable production rate can be achieved with the best cost effectiveness. Thanks to its compact design, the machine is easy to transport and can be assembled and disassembled quickly.
Vögele will showcase the Super 1800-3i SJ with VR 600 SprayJet Paver for thin bonded overlay. It features a large array of impressive innovations. One key feature is that operation of the spray module has been integrated into the ErgoPlus 3 operating concept.
Hamm will feature the HD  + 120i VV-HF tandem roller with two vibrating drums. The machine's features include: operating concept Easy Drive; electronic machine management via Hammtronic; three-point articulation for even weight distribution and excellent directional stability; track offset for comfortable starting and driving away and compacting at curbsides; and excellent view of the machine and construction site.
www.wirtgen-group.com
---
Print this page