Features Heavy Equipment Roads & Bridges
Volvo Trucks launches overhauled VHD Vocational Truck and more with virtual walk-arounds
July 23, 2020 By Jay Koblun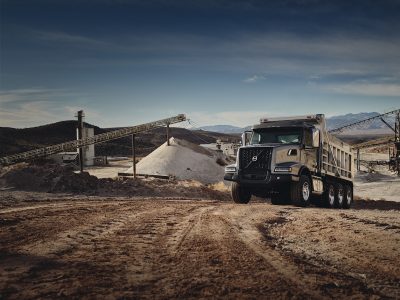 Volvo Trucks held a video conference last week highlighting its latest product redesigns and advancements to its vocational VHD and VAH models.
Volvo was unable to host a new product event like it normally would at the Volvo Trucks Customer Center in Dublin, Va., due to physical distancing and travel restrictions currently in place due to COVID-19., but Volvo found a way around the problem by hosting a virtual press event and walk-around on July 16.
"Our full range of product is now complete," said Magnus Koeck, vice president of strategy, marketing and brand management.
Volvo VHD Vocational Series
When Volvo unveiled the tougher and smarter Volvo VHD, John Felder, product marketing manager, said it not only offers a fresh, modern look, but also the latest in safety and uptime solutions for vocational applications.
"The new Volvo VHD looks every bit as capable as it is, designed to bring new energy into the vocational market," said Felder. "Everything we've done to improve the model to make it more versatile and reliable also extends the life of the vehicle and increases driver productivity, safety and comfort. Drivers will love this truck because it makes hard work easy. It's the perfect example of tougher made smarter."
The new Volvo VHD provides a number of upgrades, including an updated exterior, giving a modern look that reflects the other models in the Volvo Trucks family. The VHD has a new grille design, as well as new LED high/low beam headlights. The fully sealed headlamp component offers a brighter, more focused beam for increased visibility. An available de-icing feature burns through ice and snow that accumulates on headlamps in colder weather.
It also features updated safety and productivity features for the vocational industry include Volvo Dynamic Steering (VDS) and the next generation of Volvo Active Driver Assist (VADA). The VDS system delivers a safer, more comfortable driver experience by adding torque to reduce steering strain at low speeds and remove vibrations caused by rough terrain. Also, now available in the VHD, the next-generation VADA provides integrated radar/camera capabilities, automatic emergency braking, highway departure warnings, adaptive cruise control and more.
The truck has a new, robust VHD bumper featuring a heavy-duty 45 mm tow pin rated for a full 80,000 pounds. Responding to customer requests, the rugged tow pin allows for a quick pull out of sticky situations thereby increasing uptime and drivers' peace of mind.
"A state-of-the-art interior offers improved driver comfort and productivity. For example, the truck's ignition has been moved to the lower left-hand side of the dash, while the steering wheel buttons are more touch-friendly and clustered intuitively to help drivers feel more confident," said Felder.
The truck also has Volvo I-Shift transmission with crawler gears adds one or two gears to the 12-speed Volvo I-Shift transmission, enabling the VHD to start on steep grades, provide low-speed control, and reach maximum highway speeds with faster rear axle ratios; Volvo T-Ride suspension delivering its best ride under the most demanding conditions by applying constant pressure on the wheels to create sure-footed traction; and the latest in connectivity solutions such as Remote Programming and Remote Diagnostics allow customers to use real data insights to make the right decisions for increased safety and truck productivity.
Redesigned VAH Model
Auto transport is a niche industry that presents unique demands on equipment and drivers. Volvo Trucks has responded with a comprehensive update to its Volvo Auto Hauler (VAH) series which is now available to order. The new model is designed on the same heavy-duty platform and with many of the innovative features and durable construction found in Volvo Trucks' vocational VHD model.
Volvo said the roll-out of the new Volvo VAH, a specialized solution for the auto transport industry, completes the design overhaul of the entire Volvo Trucks North America product portfolio.
The updated Volvo VAH model improves transport efficiencies for customers by providing enhanced loading flexibility and optimized carrying capacity. Deep-drop front axles, low-height Volvo Air Ride rear suspensions and industry-exclusive reduced-height cab options create a lower overall roof height, allowing larger passenger vehicles such as pick-up trucks, minivans and SUVs to be positioned above the cab while still allowing the loaded chassis to be below height and clearance regulations.
Another feature of the new VAH model is that no structural changes outside of the roof modification are required on the cab, protecting Volvo Trucks' front impact safety features and retaining the OEM first-time quality build and ride characteristics.
"Volvo Trucks is proud to roll out the most advanced auto hauler model in the trucking industry," said Andy Hanson, product marketing manager, Volvo Trucks North America. "Behind the new, updated look are significant engineering innovations utilized in the other models in our impressive product portfolio. We're excited to introduce this new VAH model, designed with Volvo Trucks' core focus on safety, productivity and comfort for drivers."
An updated Volvo Active Driver Assist (VADA) collision-avoidance system available on the new VAH features radar and automatic braking technology to monitor road hazards provide the ability to completely stop in certain emergency situations. Other innovative engineering solutions include remote start, Volvo's I-Shift automated manual transmission and the Position PerfectTM steering configuration.
A modern, state-of-the-art interior offers improved driver performance features and amenities including new LED lighting for increased visibility, cruise control and a symmetrical instrument cluster with a high-resolution, programmable LCD screen that conveys critical vehicle alerts and system settings. An optional infotainment system features a seven-inch color touch screen and integrated audio.
Volvo Trucks' Remote Diagnostics platform is standard on the new VAH. Enhanced proactive diagnostics enables a detailed analysis of critical fault codes for repair planning, immediate communication if actions are required, and streamlined service procedures.
Remote Programming, as part of the Remote Diagnostics service bundle, is also available on the redesigned Volvo VAH. Remote Programming provides significant time savings as updates and parameter changes can be done in a matter of minutes over the air, without the customer having to visit a dealership.
"The technology behind the VADA system and our range of other driver productivity features built into the new Volvo VAH has progressed exponentially over the last several years," added Hanson. "The advantages in vehicle and driver performance put these models into a category by themselves."
The new VAH will come in three variations offered through Fontaine Modification:
The VAH 300 day cab (Fontaine model 94 or 97) offers 11-vehicle capacity and a tight turning radius for easier maneuvering. The VAH 300 features a 113.6-inch BBC and is available with a 94.5- or 97.5-inch (unladen) roof height.
The VAH 400 sleeper (Fontaine model 97 or 102) provides a 52-inch interior cab height for comfortable overnight during extended regional deliveries. Along with maximum payload capacity, agility and driver amenities, the VAH 400 offers a 145.6-inch BBC and can be ordered with a 97.5- or 102.5- inch roof height.
The VAH 600 sleeper (Fontaine model 97 or 102) offers cab height of 61 inches for maximum comfort on long-haul routes requiring multiple nights on the road. The auto-hauling industry's premium sleeper features a 36-inch wide mattress, ample storage space and refrigerator capacity.
The Volvo Trucks Customer Center is currently open at a very limited capacity for in-person vehicle reviews. Volvo Trucks is encouraging customers to contact their dealer sales representative to request their own virtual experience or a hybrid presentation, which includes both online and on-site, socially distanced attendance, for a unique look at new trucks or models not available in their area. The Volvo Trucks Customer Center is able to utilize whatever video conferencing platform is preferred.
---
Print this page