TMP approval could be good news for aggregate producers
July 18, 2019 By Carroll McCormick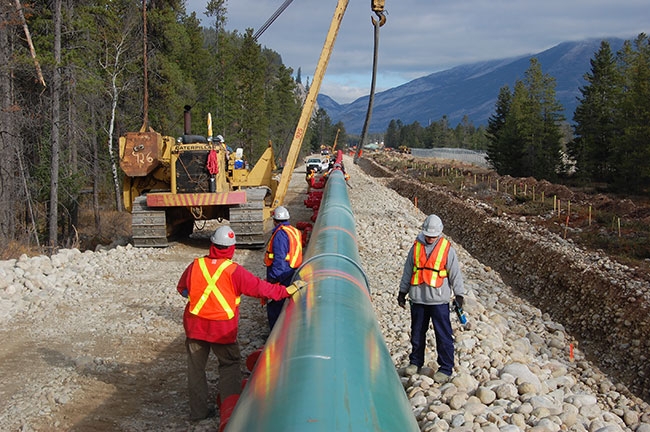 Busy times would seem to lie ahead for aggregate producers, now that the federal government has approved the twinning of the Trans-Mountain Pipeline (TMP) between Edmonton and Burnaby, B.C.
But it may be premature to uncork the champagne, as opposition is plentiful to what many argue is an economically flawed and environmentally dangerous project.
Twinning the TMP includes laying around 980 kilometres of new pipeline, which, along with 193 kilometres of pipeline already built and ready for reactivation, would complete the twinning of the 1,140-kilometre TMP between Strathcona County (near Edmonton) and Burnaby. One estimate of the completion date is sometime in 2022, should construction begin this year. (The project is reportedly still hundreds of permits and several route segments short of full approval.)
The aggregate required to cradle the buried pipe would be substantial. The exact amount and kind required depends on factors such as the porosity and rockiness of soil along the pipeline route, and the slope of the terrain. But ballpark estimates put it at between one and two million tonnes.
"Native soil can be used if it is adequate – but no large rocks, nothing above two inches. If the soil is not proper, then material will have to be transported in from another site. Imported fill would be a nice sand – 0-3/4 inch – but it could be a little coarser – let's say one inch," according to an engineer who kindly offered a thumbnail analysis of the task, and who also asked to remain unnamed.
As for how much aggregate this could tote up to, the engineer continues, "Under the pipe, possibly around 15 centimetres of well-compacted material [totaling] approximately half the pipe diameter to make a bed to lay the pipe. If there is bad soil around pipeline [and] you need to borrow aggregate, then considering 30 centimetres of cover… a very rough estimate of one cubic yard per metre of pipe."
Assuming an average weight of 1,202 kilograms per cubic yard, a bit of basic arithmetic (1 CY x 980,000 metres x 1,202/1,000) suggests that 1,177,960 tonnes of aggregate would be needed. While admittedly back-of-the-napkin, the number is not a galaxy distant from what Tyson Craiggs, president of the board of directors for the British Columbia Stone, Sand & Gravel Association (BCSSGA) has heard. "I heard one million tonnes from the Fraser Valley to Vancouver. I heard two million. One guy told me 160 tonnes per length of pipe [whatever that is]."
Whatever the quantity, Craiggs sees good business for BCSSGA members. "It is going to allow for a lot of extra gravel production along the line. All the aggregate will come from private producers. There will be no government pits involved. That opens the doors for producers. One of the challenges on large highway projects is that they use government pits."
As for how many producers may be able to get in on the action, Craiggs notes, "Just speaking in the Lower Mainland, from Hope to Vancouver, we have 30 to 40 gravel pits. It will allow a lot of participants from our industry. From Hope to Vancouver there is going to be a ton of aggregate used. We're super excited about what this will bring to our industry, especially with the slowdown in the housing market."
A TMP route map prepared by Trans Mountain shows that the existing twinned section runs from Hinton, Alta. to Hargreaves, B.C. That leaves about 290 kilometres of twinning to do between Edmonton and Hinton. The rest of the twinning work would be done in B.C.
John Ashton, the executive director of the Alberta Sand & Gravel Association (ASGA), assesses the value of the twinning work to ASGA members like this: "The project itself does not have a massive impact on us directly. The pipeline cannot be the real economic significance of it. TMP is not a cure-all.
"What it does mean is that with Alberta oil potentially having more customers and [becoming] more valuable, there are a number of companies in the north [of Alberta] who provide services, and for whom demand might go up. The story is what is going to happen to the economy if and when it is completed. It has the potential to be a stimulus. It is iffy that it would be that great, but it would have an effect. I am very certain that the effect would not be zero."
Ashton sees the work being shared among a lot of aggregate producers and haulers because of the prohibitive cost of transporting aggregate long distances. "There would be a different provider every 30 kilometres," he says.
Prime Minister Justin Trudeau's June 18 announcement approving the twinning certainly generated a lot of excitement. And the aggressive press release issued the day before by the Canadian Association of Petroleum Producers (CAPP) made it sound like the twinning is a national economic imperative of the highest order, one which only the idiocracy could fail to comprehend.
The misleading information swirling around the TMP story is staggering; e.g., the expertly-disputed insistence that not having it is costing the Canadian economy $80 million a day – a bloating by politicians and the O&G industry of what economist Robyn Allan writes is an incorrect $40 million penalty presented in a deeply flawed Scotiabank report.
Yet while the federal government is bent on spending $13.8 billion of taxpayer money, including the $4.5 billion already spent to buy the old TMP, to build another pipeline for which some experts say is a non-existent Asian market, and irresponsible from a global warning crisis point of view, the TMP may be blocked by more of the same public opposition, and particularly court action, that resulted in the Federal Court of Appeals overturning Ottawa's 2018 approval of the TMP.
Protesters have already hit the streets, and First Nations are insisting that their established rights to free, prior and informed consent have once again not been respected. The National Observer reported this in a June 19, 2019 article: "We will be appealing this decision to the Federal Court of Appeal," said [Chief Leah George-Wilson of the Tsleil-Waututh Nation]. "Tsleil-Waututh Nation continues to withhold our free, prior and informed consent, and are prepared to use all legal tools to ensure our government's rights are respected."
Protect the Inlet reported in a June 19, 2019 press release these words: "No matter who approves it, this pipeline will not be built," said Will George, a leader of Protect The Inlet and community member of the Tsleil-Waututh Nation whose territory encompasses the tanker terminal."
After the June TMP approval announcement, Al Jazerra interviewed
Tzeporah Berman, international program director at Stand.earth. She said, "The fact is, there have been many approvals of pipelines – Keystone XL, Northern Gateway in Canada – none of them have gone forward, because what we're seeing is growing opposition. It is not just environmentalists and Indigenous nations that are opposed to this project. It's 19 municipalities, the City of Vancouver, the City of Burnaby, the province of British Columbia. There will be more legal challenges. There are already protests."
History may yet show that there was a lot more business to be had in the long term for the construction industry had the federal government offered $14 billion for energy conservation and to help grow the already valuable alternate energy industries.
---
Print this page