Silver
---
Operations productivity made visible with the new Trimble Insight
Productivity data is often late, unreliable or requires a manual process to gather. Managers often rely on tally sheets, spreadsheets or in-house systems to manage quarry operations, but this isn't always efficient to manage large data sets. It can be difficult for managers and operators to make informed decisions during the shift that positively influences productivity or production.
Now there is Trimble Insight…
Trimble Insight provides actionable insights to identify, respond to and solve issues, control inventory and increase productivity. Real-time access helps you make changes during the shift and see the immediate impact on production. See target vs. actual production, delays, downtime and more, so you have the confidence to make more informed decisions.
Trimble Insight draws data from Trimble LOADRITE loader, excavator, haul truck and conveyor belt scale sensors into centralized cloud storage. All your operations data is visible in one place so you can track progress against targets and take action.
Dashboards
Real-time visibility of all your production metrics (load/haul, processing and products) from your excavators, haul trucks, ADTs, conveyors, and loaders
Notifications
Proactive customizable alerts keep you informed of lost productivity opportunities. By raising awareness that your operation has drifted outside your plan, corrective actions are easy and timely.
Action Replay
Using production data (payload, cycle times and speed) overlaid with location, an animated replay provides an objective view for alternative haul plans, incident safety reviews and operator training.
Secure accessible data
Maintains data integrity from the machine, with validation and caching (in the event of communications downtime) to provide a single source of the truth. Access your data on desktop or mobile devices across one or many operations.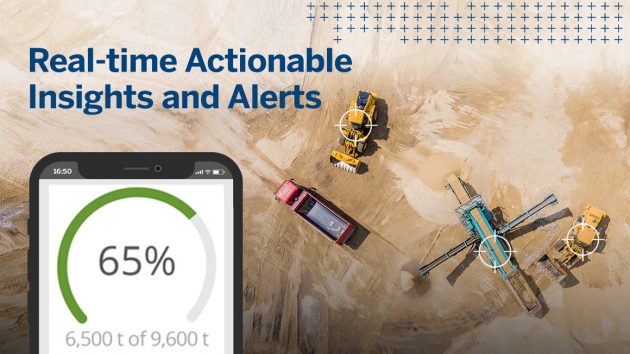 Clear Reporting
Trimble Insight provides a summary or transaction-level historical data. Customizing your reports using the report builder allows you to focus on what's important to your business.
API integration
Ready to integrate with your existing quarry business systems and processes.
Trimble Insight helps optimize your quarry operations, providing the right data in real-time and actionable insights to make the right decisions with confidence.
Learn more at trimble.com/insight