Silver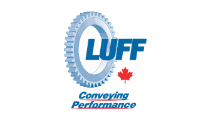 ---
What began as a small company developing conveyor rollers in 1979, has grown into an industry-leading manufacturer, producing a complete line of idlers for every application, long-lasting, durable pulleys and many other conveyor components to help improve conveyor system performance. Luff Industries' commitment to provide innovative products, quick turnaround times and exceptional customer service has provided the platform for growth over the past 40 years.
All Luff products pass through a thorough ISO 9001 quality inspection program and are backed by a full two-year warranty. Luff was the first idler manufacturer to offer a comprehensive 24-month warranty on all products.
Using patented polymer end caps and sealed-for-life ball bearings in all CEMA B, C and D rollers, Luff idlers stand apart from the competition. Luff has taken it one step further and partnered with one of the most reputable bearing suppliers, SKF. Luff became the first North American OEM to be SKF Equipped, to ensure its customers receive the best components on the market. Together with the optional High Moisture Seal (HMS), Luff offers the ultimate in advanced roller sealing technology. The upgraded sealing arrangement protects the bearing from various environmental contaminants, including dust and heavy moisture. Luff also manufactures CEMA E- and F-rated idlers, built for the most demanding conditions. Backed by the same full warranty, the CEMA E & F Series comes standard with Luff's HMS, perfect for all heavy-duty applications.
Built to withstand the harshest of applications, Luff pulleys are unmatched in quality and dependability. Available in drum, wing, spiral and helical designs, Luff can custom design and engineer pulleys to meet your specific needs. Using state-of-the-art finite element analysis (FEA) software, Luff's team can assist with all aspects of pulley design. Fabricated from heavy schedule pipe with engineered endplates, all Luff Pulleys are backed by a full two-year warranty — providing years of valuable, maintenance-free service. The heavy shell absorbs more stress, reduces shell deflection and protects against abrasive wear. Engineered class pulleys are available upon request and can be offered with an extended warranty.
To help protect your investment, Luff has a variety of pulley lagging options available including SBR Rubber lagging, HOLZ Slide-Lag and Ceramic lagging. Pulley lagging increases the traction between the belt and the pulley, resulting in reduced wear on the drive, belt, pulleys, bearings and take-up frames. Preventing belt slippage, providing a self-cleaning action and reducing wear extend the life of the pulley and key components of the conveyor system, preventing costly maintenance and replacement of damaged pulleys.
For more information, visit our website https://luffindustries.com