Tips for an effective plant maintenance walk-through
October 14, 2015 By Carol Wasson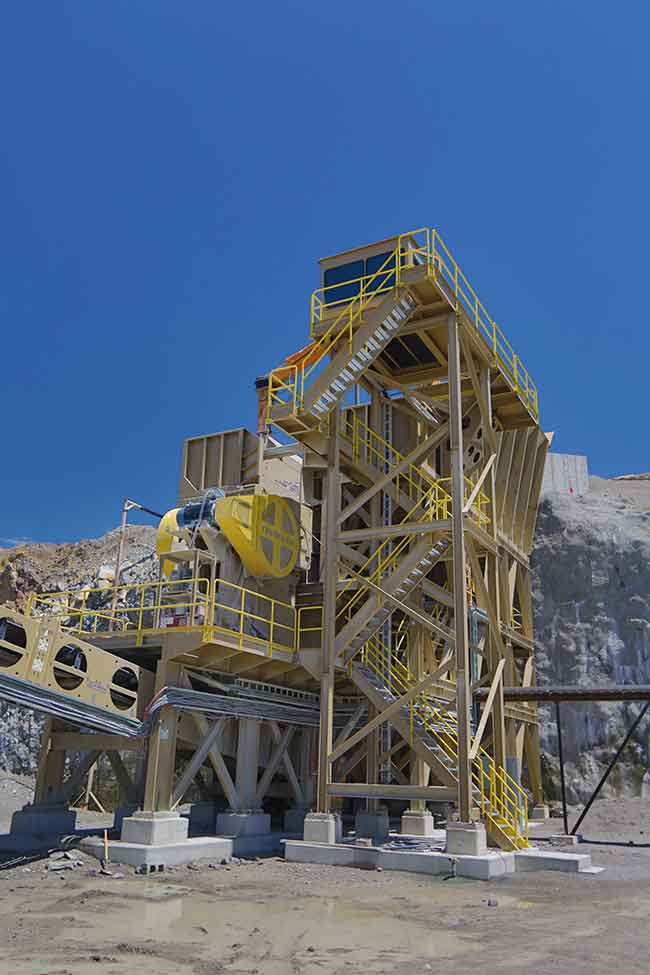 Gaining an edge in efficient performance can only occur when plant maintenance is proactive – not reactive. The latter is merely a fix-it-after-it's-broken mentality. A proactive approach generates an ongoing preventive and predictive maintenance strategy that ensures increased uptime and throughput, maximum equipment wear life, higher quality products, and improved safety.
Conducting ongoing and effective plant maintenance walk-throughs is integral to gaining control over premature equipment and component failure, and costly maintenance downtime.
Brian Taylor, product lifecycle manager (portable, stationary, and modular plants) for Telsmith Inc., shares valuable plant maintenance strategies at industry events; and when working with customers in the field. While every maintenance aspect of every plant component cannot be covered in a single session or presentation, Taylor says it's important to "begin by checking off some of the very top items on the effective plant walk-through punch list." The implementation of each of these top tips is integral to boosting one's efficiency edge from feed to finished product.
Vibrating grizzly feeders
Prevent live frame damage on feeders (as well as screens) and the potential cracking of side plates by inspecting for proper clearances between the vibrating equipment and any other steel structure. The live frame must be able to move freely, without any interference – from startup to shutdown, or whether empty or loaded. Maintain a minimum of ½-inch in side-to-side clearance; 1-1/2-inches in the up direction; 3-inches in the front or back direction; and 6-inches in the down direction. Inspect feeders at shutdown for any signs of impact and immediately create a clearance for any area that is making contact. Check for any material lodged between the skirtboards and the feeder, and clear out any buildup. "With the G-force that goes through this equipment, even contacting clay material buildup, for example, can cause a severe beating action on the equipment frame," Taylor says.
Maximize scalping capability by checking for any material buildup between the grizzly bars after each shift. If there is plugging, more fines will enter the crusher. Also, inspect grizzly bar caps for wear. Worn or bent bars are far more susceptible to material buildup. "A clean, well-maintained plant is a safe, high-throughput plant," Taylor says.
Prevent feeder pan wear and reduce maintenance costs with replaceable abrasion-resistant steel liners that are either welded or bolted in place. As the liner wear thins, it may buckle or warp, indicating it is time to replace it. Never allow the liner to wear through, exposing the pan to wear. Inspect liners monthly and replace them as needed.
Keep an eye on maintenance basics. Walk around every machine in the plant and check for loose hardware or cracks. Taylor says that a crack is like a hole in your sock. It's never going to get any smaller. If you can find a crack early and address it – that's best. It's also imperative to closely monitor fluid levels and maintain clean breathers. Proper maintenance requires following the manufacturer's recommendations on oil change intervals.
Jaw crushers
Since jaw crushers are thought of as very robust machines, Taylor says that often some very important maintenance issues may be overlooked. He points to several of the most common issues he addresses in the field.
Check jaw dies daily. Make sure that the bolts are kept tight. Once you have a loose die, it's hard to keep it tight unless you get to it quickly. In larger machines, there is often a liner placed between the back of the jaw die and the parent metal of the frame. Smaller machines may not have a liner. Loose dies will start rubbing and grinding on the frame and the pitman. With excessive wear, it is hard to keep them tight. Avoid running jaw dies so long that they become too thin. You may find that you can no longer flip them over, and then you have lost half the wear life. To get the full life out of the manganese, change dies out sooner than later. When replacing dies, check the area with a straight edge and make sure that it is true and flat. Upon flipping or replacing the die, Taylor says that you can't just torque them one time and walk away and expect them to hold. "Go back a few hours later and retighten them again; and then check them daily," he says.
Keep toggle area clean. Wash out the toggle seats and plates daily, as wet material buildup results in a gritty compound that grinds down components, causing premature wear. Remove dirt and debris from crusher frame surfaces and from areas around the machine. Monitor discharge chutes for any obstructions and check for any material buildup under the jaw which could cause excessive wear to the pitman. Check the toggle tension springs. A loose toggle results in a distinct thumping noise. Make sure there is equal compression on each toggle. Check the operator's manual as they should not be too overtightened or too loose.
Keep oil systems free from contamination. A periodic oil analysis will give a heads-up as to the condition of the machine. Allowing the crusher to operate with worn out or contaminated oil leads to a decrease in bearing, gear, and liner life. Keep the breathers clean and make sure they have not been knocked off, causing an opportunity for dirt to get into the clean environment of the bearings. Do not let dirt and debris collect on hydraulic units. Check for leaks in hoses, fittings and pump seals. Monitor fluid levels. "Remember, machines may have an automatic lubrication system, but the system does not fill itself," Taylor says.
Cone crushers
Provide a consistent well-graded feed and keep the crusher choke fed during operation – a practice that maximizes the effectiveness of rock-on-rock crushing, which in turn maintains maximum manganese wear life, and ensures a quality product shape. Taylor stresses that it's certainly common to see crushers operating with too little feed or with too many fines in the feed. A lack of feed causes a side-loading of the machine, which means that crushing forces are affecting all internal components. Similarly, in the case of an overabundance of fines, crushing forces subject components to damage and premature wear. Additionally, when not choke feeding, one is increasing re-circulating loads, which impacts components such as screens or other crushers that are downstream of the circuit.
Monitor performance trends
Finally, an effective plant walk-through involves maintaining maintenance logs, and collecting performance data. As part of establishing a predictive maintenance program, Taylor talks to operations about monitoring equipment performance trends, or what some call "condition monitoring," which involves measuring and notating parameters such as amperage draw, vibration, and temperature in order to detect, analyze, and correct a problem before a failure occurs.
Carol Wasson is a veteran freelance writer for the aggregates and construction equipment industries. She prepared this article for Rock to Road on behalf of Telsmith Inc.
---
Print this page