January 23, 2017 By Tadano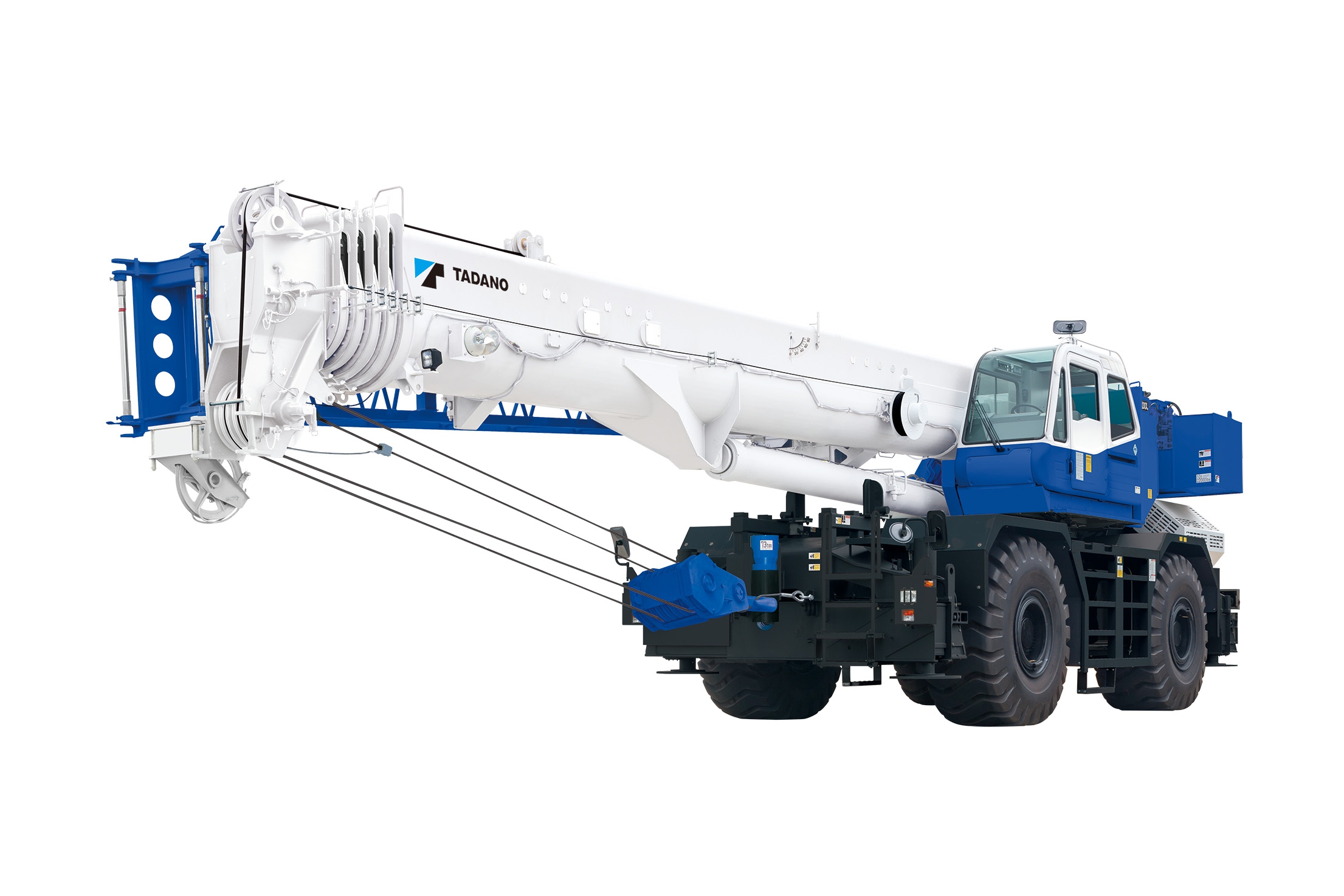 January 23, 2017 – The new GR1200XL will be introduced at ConExpo2017. With 120 tons of capacity this crane is the newest addition to Tadano's line of industry leading safe, high quality and efficient rough terrain cranes. The GR1200XL sits at the core of Tadano's large rough terrain line-up and features the industry's longest boom and jib combinations.
The GR1200XL features a 183-foot 7 inch (56m) 6-section formed boom. It is complemented with a 33 foot 2-inch (10.1m) to 58 feet 1 inch (17.7m) jib and sits on a compact 2-axle carrier.
Considered the "new generation of rough terrain cranes," Tadano continues to expand the GR series rough terrain crane line-up that now includes seven models ranging from 15 to 160 tons (12mt to 145mt). These cranes are mainstays in the energy/petrochemical/construction sectors due to their excellent reputation for reliability, safety and operational performance. Tadano's customer base of large fleet owners recognizes the GR series as being the lowest cost rough terrain cranes to own and operate.
"We are particularly eager to unveil this new crane at ConExpo that fills the gap between our popular and market leading GR1000XL and GR1600XL models", said Ingo Schiller incoming president of Tadano America. "Tadano continues to lead the rough terrain crane market by building high quality cranes that have the lifting performance and ease of transport that our customers need," said Schiller.
Other important features include:
•Tadano's Load Moment Indicator (AML-C) with full on-board diagnostics;
•Cummins powered Tier IV compliant QSB6.7 direct injection engine;
•Tadano quality manufactured hoist and telescopic cylinders;
•Added safety features include multiple tie off points and safe access and egress points; and
•Backed by Tadano's easy access customer service organization.
By popular demand, Tadano reintroduces the ATF110G-5:
This popular Tadano 121-ton (110mt) crane has been upgraded to include several new and enhanced features including multiple counterweight configurations for ease of transport and the new AML-F load moment system that includes full on-board diagnostics.
The ATF110G features a 170-foot 6 inch 5-section formed boom and a jib configuration ranging from 12.5 feet (3.8m) to 105' feet (32m). The jib includes an integrated heavy lift jib.
"The former ATF110-G-5 was one our most popular cranes," said Mark Krajci, All-Terrain Crane product manager. "We have been looking forward to the new model introduction and the improved ability to work and transport the machine in multiple counterweight configurations."
Additional features include:
•Asymmetrical outrigger set up, exclusive lift-release adjuster safety system that provides radius correction for boom deflection under load
•Main and auxiliary drum and front mounted drivers cab cameras
•Cost effective flat front drivers cab glass
•Quick removable hose reel with stand
•2 engine design
•Backed by Tadano's easy access customer service organization
Tadano will also be displaying five other units from their full line of rough terrain and all-terrain cranes.
• GR150XL ORI – Utilized in confined city and petrochemical/refinery applications this popular model was upgraded to include additional ground clearance and offer a more aggressive tire tread for better off-road performance. The 6-section full power synchronized telescoping 78-foot (23.8m) boom is complemented by either an 11 foot 8 inch (3.6m) or 18 foot (5.5m) two-staged off-settable jib. Just like its all of Tadano's line-up of rough terrain cranes this crane is equipped with an on-board self-diagnostic AML system, Tadano's exclusive asymmetrical outrigger set-up and Hello-Net telematics system.
• GR1000XL: This crane continues to dominate the 100-ton class rough terrain crane in North America and is a standard in many North American crane rental fleets. The GR1000XL is equipped with a long 154 foot 2inch (47m) 5-section boom and a 58.1 foot (33.2m) bi-fold jib. Additional features include Tadano's operator friendly AML system with on-board diagnostics, exclusive asymmetrical outriggers and Hello-Net telematics.
• GR1600XL: The 3-axle GR1600XL continues to set standard for features and on-the-job performance. Originally equipped with a 200.1-foot (61.3m) boom and a 2-stage, bi-fold lattice hydraulic tilt jib, Tadano now offers two optional 23 foot (7m) inserts that extend the jib to 105 foot (32m) achieving a lifting height of 302.5 foot (92.2m). With self-removable counterweight and front and rear outriggers, the GR1600XL is simple and easy to transport. Other features include the tilt cab, asymmetrical multi-position outrigger set-up and Hello-Net telematics system.
• ATF70G-4: The 77-ton (70mt), 168-foot (52m) long boom crane comes with a 5.9-foot (1.6m) to 52.5-foot (16m) jib, utilizes multiple counterweight configurations for ease of transport. This 4-axle crane come equipped with Tadano's exclusive lift-release adjuster system, asymmetrical outriggers and 2-engine design.
• ATF400G-6: Tadano's 450-ton (400mt) capacity flagship crane will be making its second appearance at ConExpo. A key feature of this crane is the lifting strength of the 5-section 196.8-foot (60m) boom. The superior load charts out-perform competitive cranes that require expensive and time-consuming heavy lifting systems. Equipped with the optional luffing jib it can reach a maximum tip height of 400 feet (121.9m). An optional power lift system is also available for increased capacities.
About Tadano America Corporation
Established in 1993 in Houston, Texas, Tadano America Corporation is the strategic base for sales of rough terrain cranes, all terrain cranes and boom trucks for the North American market. Tadano America has dedicated customer service office locations located in Houston, Texas; Edmonton, Alberta providing direct-to-customer product support. Tadano's corporate office, located in Houston has 46,000 square feet of warehouse space for parts and storage. Tadano's field service staff works in key areas throughout North America continuing Tadano's core values of safety, quality and efficiency. Tadano's products are available both direct and through a broad dealer network. Tadano America Corporation is a subsidiary of Tadano, Ltd.
---
Print this page