Features Aggregates Profiles
Returning to roots: Walker Aggregates talks land rehabilitation
Walker Aggregates returning land to agricultural roots
February 2, 2017 By Andrew Snook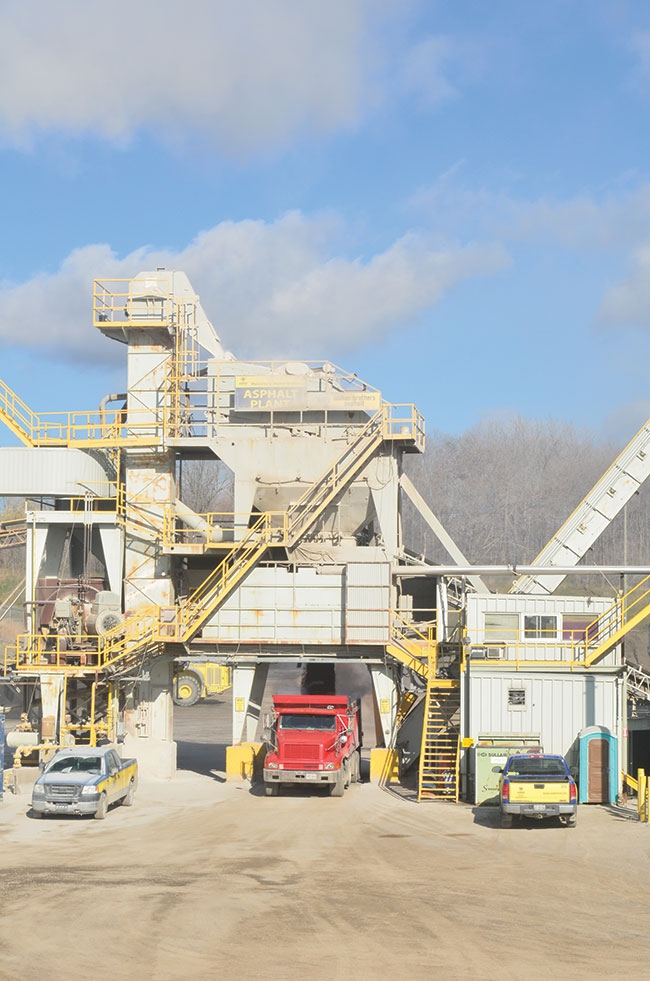 Febraury 3, 2017 – Grape vineyard. Honeybee re-population. Naturalized Ginseng Habitat.
What do these three agricultural projects all have in common? How about quarries and gravel pits?
In Ontario's Niagara and Simcoe Regions, Walker Aggregates has been hard at work rehabilitating its existing pits and quarries to best match their former applications and return the land to its agricultural heritage.
"We've got a long history in the Niagara area," says Frank Kielbowich, general manager for Walker Aggregates' Niagara Region and the western Greater Toronto Area.
Long history, indeed.
The company was established in 1887 with aggregates at the core of its business. Walker Aggregates is one of several companies under the Walker Industries banner, which is owned and operated by fifth-generation members of the Walker family. The group of companies within the Walker banner includes aggregates, construction, emulsions, environmental project management, waste management, renewable energy projects and green building.
Depending on the time of year, the company employs approximately 700 people. About 150 of those employees work at Walker Aggregates, which supplies a full range of crushed limestone and sand and gravel products for asphalt, concrete, construction and landscaping across southern Ontario.
The company has 16 sites in the Niagara Peninsula, Essex and Simcoe regions; as well as two hot mix asphalt batch plants in the Niagara area that produce a full range of mixes from materials for driveways to municipal and highway road construction. Walker Aggregates is an independent and 100 per cent Canadian-owned company and is one of the largest producers of aggregates in Ontario. And at every active site, there is a plan in place to return them to their roots.
"We have a rehabilitation plan at every site," Kielbowich says. "As we dig into the ground and dig the rock out, we rehabilitate our sites. Ideally, the governments would like us to rehabilitate the sites to match the surrounding areas. So if you're in a large agricultural area, maybe you can rehabilitate the site back to farmland; or maybe you can create a water reservoir that a farmer could draw from to help their crops."
The company progressively rehabilitates the land it operates on, so when it extracts rock from one area, it strips off topsoil and clay from another area and fills the land back up as the operation moves.
"A lot of times you have to introduce topsoil and clay from various projects," Kielbowich explains. "We have very stringent testing criteria for that – we don't just accept any soil from any project. It goes to a certified laboratory and it gets tested to make sure it meets the specifications."
The company's prize rehabilitation effort to date resides at its Vineland Quarries & Crushed Stone site in Vineland, Ont. As the company extracted rock, it built a fully functioning vineyard, Edgerock Vineyard. The vineyard has been producing a variety of grapes for about 10 years. Walker Aggregates has sold some of the grapes to wineries throughout the Niagara Region, and at times, even created its own wines.
"It's the first rehabilitation project in an aggregate application for a vineyard in North America," Kielbowich says. "We've been recognized with progressive rehabilitation awards."
The rehabilitation of the land started in the late 1990s. Now the vineyard supplies the Niagara Region wineries with about 28 acres of grapes annually, creating additional agricultural jobs to the area.
"We partnered with the University of Guelph and it gave students an opportunity to help research topsoil," Kielbowich says. "A lot of research went into this – looking at the age and till of the topsoil and how optimal it was to grow grapes [at Vineland] and why grapes flourish in the Niagara area. It was really good research."
Building buzz
The vineyard isn't the only way Walker Aggregates has returned agricultural land to its roots. The company also sectioned off part of the Vineland site to help re-build the local honeybee population.
"We have a local honey producer that we allow to bring his beehives onto the land and store his honeybees there so they can move and around and not be confined," Kielbowich explains. "This allows them to collect pollen and make honey. We like supporting bee habitats and bee life because that's a big concern right now."
One of the projects that Walker Aggregates has planned for the Vineland rehabilitated site in 2017 is to plant additional native grasses, flowers and fauna to encourage the repopulation of the local honeybee population.
The honey producer is also allowed to keep his bees on the property over the winter to ensure their safety.
"We have the land and resources to do it, so why not help out a little," Kielbowich says.
Ginseng growth
At the company's Edgar Sand & Gravel Pit northwest of Barrie, Ont., the land is being rehabilitated to grow ginseng.
"We've cornered off an area where we allow the ginseng to grow," Kielbowich says. "Biologists come in every year and monitor the ginseng… this is a natural, wooded area that is on our property and fenced off. We don't extract it, we just let it grow."
He adds that returning quarries and gravel pits to their roots is a policy taken extremely seriously across the company.
"We take a philosophy that the environment is our business, so our business is the environment," Kielbowich says. "We take from the Earth but then we try to be responsible and replace it. Maybe not in the same manner but in a way that will help the local ecosystems."
Bird is the word
At the company's Anten Mills Sand & Gravel Pit in Simcoe County, the company has been rehabilitating the site to improve the health of endangered species and species-at-risk in the area, particularly the whippoorwill bird population.
"It's been known to frequent the area," Kielbowich says. "With the help of the MNRF (Ministry of Natural Resources and Forestry), and some certified biologists, we were able to create a whippoorwill habitat. We sloped the land at a certain grade, we planted natural grasses, put in some old logs, stumps and larger rocks to re-create the natural area. It's been pretty successful for the health of the bird."
This species of bird is a night dweller, which offers advantages the company's aggregate operations.
"We can do our operation during the day, then when we leave the birds come in and do their thing in their natural habitat," Kielbowich explains.
Social licensing
Social licence and keeping up with changes to environmental legislative changes are among the challenges that Walker Aggregates faces regularly.
"There's been a big paradigm shift over the last couple of years right across the industry," says Kielbowich. "More aggregate companies are working with their neighbours [and general public] and keeping them informed. There's a lot more environmental compliance. I think we're a pretty good leader in those sectors… The theme of today is sustainability. There's a lot of new measures in place, whereas, 10 or 15 years ago you didn't need to manage the noise coming out of a quarry; now you have to mitigate those things."
The company has spent the past five years upgrading its quarries and pits to try and stay ahead of the curve when it comes to dust and noise mitigation.
"It's an ongoing cost," Kielbowich says. "We cover conveyors, we have water suppression to help keep the dust out of the air. We have buildings that are enclosures around crushers and screens to help with dust and noise… we've also added noise dampening media panels to operations to help take the noise down."
The provincial ministry mandates that companies report on their dust and noise levels throughout the year, as well as any affects from blasting operations.
"We have third-party consultants come in and do measurements and tests and monitor for us," Kielbowich explains. "If there is anything above what the provincial limits are, they're reported. Nobody is perfect, it happens from time to time, but I like to think we minimize them."
Walker Aggregates use in-house fabrication for the creation of the majority of its noise and dust control solutions, which account for the majority of the company's most recent upgrades of its static equipment at its quarries and pits.
An impressive fleet
Walker Aggregates has 81 pieces of mobile equipment in its operations, including a variety of CAT, Komatsu, Hitachi, Terex, Volvo and John Deere models.
"We try to upgrade our mobile equipment. We watch it very closely because new technology allows you to consume less fuel, operate more efficiently, make less noise and get better emissions control," says Kielbowich.
The company's crushing fleet consists of a variety of jaw crushers, cone crushers and screen decks supplied by a wide variety of manufacturers and brands such as Terex Cedarapids, Metso, Canica, Haver & Boecker, Simplicity, Nordberg and Telsmith; to name a few.
Giving back
In addition to keeping residents informed about its operations through regular newsletters, Walker Aggregates builds positive relationships within the communities it operates through participation in various fundraising initiatives.
"Around Earth Day we always do a cleanup around the quarries, and usually Cub Scouts and Girl Guides like to participate," Kielbowich says. "So usually our quarry workers will get together with the kids and go around the perimeter of the site and help clean up ditches and roads."
The company is also active in tree planting and for the anniversary of the War of 1812, donated some rock for setting up re-enactments.
Walker also offers support to some of its larger customers' community initiatives.
"A local ready mix customer has an event every year called Paint the Drum, and a group of us get together and donate some money to Paint the Drum and this year it went to McMaster's Children Hospital."
That initiative raised approximately $50,000, which went to building a courtyard for the hospital's Mental Health Therapeutic Courtyard Project.
With a willingness to invest time and money into progressive quarry rehabilitations, while offering a helping hand to the communities it operates within, Walker Aggregates has positioned itself to produce quality aggregates for a long time to come, remaining a well-respected employer and quarry operator throughout southern Ontario.
---
Print this page