An update of Ontario's axle weight pilot project
March 28, 2018 By Andrew Snook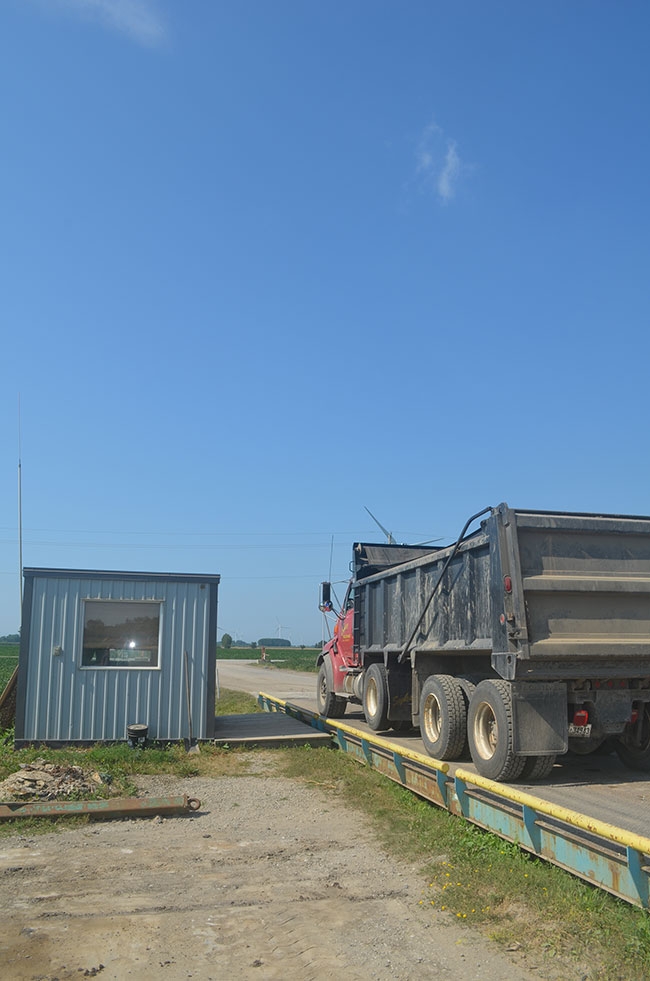 March 28, 2018 – If you work in Ontario and hauling aggregates is part of your business, then you're likely aware of the axle weight and dimension compliance issues taking place in the province.
These issues were put into the public spotlight during a blockade of the Trafalgar Truck Inspection Station (TIS) and several aggregate operations in April 2012 and again during a larger protest and blockade of six Ministry of Transportation Ontario TIS locations and several aggregate operations in September 2016, which impacted operations at a number of aggregate industry locations through the Greater Toronto and Hamilton Area.
Aggregate haulers that were frustrated with Ontario's axle weight and dimension requirements organized the blockades and strikes. Their frustrations largely stemmed from having a lack of control in the loading processes and the belief that they are unfairly targeted for fines due to non-compliance at the scales. When blockades like these occur, aggregate operations get stalled, drivers don't get paid to haul loads, and projects encounter delays – which can spike project costs and leave contractors with nasty fines for not meeting their completion date targets. In short, nobody in the industry wins.
"A lot of that revolved around the province having comprehensive rules about how much tonnage you can run on specific axles," explains Moreen Miller, president of Fowler Construction and member of the Ontario Road Builders' Association (ORBA) Board of Directors. "MTO's regulations have been developed with road wear and tear and trucking safety as the key issues…but no data has been collected on how well it is working. The aggregate industry has been dealing with this problem for 30 years."
To help avoid future blockades, and to understand the scope of the industry issues being discussed, Ontario's Ministry of Transportation (MTO) agreed to have the Safe, Productive, and Infrastructure Friendly (SPIF) Vehicle Weights and Dimensions Regulation reviewed by a third party to determine whether changes to the program are needed; and what affect the SPIF regulations may have had on both the aggregate and excavation sectors since its inception.
MTO has also started collecting axle weight data to determine the impact of the SPIF regulations by implementing a province-wide Allowable Weight Tracking Record Database in lieu of the current system for tracking allowable weights via Allowable Weight Record Forms, also known as the "White Sheet". Many industry associations have been at the table with the MTO working with the province to create the database and collect data, including OSSGA, ORBA, the Canadian Transportation Equipment Association, Ontario Aggregate Trucking Association (OATA), Greater Ottawa Truckers Association, Ontario Dump Truck Association, and Ontario Trucking Association.
One step in creating the new database is a pilot project that was started in May 2017 by the MTO in cooperation with OSSGA, OATA and ORBA. The pilot project collected data from a sample group of 140 trucks throughout the 2017 construction season to determine if the move to digital white sheets helps improve compliance under real working conditions. MTO has recently agreed to collect data again in the 2018 construction season.
The sample will be used to help create a database to standardize how allowable gross weights and axle weights are collected, stored and used for compliance. The data collected will be reviewed and analyzed to see how aggregate trucks are performing with regard to axle weights and gross weights.
The MTO's goal is to return to the enforcement of Vehicle Weights and Dimensions Regulations for aggregate and excavation vehicles by the fall of 2018 when both studies are completed. It is the hope of the MTO and industry associations that the data collected during the sample period this past year will allow for many of the current compliance issues to be identified through the use of hard data, which will fuel the push for any necessary changes to regulations, industry practices, or equipment technology to improve compliance at the scales while improving industry relations.
Load equalization
One of the axle weight and dimension compliance challenges frustrating aggregate haulers is related to the requirement for load equalization, which was introduced to industry during the implementation of SPIF regulations from 2000 to 2011, when the province began a four-phase overhaul of its vehicle weight and dimension regulations, which fuelled a slow transition to vehicles designated as SPIF.
For the load equalization requirements, the self-steer lift axle on a vehicle must automatically load equalize to within +/- 500kg of the weight carried on an axle grouping. The MTO implemented this rule in an effort to reduce pavement damage, and to control how vehicles performed with respect to dynamic performance.
The MTO gave the industry a long lead-time to move to SPIF-friendly vehicles, about 15 years, and grandfathered in older equipment to prevent hurting industry by forcing them to retire equipment in their fleets they had already invested significant resources into. With the load equalization technology, trucks operating in Ontario are designed to carry an additional 5,000 lb. on the front axle. But there's one problem, and it's a big one.
"The problem is we have great difficulty getting the weight loaded onto the front axle," Miller explains. "So if you don't have the extra weight positioned properly on the front axle, it has the ability to distribute the whole load incorrectly over all axles, leading to compliance issues."
The other key issue, Miller adds, is that aggregate producers in the province are required by federal legislation to weigh by gross weight, not by axle weight.
"Trucks leave our aggregate operations legally loaded at, or just below their maximum allowable gross weight. The only time axle weights are measured is at MTO truck inspection stations."
This is where many of the frustrations from the aggregate haulers having no control over their loads have stemmed from. They feel loads shifting in transit and being incorrectly loaded at the quarries and pits are causing them to be unfairly targeted for fines by the MTO when they arrive at the scales. These fines have caused various parties within the aggregate supply chain to point fingers for who is to blame for the fines, and therefore, deserves to be subject to those fines. This is a very complicated issue since it requires reviews of aggregate loading practices, as well as driver practices and their use of load equalization technology, and how well that load equalization technology is being maintained on each vehicle.
The data being collected during the pilot project through the new digital white sheets will hopefully shed some light on the axle weight and dimension compliance issues and help find some productive solutions to ensuring trucks are SPIF-friendly, whether that means making changes to the SPIF regulations, improving current requirements for loader and driver training, or making changes to the load equalization technologies available today.
Miller says industry associations have requested that the MTO review the SPIF-related technologies to ensure they are functioning properly, as well as review the safety performance of SPIF vehicles, looking at the different details including load equalization technology, load performance issues, how SPIF is working in the field and how easy it is to have the load axles serviced properly.
Miller says she expects that once all the data is collected and analyzed from the pilot project, that it will be a great resource for helping the MTO and the aggregate industry find solutions to the current compliance issues that will benefit both parties.
"I'm anticipating a great outcome and also outcomes that we're not expecting," Miller says. "I'm hoping that these trucks we're running will give us enough info by end of the 2018 construction season together with drivers, ORBA and OSSGA and we'll be able to say, 'Here's what we found.'"
A report on the data collected from the pilot project is expected to be released in the fall of 2018.
---
Print this page