RESCON taking a leadership role
December 3, 2020 By Amina Dibe
The Residential Construction Council of Ontario (RESCON) is taking a leadership role in stamping out racism in the industry.
After incidents were reported on Toronto sites this past summer, RESCON quickly condemned the acts and took immediate action to bring stakeholders together to figure out how to deal with the issue. Today, builders, sub-trade associations, unions, employment agencies, secondary and post-secondary organizations and government have embraced and joined in the effort.
Our first step was to hold a webinar that featured a panel discussion on anti-racism and diversity efforts undertaken by the industry and a discussion on obligations of employers when dealing with incidents.
Labour lawyer Diane Laranja of Filion Wakely Thorup Angeletti LLP provided the legal commentary. Danielle Feidler, senior vice president, brand experience at Tridel, Fatima Saya, manager, community partnerships at The Daniels Corporation, and Jason Ottey, director, government relations and communications at LiUNA Local 183, participated in the panel discussion, which I moderated.
We also kicked off the Construction Against Racism Everywhere (CARE) campaign that involved the creation and distribution of stickers to construction sites for workers to post on their hard hats and around construction sites. These stickers will serve as a reminder that our industry will not tolerate acts of racism. They are a reminder that racism is not acceptable. Further, our hopes with these stickers is that they will foster a sense of solidarity and allyship. You can follow along with our campaign on Twitter and LinkedIn with the hashtag #RESCONCare.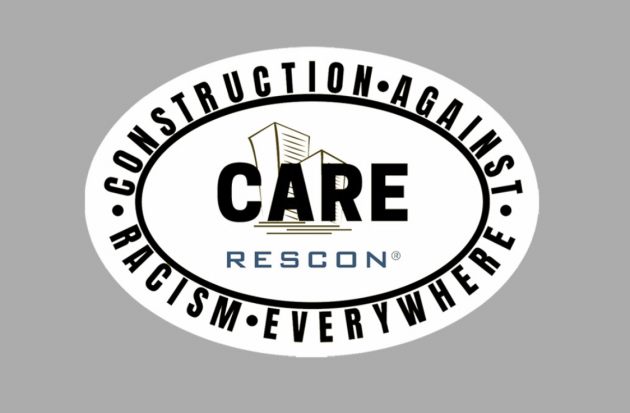 RESCON then spearheaded formation of a roundtable of stakeholders from all sectors of the industry – employers and unions, as well employment agencies, organizations representing contractors, the provincial and municipal governments, and the health and safety sector – to take meaningful action on the file.
We have some incredible organizations and industry leaders on this roundtable who intend to join forces to stamp out any racism in the industry. We are all on the same page here. Racist acts are disturbing and have no place in society, nor our industry. They are acts of cowardice and will not be tolerated.
RESCON believes the best way forward is to bring stakeholders together to discuss issues around racism and get the industry working together to bring about meaningful changes to deal with the problem.
We held our first meeting in October to set the ground rules. The roundtable will meet quarterly and develop ideas on how to tackle racism and change the culture of the construction industry. Subcommittees are being created and will be based on workplace policies, regulations, and legislative requirements (chaired by Diane Laranja – Filion Wakely Thorup Angeletti LLP), education and training (chaired by Heela Omarkhail – The Daniels Corporation), and marketing and communications (chaired by Madeline Zito – Great Gulf and Danielle Feidler – Tridel).
The roundtable will be working on a strategy to educate workers and engage construction stakeholders.
On Nov 4, RESCON joined Tridel, EllisDon, LiUNA 183 and BILD to launch Tridel's Built for Respect campaign during a Toolbox Talk at The Well site in downtown Toronto. We were happy to also have the participation of Toronto Mayor John Tory and Labour, Training and Skills Development Minister Monte McNaughton. This collaborative event showcased the large coalition of groups that are committed to creating workplaces free of discrimination and racism.
Ontario's construction industry is incredibly diverse, multi-racial and multi-cultural. Recent incidents in no way exemplify the majority of the 400,000 workers, contractors and builders who work in the industry. There is a problem, though, and we intend to do all we can to educate the workforce.
Combating racism and discrimination is critical to ensuring a safe workplace. We are encouraged by the strong interest and commitment from everyone at the roundtable to make tangible and long-lasting change. We understand there is no short-term fix. Racism, specifically anti-Black racism, has existed in Canadian society for hundreds of years. But RESCON is committed for the long run.
RESCON is taking a leadership role in fighting racism and discrimination. Hopefully, with the help of our partners, we can move the needle on these issues and provide a space for valuable dialogue.
---
Amina Dibe is policy and programs analyst at RESCON and chair of the industry roundtable.
---
Print this page