February 9, 2021 By Rock to Road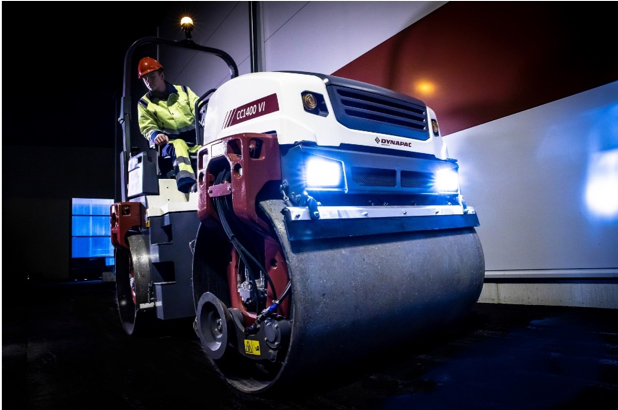 Dynapac North America added two new rollers, the CC1300VI (4.3-ton) and CC1400VI (4.75-ton) to its VI generation compact asphalt roller range.
The new generation VI machines have a unique design with their cross-mounted engine. These rollers include efficient eccentrics which the company says guarantees optimum powerful performance in the vibration start-up process. The machine features high-frequency compaction with the possibility to choose between dual frequencies depending on different conditions and applications. Dual amplitude function is also available as an option for even more flexibility to compact different layer thickness.
Operator efficiency and comfort
The spacious and vibration damped operator platform enables good operator comfort even during long working days, increasing the quality of the job. A new comfort seat is available with weight adjustment, armrests and optional seat-heating. The forward and reverse lever follows the optional sliding seat for even better ergonomics and better control. An optional dual forward and reverse lever enables even better ergonomics and control over the compaction process. The new instrument-panel with keypad buttons and a display showing the most important functions helps the driver operate the roller in a controlled way.  An optional canopy protecting the driver from different weather conditions enhances the operator's efficiency. The canopy is foldable for easy transportation.
Optimal compaction performance without compromise
Sustainability is one of Dynapac's cornerstones. Having sustainability and the working environment in mind during the development process resulted in the latest emission reduction technology to fulfil North American emission regulations. The range is powered by durable, fuel-efficient Kubota diesel engines which reach unbeatable performance with maximum up-time. For the North American market, we offer a 37 kW/50 hp T4f Kubota engine with ECO mode.  Patented efficient eccentrics system optimize compaction performance without drawing too much power from power plant even in the toughest slope conditions resulting in reduced fuel consumption and carbon footprint.
Great serviceability
The design of the machines contributes to great serviceability. Easily accessible daily service-points and contribution to great serviceability have also been a target in the design work. The result is a machine with unbeatable serviceability.  The engine hood is large and it is possible to fully open almost 90 degrees for full accessibility. It is equipped with a gas spring balance for easy opening and closing. The cross-mounted engine is unique for optimal serviceability. The major daily service-points under the hood are very easy to reach. All hydraulic hoses, sprinkler nozzles, water-pumps and filters for the watering system can be accessed quickly and efficiently. The sprinkler pump and filter are easily accessible behind a cover above the rear drum.
---
Print this page