May 2, 2022 By Don Horne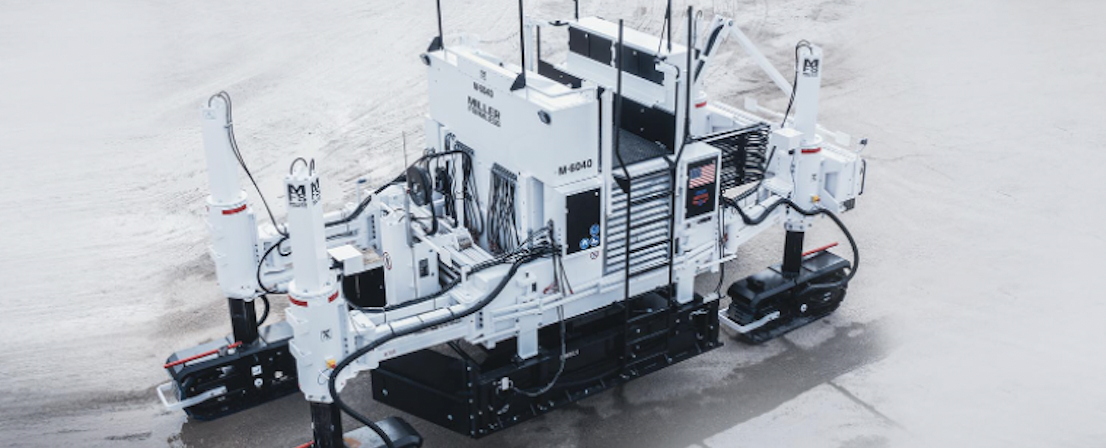 Miller Formless' M-6040 slipform paving machine has been selected as aa 2022 Concrete Contractor Top Products award winner by Concrete Contractor magazine.
"We are honoured and beyond thrilled to receive this prestigious award," says Miller Formless President Joe Ouellette. "The M-6040 is one of the latest product innovations offered by Miller Formless, a global equipment manufacturer in operation for over half a century. Today, our industry-leading brand is synonymous with quality and reliability."
Innovation and dependability were critical factors in selecting the 2022 Concrete Contractor Top Products awards, which represent the concrete industry's most popular and efficient products. The M-6040, first introduced to the U.S. market in spring 2021, is designed to be one of the world's most versatile and productive concrete slipform paving solutions.
First introduced to U.S. consumers in spring 2021, the M-6040 is a robust slipform paving machine used to construct everything from roads and highways to bridge decks and airport runways. Key features include a dual-telescoping main frame, a hydraulic variable-width paving mold, an advanced machine control system and other state-of-the-art elements. Of note, the M-6040 is the only paver on the market capable of extending up to 16.5 feet wide without frame or mold inserts. For larger jobs, bolt-on mold inserts can be used to expand the system to 20 feet wide.
"The M-6040 consistently produces smooth, high-quality concrete surfaces and maximizes cost-effectiveness and flexibility on projects of all scope and scale," comments Darick Franzen, vice president of business development, Miller Formless. "Increased efficiency, speed, reliability and economy also rank high on the list of benefits that help to ensure project owners and construction teams stay productive, on schedule and on budget."
In addition to the M-6040, Miller Formless offers the M-8100 and M-8800, which are larger machines also used to slipform concrete pavement, along with equipment for placing concrete curbs, gutters and barrier walls. The manufacturer also designs custom slipform molds to accommodate any project need — even jobs with changing profiles.
Ouellette adds, "Miller Formless takes pride in delivering a variety of advanced equipment solutions that are reliable, user-friendly, high-performing and long-lasting. Our high-quality products provide customers with a long-term return on investment, helping them plan for the future and concentrate on building their businesses."
To learn more about the 2022 Concrete Contractor Top Products award, go to www.forconstructionpros.com/22131709.
---
Print this page