April 19, 2018 By John Deere Construction & Forestry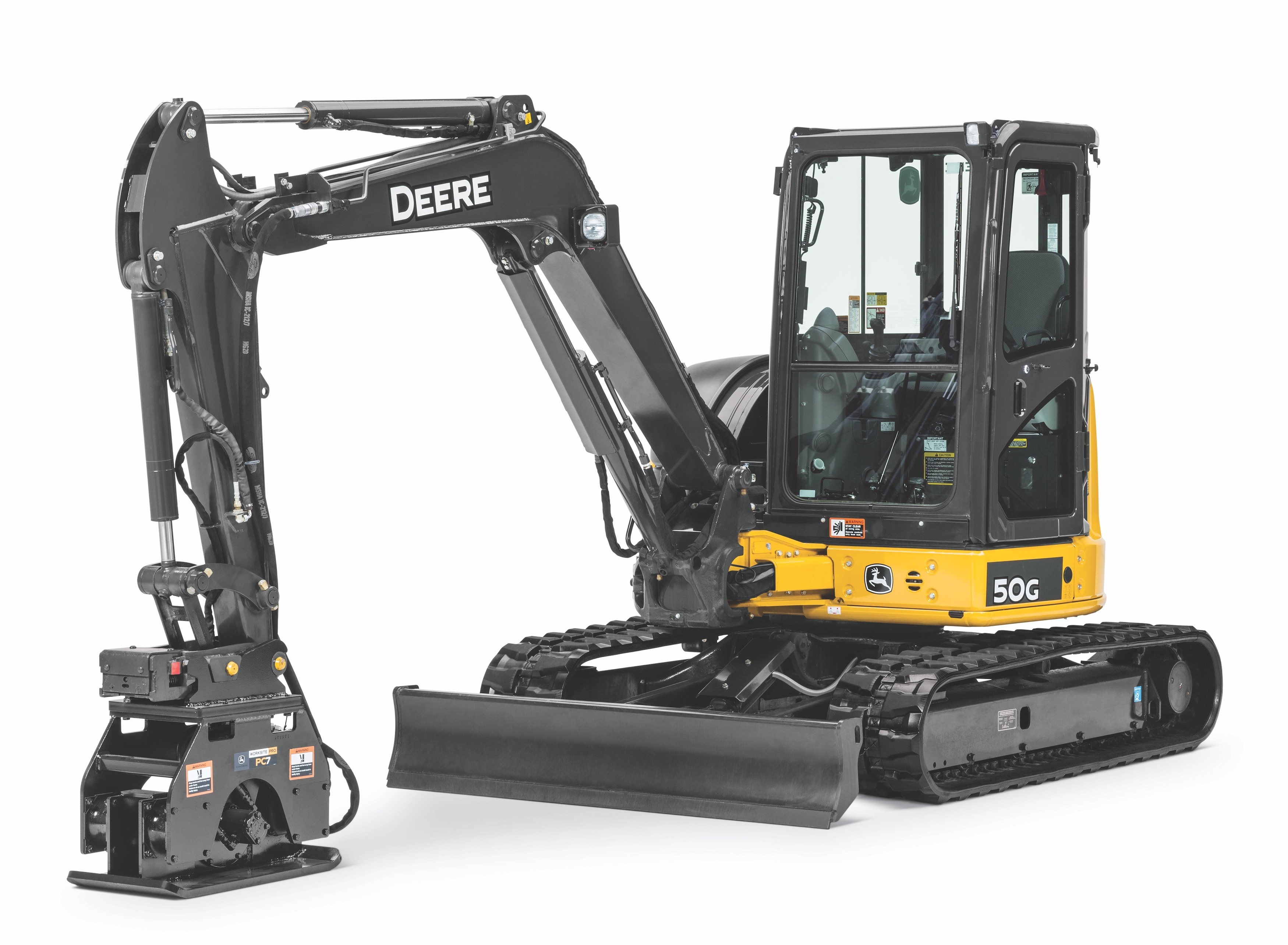 April 19, 2018 — John Deere is adding three new plate compactors to its portfolio of over 100 Worksite Pro attachments, offering customers more model options to choose from while maintaining the same reliability they've come to expect from the manufacturer. Designed for trench, slope and excavation compaction applications, the PC4, PC7 and PC10 plate compactor models deliver powerful performance and productivity. These attachments are compatible with the John Deere 26G, 30G, 35, 50G, 60G compact excavators; the 310L, 310L EP, 310SL, 310SL HL, 315SL and 410L backhoes; as well as most competitive models.
"Proper soil compaction is the base for a successful construction project," said Jessica Hill, program manager, global attachments at John Deere. "Our new plate compactors are reliable, low-maintenance, and deliver maximum vibratory force to help construction managers and operators achieve worry-free compaction."
A large eccentric rotating weight creates vibration and impulse energy to deliver the optimal attachment productivity and performance. The weight's mass is further away from the shaft to provide increased impulse forces up to 8,000 pounds (3,6329 kg) and improved compaction rates when working with compact granular soils.
To maximize attachment reliability and durability, the motor is inset within the frame to protect it from damage. Hydraulic motor bearings use oil splash lubrication, and sealed eccentric bearings provide maintenance-free operation.
Delivering 4,000 pounds (1,814 kg) of impulse force, the PC4 model is available in a 13-inch (33 cm) width. The PC7 delivers 6,400 pounds (2,903 kg) of impulse force and is available in an 18-inch (46 cm) width. The PC10 model delivers 8,000 pounds (3,6329 kg) of impulse force and is available in a 24-inch (61 cm) width. All three models boast 2,000-rpm frequency at regulated flow.
The plate compactors are backed by John Deere parts, service and warranty coverage. To learn more, visit www.johndeere.com or contact your local John Deere dealer for details.
About Deere & Company
Deere & Company (NYSE: DE) is a world leader in providing advanced products and services and is committed to the success of customers whose work is linked to the land – those who cultivate, harvest, transform, enrich and build upon the land to meet the world's dramatically increasing need for food, fuel, shelter and infrastructure. Since 1837, John Deere has delivered innovative products of superior quality built on a tradition of integrity. For more information, visit John Deere at its worldwide website at www.JohnDeere.com.
---
Print this page