Features Pits & Quarries
Get the most out of your screens at Quarry Tech
September 14, 2022 By Don Horne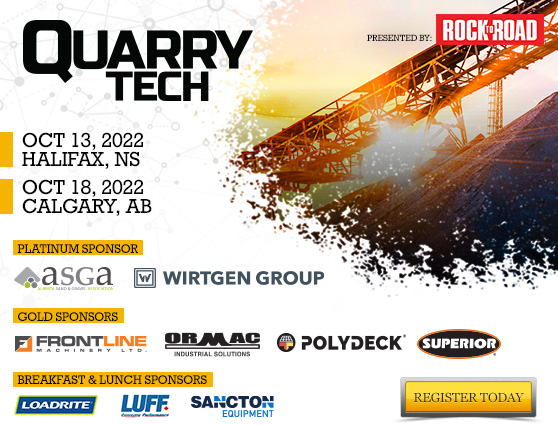 Screening material is a crucial part of most aggregate operations. A properly run screen can run so well that it is forgotten amongst other priorities, while a troublesome screen can be so taxing on an operation and seriously hurt its bottom line.
At Rock to Road's upcoming Quarry Tech forums in Halifax (October 13) and Calgary (October 18), this presentation aims to help the aggregate operators think of screening as a relatively predictable part of their operation and help stay ahead of any problem units in their screening circuit.
#1: Media and Wear Component Life. The first thing to consider is how to allocate and proactively stay on top of wear components meant to survive the harshest conditions. Making a game plan for these will ensure the most trouble-free operation of the entire machine.
#2: Subcomponent Life. Most producers understand bearings and their life, but what else is in there to check periodically? "No news is good news" only works until a screen starts to shake itself apart. This section points out things to look for and the easiest ways to coordinate your screen subcomponent work for maximum overall lifecycle of the machine.
#4: Gremlins in my Screen. This section focuses on the more obscure difficulties that you may incur. Asking experts, you may even get different opinions. This section will show how to bench opinions while you gather data and facts, turning those into successful root cause investigations, and remedial action.
#5: Repurposing your screen. Whether you have multiple reserves or have interest in a deal on a used piece of equipment, this is what you need to know to successfully repurpose a screen at your operation.
Quarry Tech Halifax Speaker: Tod Eberle, Director of Aggregates, Polydeck.
Quarry Tech Calgary Speaker: Alex Caruana, National Manager, Canadian Aggregates, Polydeck.
What is Quarry Tech?
Quarry Tech is a one-day workshop focused on the latest technologies designed for optimizing quarry and pit operations.
This one-day event, exclusively for quarry and pit owners and operators, will offer attendees case studies and panel sessions presented by industry experts covering a wide variety of topics.
Special thanks to our sponsors Polydeck, ASGA, Superior Industries, Wirtgen Group, Luff Industries, Frontline Machinery, Ormac Industrial Solutions, LOADRITE and Sancton Equipment.
Seats are limited so register now!
For more information, visit www.quarrytech.ca.
---
Print this page