Features Projects Roads & Paving
Extending runway safety at Vancouver International Airport
A five-year civil engineering project that is a sign of things to come
April 12, 2018 By Carroll McCormick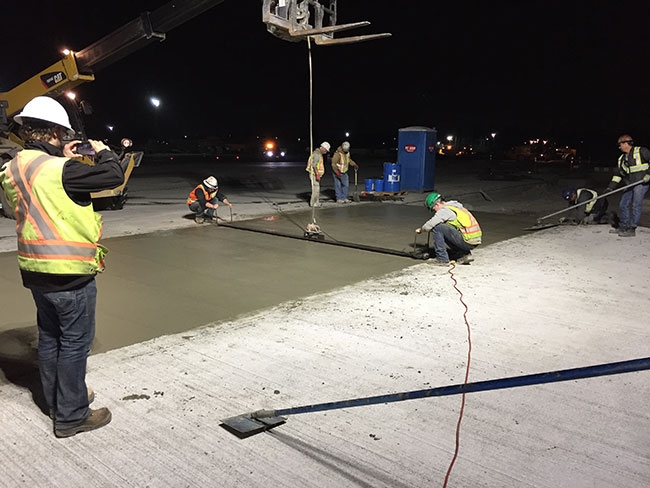 April 12, 2018 – By 2020 a combined total of around 200,000 tonnes of sand, crushed gravel, concrete and asphalt will have been trucked onto the airside of the Vancouver International Airport (YVR) to build Runway End Safety Areas, or RESAs, and associated improvements.
Incoming legislation requiring Canadian airports with runways above a certain length to have RESAs, expected in 2019, portend more such projects at other airports.
Phase 1 construction – the first four RESAs – for the $150-million project, began in 2015 and was completed last October. Phase 2, to build the two remaining RESAs, will begin in March 2018 and be completed in 2020.
When an aircraft lands or takes off, the goal is to do it within the usable runway length. If, however, an aircraft touches down short of the runway (an undershoot) or is unable to stop or take off before reaching the end of the runway (an overrun) the hope is that there is some aircraft-friendly real estate available to receive the plane.
In the absence of a soft bed, so to speak, off a runway end, an undershoot or overrun can severely damage a plane. In August 2005, for example, an Air France jet overran the runway after landing at Toronto's Pearson Airport, rolled into a gully and was destroyed.
While Transport Canada does not currently require Canadian airports to have RESAs, in 2015 the Vancouver Airport Authority launched a five-year project to extend the 60-metre strips it already had off each runway end into full-sized RESAs.
YVR has three runways: 08R/26L and 13/31 in the South Airfield, and the parallel runway 08L/26R in the North Airfield. Phase 1 covered 08R/26L and 13/31, and Phase 2 08L/26R. Based on complex risk calculations, five of the runway ends would be 300m long and the sixth 150m long. All would be 120m wide.
RESAs are much more than simply boulder- and ravine-free fields. Most importantly, they must bear the load of the largest aircraft to use an airport. At YVR that is the Airbus 380-800, with a maximum take-off weight of 544,310 kilograms. Preparing the wet river silt that are the airport lands for such massive loads required special design criteria.
"The load bearing ability is very low. As we looked at that we knew we'd have to strengthen existing soil to bring the load bearing quality up. Load bearing quality is measured in dry conditions. We weren't satisfied with that. Meeting that standard in dry conditions wasn't sufficient and that is what led some of the design criteria," says Brett Patterson, director of engineering projects for YVR.
To increase the load bearing quality of the ground in preparation for the RESAs, silt was removed to subgrade levels, then backfilled with sand to compress, or preload, the silt. For the 26L end, for example, this required 67,379 tonnes of sand.
Airports make for unusual construction zones, with very stringent security, and safety measures that must always be respected. Construction standards are very high.
"Airport work such as the south runway RESA project is very different from typical highway or bridge work. The [Portland cement concrete] pavement is mixed and placed to a very high standard in general, with very stringent requirements for flexural strength as well as shrinkage. In general, the quality control requirements for a project like this are well above highway and bridge norms. Owner-supplied quality management is much more rigorous as well to go along with the elevated standards. Electrical work related to runway edge lights and centerline lights is also very challenging – with only a very small group of qualified and specialized subcontractors available in the local market area," says Wayne Tingley, project manager with Jacob Bros. Construction, the prime contractor.
And because YVR needs both parallel runways to handle daytime traffic, it could only shut down 08R/26L at night. This gave Jacob Bros crews just eight hours a night on the airfield. Six hours of this was spent at the coal face, so to speak, bookended by two hours of coming and going.
"The big challenge is sometimes at night you have 50-60 pieces of equipment to move from the groundside to the airside. You have to prioritise which equipment to set up first. And there are barriers, survey crews, excavation crew. There is a lot of planning by supervisors," says Tingley.
The work sites had to be carefully cleaned up by the time 08R/26L reopened for business at six o'clock, and not a minute later.
"Typically, we had to backfill the holes to within four inches of the surface. If you are doing concrete, you pour, put poly on top of that, backfill with gravel, then apply tack coat that hardens in 20 minutes, so jet blast doesn't blow material around. You do that one night and the next night you dig that back up," Tingley elaborates. "It takes a fairly large crew to get this done in this time – exceeding 200 some nights. There was full-time management on site coordinating with operations. Security is a huge part of this. If we have to be off [the work site] by six o'clock, we start winding down by five-fifteen. There is a lot of sweeping, cleaning, clearing and water. We used street sweepers."
Since crews could not return to the RESAs during the day to saw crack control cuts to the 6m by 6m concrete slabs, Jacob Bros fabricated a big knife of tapered steel to make slots.
"Say we poured 20 panels a night, with crack control. We would place the knife six inches deep, with a lubricant, and then lift it out. We had to be inventive with that one," Tingley says.
Once electrical and civil infrastructure was installed, Jacob Bros built up the RESAs in layers: For 26L, for example, they laid 8,188 square meters of sand subbase, 10,555m3 of crushed granular subbase, 4,602m3 of cement stabilized base, 9,019m3 of Portland cement concrete, and finally, 1,300m3 of hot mix asphaltic concrete.
The 26L work included the removal and reinstallation of some approach lighting, runway work and the construction of taxiway acreage to connect the RESA with the existing taxiway. Lighting work was a big part of the project; the runway end 08R, for example, required over three kilometres of electrical ducts. Surrey-based Bay Hill Contracting Ltd was the electrical contractor.
When asked about other challenges, Tingley spoke to the challenge of putting together a large crew with the skills and expertise needed. "The hard part of the whole thing is to [find] the trained people to run these things. Thankfully, our long-term projects at YVR have given us a strong talent pool, which appreciates and takes pride in working at the airport."
---
Print this page