January 23, 2020 By DICA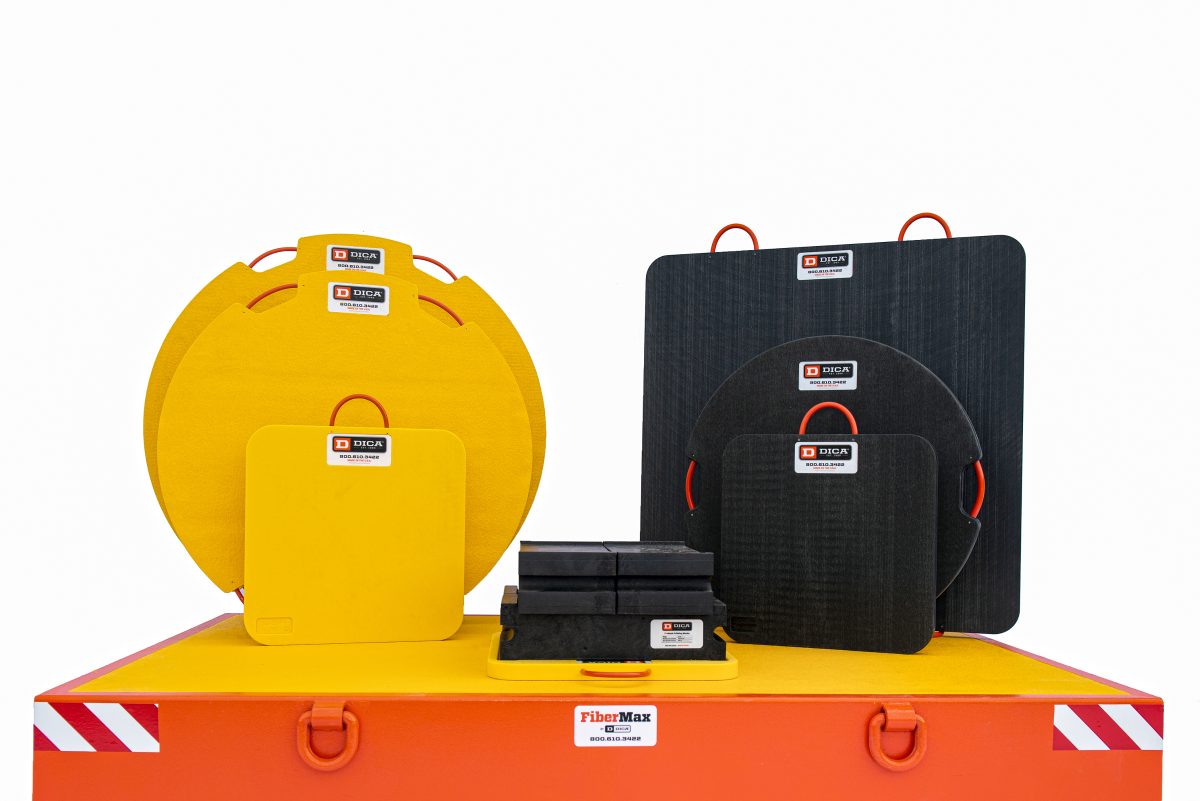 Guthrie Center, Iowa – DICA will display its multiple lines of outrigger pads, crane pads, cribbing blocks, pole barriers and introduce a new product category at two booth locations — C20838 and F8258 during 2020 CONEXPO-CON/AGG.
"We are excited to have multiple locations on-site for this important construction and concrete equipment show to provide easier access to contractors who use cranes, truck-mounted aerials, digger derricks, and concrete pumping equipment," said Kris Koberg, CEO. "We're equally excited to have our engineered Outrigger Pads, Crane Pads, Cribbing Blocks, and Training Pole Barriers on display in more than 15 OEM booths across the 2020 show."
DICA Outrigger Pads and Training Pole Barriers have been selected for use at Lift Safety Zone, hosted by National Commission for the Certification of Crane Operators. NCCCO's flagship exhibit will be located at the Las Vegas Festival Grounds (F-9107).
The following products can be found at both DICA booth locations: FiberMax Crane Pads, SafetyTech Outrigger Pads, FiberMax Outrigger Pads, ProStack Cribbing Blocks, TrainSmart Pole Barriers, and Workforce Pole Hole Covers. Look for additional new product announcements from DICA at the show.
DICA Crane Pads, Outrigger Pads, Cribbing Blocks and Other Products
FiberMax Crane Pads
FiberMax Crane Pads overcome the lack of engineered performance, pad longevity, excessive weight and poor ROI common to many crane pads.
Engineered Performance: DICA's lightweight crane pad design is engineered for optimal load distribution and delivers quantifiably superior performance to traditional solutions.
Reduced Operating Costs: Lightweight FiberMax Pads help reduce set-up and teardown times and transportation costs compared to heavier steel and wood solutions.
Unmatched Longevity: DICA's composite crane pad design is not susceptible to material degradation due to heavy use, UV, moisture, chemicals, insects, rotting, freezing or thawing.
SafetyTech Outrigger Pads
DICA industry leading SafetyTech outrigger pads address the issue of heavy, difficult to use, breakable and unpredictable wood outrigger pads and lesser quality plastic pads.
Built with DICA's exclusive engineered thermoplastic, SafetyTech Pads are guaranteed unbreakable and delivers exceptional performance, stability, durability, and ROI. Incredibly strong yet comfortable TuffGrip handles improve handling and user experience. Standard crane sizes include 36″, 42″, 48″ and 60″ with 2.0″, 3.0″ and 4.0″ thicknesses.
FiberMax Outrigger Pads
FiberMax Pads are an extra rigid outrigger pad in a cost-effective lightweight package, built exclusively with Fiber Reinforced Polymer (FRP) material. FiberMax outrigger pads provide maximum strength and rigidity for mobile cranes, hi-lift aerials and concrete pumpers, with crush ratings up to 600 psi and rated capacities of up to 170,000 lbs. Incredibly strong yet comfortable handles improve handling. Round sizes are 36″, 42″, 48″ in a 1.0" thickness.
ProStack Cribbing Blocks
ProStack Cribbing solves the problem of taking risks by using wood scraps or other non-engineered solutions as cribbing to assist in levelling equipment while operating.
ProStack Cribbing is engineered to quickly add height that interlocks maintenance-free. ProStack cribbing blocks are made from post-consumer and post-industrial recycled plastics, making them strong, long-lasting and environmentally friendly. Multiple interlocking methods and sizes provide customers with choices that best suits their needs.
TrainSmart Pole Barriers
TrainSmart, 100% maintenance-free pole barriers solve the problem of constructing, painting, repairing and transporting wood pole barriers for NCCCO practical exams.
Built with engineered, thermoplastic materials, TrainSmart Pole Barriers are UV resistant, won't splinter crack or break, and never require painting. TrainSmart Pole Barriers are constructed to meet all NCCCO standards.
WorkForce Pole Hole Covers
DICA's Pole Hole Covers solve the issue of intentionally covering open utility holes. The innovative covers are highly visible, lightweight, strong, completely re-usable, and are permanently marked with safety messaging.
WorkForce Pole Hole Covers help contractors meet OSHA 1910.22 general requirements to cover holes to protect workers and pedestrians from the dangers of open holes. Built with a tough engineered thermoplastic that can be used again and again.  Standard sizes are 42" and 60" in diameter.
---
Print this page