July 7, 2015 By Andrew Macklin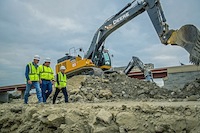 July 7, 2015 – In an effort to better meet the needs of today's production-scale customer, John Deere is extending its JDLink Ultimate service in base subscription from three to five years. The change illustrates how the Moline-based manufacturer is working behind the scenes to develop solutions for customers who are increasing technology adoption rates and utilizing their equipment for longer periods of time.
"Production-scale customers are different. They work in high-volume, high-production situations, so they need their equipment to run longer and harder than ever – sometimes around the clock," said Jena Holtberg-Benge, director, John Deere WorkSight. "These customers told us they have a different set of needs, and we listened. We responded by providing the two additional years of JDLink Ultimate, more proof that we are partnering with our customers and our dealers to make sure their machines stay up and running."
JDLink is a telematics system designed to remotely connect owners and managers to their equipment, and to provide alerts and machine information including location, utilization, performance and maintenance data to manage where and how equipment is used. The JDLink equipment management solution is the heart of John Deere WorkSight – a technology tool that helps customers be more productive, avoid downtime and keep costs low with advice and support from a John Deere dealer.
Equipment covered in this extension includes the 250D-II, 300D-II, 370E, 410E and 460E articulated dump trucks; 1050K crawler dozer; 470G, 670G and 870G excavators; and 744K-II, 824K-II, 844K-II and 944K wheel loaders.
---
Print this page