Features
CONEXPO-CON/AGG 2020
North America's biggest show returns to Las Vegas
February 6, 2020 By Andrew Snook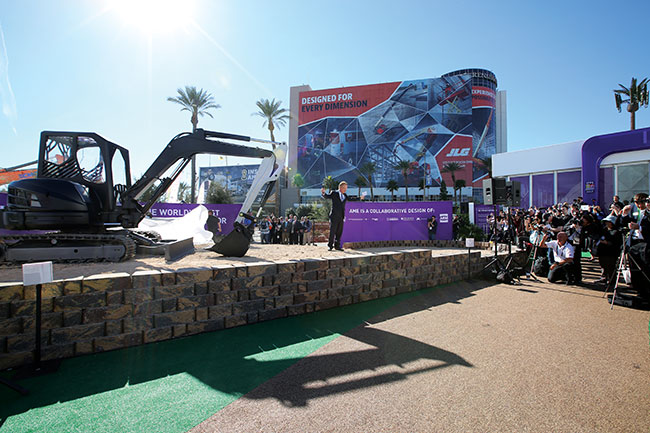 The triennial show that brought more than 125,000 construction professionals to Las Vegas in 2017 is back and ready to showcase the industry's latest game-changing technologies from around the world.
ConExpo-Con/Agg, which takes place from March 10 to 14 at the Las Vegas Convention Center, will feature more than 2,800 exhibitors across a massive 2.5-million square feet of exhibit space.
The 2017 edition of the show had many exhibitors expressing a renewed sense of optimism about the industry, with some citing strong sales, calling it the best edition of the show they had experienced to date.
Nearly half of the attendees from the 2017 edition of the show served in executive positions at their respective companies, with more than 60 per cent of attendees working in a decision-making role.
The event is very much a global affair, attracting attendees from 150 countries. accounting for about 21 per cent of the show's overall attendance. Of those attendees, Canadians comprise the largest contingent of attendees. This is hardly surprising, considering Canadians import more U.S.-made construction equipment than anyone else in the world.
Speaking of equipment, it's time to check out some of the latest and greatest technologies that will be on display.
PRODUCT SHOWCASE
---
ADM ASPHALT DRUM MIXERS
Booth: S5455
Take productivity to the max with the ADM EX Series, Model EX 8844 asphalt plant, on display at ConExpo-Con/AGG 2020 at ADM Booth S5455 in the Silver Lot. Check out plant components on the show floor and quiz ADM personnel on how the EX 8844 works to advance your business' bottom line with features like: increased capacity with up to 50% RAP in a compact package; counterflow technology for maximum heat transfer and fuel efficiency via separate drying and mixing zones; clean operation for virtual elimination of blue smoke and hydrocarbon emissions and efficient design for single-operator capability, easy troubleshooting and simple on-site maintenance. The EX Model 8844 is available as a portable, skid-mounted or relocatable unit. Be sure to ask about asphalt plant control add-ons for greater customizability, uptime and efficiency, available on the full line of ADM asphalt plants, including the EX Series, MileMaker Series, RoadBuilder Series and the SPL Series.
www.admasphaltplants.com
---
BREAKER TECHNOLOGY
Booth: C30336
Breaker Technology, an ASTEC Industries Company, is showcasing its range of hydraulic excavator attachments for construction and demolition projects, and its MRH Rockbreaker System for aggregate operations as part of the ASTEC Booth (C30336) in Central Hall. Breaker Technology focuses on improving productivity on jobsites where oversized rock and other hard materials slow down operations. BTI offers 15 different hydraulic breaker hammer models in three size classifications: small, medium and large; mechanical and hydraulic pulverizers; hydraulic shears; plate compactors, and six different series of pedestal rockbreaker systems customized to fit crusher plants.
www.rockbreaker.com
---
CATERPILLAR
Booth: F4455
The new Caterpillar 150 AWD motor grader features all-wheel drive that assists with traction and maneuvering, allowing the machine to work in any environment. Eco mode delivers up to 10% greater fuel efficiency without productivity loss, and owning and operating costs are reduced via new filters and longer service intervals. The new mastless 3D Cat GRADE control system unleashes the potential of the moldboard to give it full range of motion. The GNSS receivers are bolted to the machine, which increases uptime and reduces costs associated with potential receiver, mast or machine damage when using the dual 3D GNSS system. The integrated 3D Cat GRADE will initially be available on the 140,150 and 160 joystick motor graders.
www.cat.com
---
CDE
Booth: S5435
CDE is set to launch the latest in its range of Combo all-in-one wet processing solutions at ConExpo-Con/Agg 2020. With almost total independence of water supply, the Combo can recycle up to 90% of process water for immediate recirculation and re-use with the system. Powered by sustainable all-electric drives, the Combo is an energy efficient system. Operating as a standalone unit, in the absence of a CDE pre-screen, the Combo requires 67% less energy to power its water pump. Built onto one single, compact chassis which incorporates five processes, the Combo is a plug-and-play system. Pre-wired and pre-tested, it arrives on site ready to process material within days. Its footprint, which is on average, 30% smaller in area when compared to the traditional wash plant set-up, means the Combo can be rapidly deployed. Importantly, this makes the Combo easier to derig and relocate so that sand can be produced closer to where concrete is required resulting in considerable cost savings in transportation.
www.CDEUSA.com
---
Doosan
Booth: N10001
Visitors can explore new models such as the DA45-5 ADT, the DL580-5 wheel loader and the DX800LC-5 crawler excavator — the largest Doosan machine yet. The company will also showcase Concept-X, an autonomous worksite in development as the company invests in meeting the construction industry's future equipment and technology needs. Doosan will display current machines, including the DX35-5 mini excavator and the DX170LC-5 crawler excavator, at the show as well. Both excavator models were introduced in 2019. Contractors looking for less expensive transportation will appreciate the Doosan 17-metric-ton model, which falls well below the 80,000-pound gross vehicle weight rating limit. The DX170LC-5's size and width allows for easier transit to light excavation projects, potentially reducing permit needs when moving site to site. The model also delivers high performance with 25,794 pounds of bucket breakout force.
www.DoosanEquipment.com
---
EPIROC
Booth: C20405
My Epiroc is a new digital fleet management solution available on web and mobile devices with attractive features for increasing fleet efficiency and safety. My Epiroc platform enables mining and infrastructure operations to optimize fleet performance — any device, any job role, any time. The solution for the future of fleet management will be demonstrated at the Epiroc booth. Regardless of role — a fleet manager focusing on uptime, a machine operator getting the job done, or a member of the service team keeping on top of equipment performance, safety and reliability — My Epiroc is built to assist in accomplishing jobs and improving work flow. My Epiroc users can find speed and efficiency to free up time to focus on what is important. My Epiroc is truly mobile and works equally well on the road, in the office or in a vehicle.
www.epiroc.us
---
GENCOR
Booth: S5755
The new Gencor G Series is the latest innovation in small portable hot mix plants providing contractors with all the features of Gencor's award winning Ultraplant in a smaller compact highly mobile plant that can be erected and operational virtually anywhere. The G Series is a rugged designed plant built with all the same premium features you've come to expect from Gencor for years of dependable service. The firing end of the burner extends into the dryer beyond the mix section so as not to overheat the aggregates and liquid asphalt as they are mixed together. A highly-efficient Ultraflo baghouse is coupled to the drum at a 90-degree angle with Gencor's exclusive self-erecting ductwork and stack. The G Series also includes Gencor's proven and highly portable Silo that erects in minutes and provides an easy hot mix surge alternative without sacrificing storage capacity.
www.gencor.com
---
HAVER & BOECKER NIAGARA
Booth: S5936
Haver & Boecker Niagara will exhibit the Niagara F-Class portable plant at ConExpo-Con/Agg for the first time in Silver Lot booth S5936. The equipment features a custom-built chassis equipped with six hydraulic run-on jacks that quickly level the plant, eliminating the need for cribbing and improving ease of screen media change-outs. Producers can set up the portable plant in less than 30 minutes. Plus, new F-Class vibrating screens are outfitted with Haver & Boecker Niagara's Ty-Rail quick-tensioning system, cutting screen change-out times in half. The portable plant offers as many as three screen decks and features a hydraulically operated feed conveyor, cross conveyor and fines conveyor. The inclined F-Class virtually eliminates blinding, pegging and material contamination and is ideal for screening situations in quarrying and mining that require consistent, load independent performance at constant g-force. The plant can be customized to include a crusher, conveyors or other components for enhanced productivity.
www.haverniagara.com
---
JOHN DEERE
Booth: N12525
The 850L incorporates an EPA Final Tier 4 John Deere PSS 9.0L diesel engine that provides a 10% increase in horsepower. At 225hp (168 kW), the 850L has more horsepower than any dozer in its size class. Equipped with the popular Eco mode feature, fuel consumption is reduced by up to 20%, without sacrificing performance. Auto-idle and idle shutdown are also standard which further minimize fuel costs. Like all John Deere dozers, the 850L features a dual-path hydrostatic transmission, now with 13% larger pumps than the K-Series. The new dozer is available the widest Power Angle Tilt (PAT) blade in its class. At 172-inches (4369 mm), the new blade increases productivity, especially in grading applications. All 850L configurations now utilize an eight-roller design with 130-inches (3302 mm) of track on ground, increasing productivity, stability, and gradeability.
www.deere.com
---
KPI-JCI and ASTEC MOBILE SCREENS
Booth: C30336
Kolberg-Pioneer (KPI) will be introducing its first hybrid FT4250CC horizontal shaft impactor plant equipped with a pre-screen. The new two-deck pre-screen minimizes the amount of undersized material that passes through the chamber, reducing wear costs and increasing the amount of final product. The hybrid power option allows producers to operate using either line power or diesel fuel for added flexibility. KPI will also feature its 2742 Pioneer jaw crusher. The Pioneer series features unique shaft and bearing assembly designs for easy troubleshooting and reduced maintenance. Johnson Crushers International (JCI) is exhibiting its latest addition to the Kodiak Plus cone crusher line, the K350+. This new model features increases in drive train, stroke, horsepower, weight, head diameter and hold-down force. Astec Mobile Screens will be introducing its new Ranger line, comprised of compact, track-mounted units. The mobile line will include a variety of jaw crushers, cone crushers, impact crushers, incline screens and trommels to serve a variety of markets including building and construction, landscaping, quarry operations and plant and tool hire. Their ease-of-use, ease-of-transport, versatility and flexibility make them ideal for smaller operations that require powerful equipment with a limited footprint. The J20 jaw crusher plant will be featured at the show. The group will also be displaying a variety of scale models and will demo Kolberg-Pioneer's new water clarification technology.
www.kpijci.com
---
LUFF INDUSTRIES
Booth: C31058
Luff Industries' top of the line CEMA rated idlers have been increasing customers' conveying performance for over 40 years. Luff idlers are built with a patented polymer endcap design that offers the ultimate in strength, durability and sealing performance. The endcap encases a triple labyrinth seal and sealed ball bearing to ensure various environmental contaminants including dust and moisture don't cause premature roller failure. Luff is the first OEM in North America to achieve SKF Equipped status and have integrated SKF bearings into its idlers through the program to ensure the highest quality components are being delivered to its customers. The SKF Equipped program will add significant life to each roller, resulting in major savings in maintenance and operation costs.
www.luffindustries.com
---
MCLANAHAN
Booth: C31575
McLanahan Corporation will be showcasing the newest size range for its UltraWASH Modular Wash Plant. The UltraWASH is capable of being configured to produce up to three clean aggregate and two washed sand products and is part of McLanahan's complete line of next-generation modular systems. McLanahan has designed and manufactured all the components for these systems, and with years of process engineering expertise, can configure its Ultra line of modular wash plants, scrubbers, sand plants, fines recovery, thickeners, filter presses and crushers to meet your site's specific needs. These plants are designed to be energy efficient and include patent-pending maintenance features that make performing maintenance safer and simpler. They can also be supplied with a state-of-the-art control system that allows for remote monitoring and adjustments. In addition to the UltraWASH, McLanahan will showcase its classic line of equipment, tailings management solutions, pumps and more.
www.mclanahan.com
---
METSO
Booth: C31531
In the world of construction, dependability matters. There's no room for wrong decisions. Metso has turned its 150-plus years of crushing and screening experience into solutions that aggregate producers and contractors all over the world depend on to increase production and profitability, year in and year out. At ConExpo-Con/Agg 2020, Metso will be showcasing our latest innovations as well as field-proven technologies, with solutions specially designed for the show. Our experts will be ready for you at booth C31531 (Central Hall) to discuss your needs and challenges, no matter the application.
www.metso.com
---
PHILIPPI-HAGENBUCH
Booth: N11067
Philippi-Hagenbuch Inc.'s Positive Seal Autogate Tailgate is specifically designed for off-highway trucks and roll-off containers that require a 100% seal. This new design can be paired with PHIL's proprietary fluidic seal material to create a water-tight seal that contains liquid materials within an off-highway truck body or roll-off container when environmental regulations or local laws make even slight spillage undesirable. The new Positive Seal Autogate Tailgate can be designed for practically any size off-highway truck or roll-off container. Paired with PHIL's simple yet robust outrigger, its traditional scissors-style mechanism provides an industry-leading maximum opening clearance at full dump. In the closed position, the new design positively locks into place and will not open under normal conditions without the body or container entering the "dump" mode.
The new design builds up the rearmost portion of the truck body or container to create a cohesive flange from which the tailgate compresses. Two hooks on either side of the base of the flange intercept a corresponding tag on the tailgate, allowing the tailgate to pivot inward as the sidearm and over-centre locking mechanism compressively lock the rear tailgate into place.
www.philsystems.com
---
POLYDECK
Booth: C31549
Polydeck's Kwikdeck system is a frame conversion that lets a producer try synthetic screen media virtually risk-free. Created to work with crowned decks, Kwikdeck is a modular screen media system that can be modified to fit the dimensions and configurations of most vibrating machines without altering the existing deck frame. Kwikdeck takes about 45 minutes to change out a 4×6 deck and uses existing side clamp rails making Kwikdeck perfect for portable screens that need to alternate between wire cloth and synthetic media. With a wear life ten times longer than wire screens, operators can save on labor costs while increasing production using Kwikdeck.
www.polydeck.com
---
PPI
Booth: C31446
PPI has you covered. Protecting your belt as well as your bulk materials is important in the conveying industry. PPI offers a solution in both full and three quarter conveyor covers to protect your assets. Standard in galvanized steel, you can count on PPI Conveyor Covers to be strong and hold up to a multitude of environmental challenges.
www.ppi-global.com
---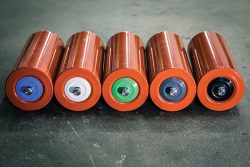 SUPERIOR INDUSTRIES
Booth: C31389
Superior Industries is introducing a group of application-specific idlers seals at ConExpo-Con/Agg 2020. They're one of a dozen new products the company will introduce at the show. Superior now offers four application-specific conveyor idler seals: SpinGuard Wet Seal: Applications experiencing unsatisfactory idler life due to high moisture. Common conditions include wet processing, frequent washdowns and dredging; SpinGuard Dry Seal: Operations that produce dust near crushing or screening equipment; SpinGuard Low Drag Seal: For conveyor owners concerned about horsepower. Eco-friendly idlers designed with low drag seal for overland or long-distance conveying; and SpinGuard Titanium Seal: For the most extreme conditions including wet and slurry applications. Each class of seal will be easily recognized by a unique colour: Wet Seals are blue, Dry are ivory, Low Drag are green and the Titanium Seal is silver. Superior says lead times for these application-specific idler seals can be equal to their day-to-day, industry-leading production response times.
www.superior-ind.com
---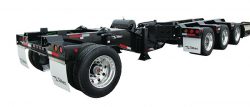 TALBERT MANUFACTURING
Booth: F5504
Talbert Manufacturing, a North American leader in specialized heavy-haul solutions, will showcase the 65SA Modular Trailer. This innovative trailer takes advantage of Talbert's custom-engineering experience to incorporate multiple axle configurations based on customer requirements for optimum versatility. The trailer's unique design features a flip extension to accommodate a tandem- or tri-axle jeep dolly, allowing for maximum load configurations. It can also pair with Talbert's revolutionary E2 or E3Nitro axle extension, which dampens axle movement and controls load transfer. The modular trailer maintains a 65-ton rating at half the deck length with a 16-inch loaded side deck height and 6-inch loaded road clearance. Talbert Manufacturing will feature a 3+3+2 configuration, raised-centre version of the 65SA Modular Trailer, along with other custom-engineered innovations.
www.talbertmfg.com
---
TELSMITH
Booth: C30336
Telsmith will showcase its newest addition to the Titan series, a 200-hp cone crusher, along with its 4448 Iron Giant Jaw Crusher and Vibro-King TL Screen. Alongside the new Titan T200 Cone Crusher will be a new and improved video highlighting the Titan Series main features, including hybrid thrust bearing technology, patented anti-spin system, concave retention system, simple top-service disassembly, and the TRAC10 control system.
In addition to the Titan Cone Crushers, the company will display and discuss new technology updates within their existing Iron Giant Jaw Crushers and Vibro-King TL Screens.
www.telsmith.com
---
TEREX
Booth: S5118
The Cedarapids TG420 is a 422-hp bronze bushing spider bearing cone. The TG Series of cones provides nominal maximum feed sizes and applied power similar to current Cedarapids cone offerings, but the numerous eccentric throw options and liner configurations allow for increased application versatility. From a course secondary right through to fine quaternary, the TG Series cone crushers will consistently exceed all performance expectations.
www.terex.com
---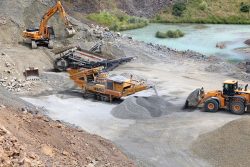 TRIMBLE
Booth: B11400
The Connected Quarry is built on the Trimble LOADRITE payload management suite of products, which connects loader scales and other measurement devices together and allows monitoring of production and efficiency from the pit until the truck is loaded to go out the gate. This connectivity also helps managers streamline operations by reducing waste across their production process. With Trimble LOADRITE payload management systems connected across an entire operation, owners and operators can increase profitability, maximize productivity, improve operational efficiency and get control of inventory. Stop by the Trimble booth to learn more about Trimble payload and productivity management technology, which allows quarry operators to track and visualize loader, excavator, haul truck, processing productivity and efficiency visibility with simple graphs and metrics.
www.trimble.com
---
VOLVO CE
Booth: F3432
Displaying solutions for today and tomorrow, Volvo CE will present its industry-leading range of products and services across 5,574 m3 (60,000 ft2) of show space. More than 30 machines and related uptime and productivity services will be featured, including a number of global and regional launches, at a new location in the outdoor Festival Grounds. The scope of the Volvo Group represented in the booth shows comprehensive solutions for the construction industry with a commitment to being No. 1 for customer uptime. Volvo CE will be joined by sister companies Volvo Penta, Volvo Trucks and Volvo Financial Services, who will be presenting the latest engine, truck and financial offers. Likewise, Volvo CE's other equipment brands Terex Trucks and SDLG will be present at the show.
www.volvoce.com
---
WIRTGEN GROUP
Booth: S5419
Wirtgen will be exhbiting more than 30 exhibits, including 10 world and North American premieres and Wirtgen's new large milling machines leading the pack.
Following its successful market launch, cold milling machine specialist Wirtgen is rounding out its new generation of large milling machines at the Conexpo-Con/Agg 2020. The W 250 Fi and W 220 Fi will make their world premiere at the show. The two W 210 Fi and W 207 Fi large milling machines as well as the W 380 CRi cold recycler, exhibited together as a recycling train, will make their North American debut.
Vögele will be unveiling its software-based application WITOS Paving Docu for the first time in North America. This innovative solution was designed specifically for contractors that want to capture and analyze more data that just the paving temperature – but don't need the full scope of WITOS Paving Plus.
Hamm will showcase three premieres. The specialist for asphalt and soil compaction will unveil its new HP 180i pneumatic tired roller, the DV+ 90i VV-S tandem roller and the H 20i C P remote-controlled compactor with padfoot drum, new thrust shield, and impressive gradeability.
Kleemann will showcase the MOBICAT MC 120 Z PRO jaw crusher and the MOBISCREEN MS 952 EVO mobile screening plant.
www.wirtgen-group.com
---
Print this page