November 24, 2015 By Andrew Macklin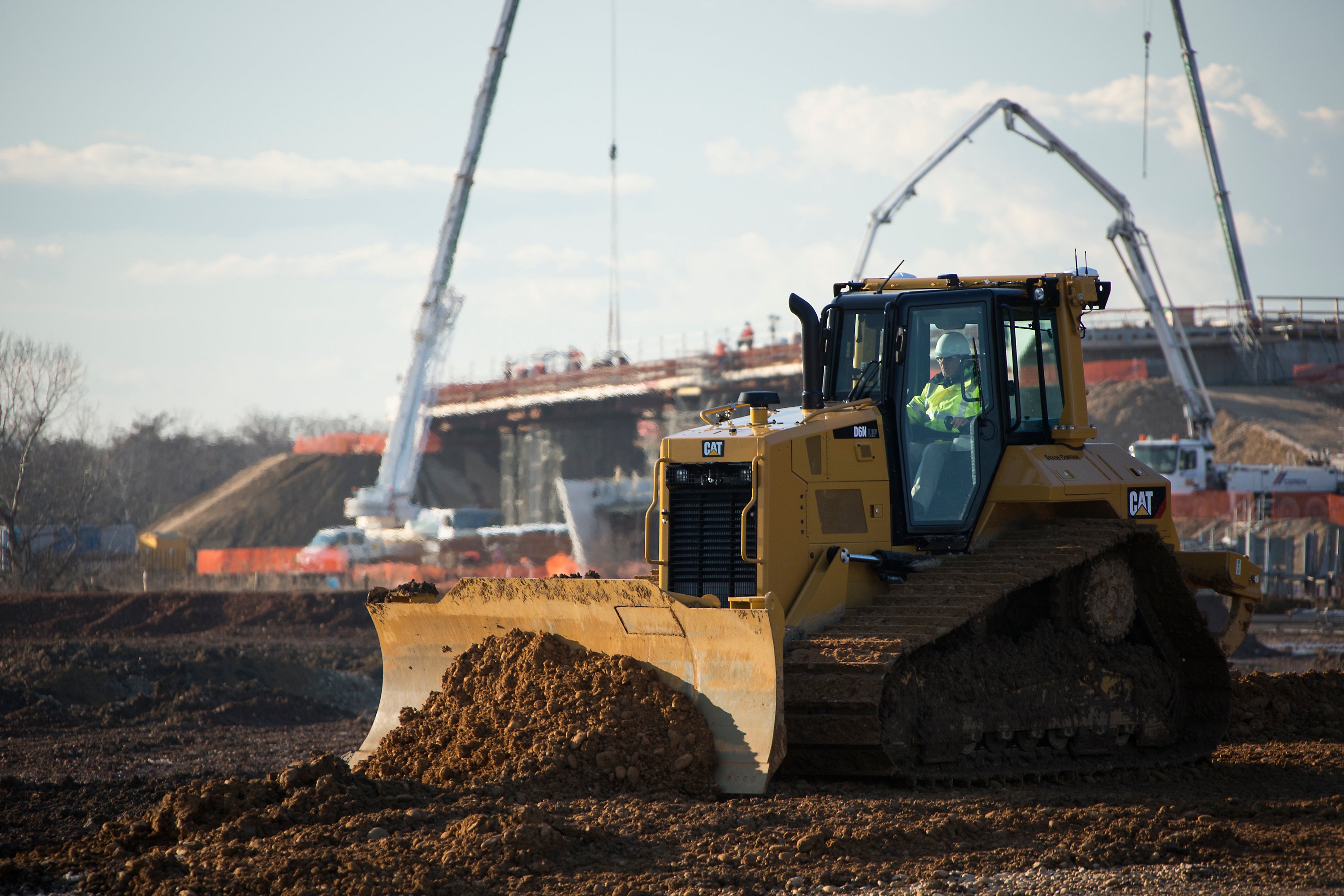 November 24, 2015 – The latest Cat D6N dozer focuses on customer value, delivering greater ease of operation, a 10 to 15 per cent boost in fuel efficiency and up to 10 per cent better productivity compared to the previous model. The D6N is powered by a Cat C7.1 ACERT engine rated at 166 net horsepower (124 kW), and meets US EPA Tier 4 Final emission standards.
Cat Connect Technology
Every new D6N dozer comes equipped with advanced Cat Connect GRADE technologies to help you control the blade so you can get more quality work done in less time. Experienced operators can work more productively and less experienced operators can achieve better quality results more quickly. These smart features are integrated right into the machine at the factory – no additional hardware or software is required.
Cat Grade Control Slope Assist helps operators more easily achieve the required mainfall and slope orientation of the blade by automatically maintaining pre-established blade angles for the grade. Finish up to 39 per cent faster, with up to 68 per cent better surface quality and using up to 82 per cent less operator effort.
Cat Stable Blade complements the operator's blade-control input for attaining higher quality finish grades quicker and with less effort.
Cat Slope Indicate displays machine cross slope and mainfall (fore/aft orientation) on the primary monitor, helping operators work more accurately on slopes with no special equipment required.
For tackling more complex design plans, the D6N can be outfitted with optional technology features that allow customers to choose features scaled to job-site needs and budgets. These GRADE technologies combine digital design data, in-cab guidance, and automatic blade control, resulting in enhanced grade accuracy, reduced rework, and lower costs—whether the application is bulk earthmoving or finish grading.
Cat Grade Control 3D (available early 2016) is an integrated grade-control system that enables operators to improve grading efficiency, accuracy, and productivity in both production dozing and fine-grading applications. The integrated design positions antennas on the cab roof, eliminating conventional blade-mounted masts and related cables. The Cat AutoCarry system and the AccuGrade Ready Option are included in the package to further boost productivity and versatility.
Cat AccuGrade is a dealer-installed aftermarket grade-control system that provides increased grading versatility and the ability to scale capacity to changing needs, providing a choice of lasers for 2D flat-plane and slope work, Global Navigation Satellite System (GNSS) control for complex 3D cuts and contours, and/or systems using a Universal Total Station (UTS) for fine and finish grading. AccuGrade now utilizes components of the Slope Assist system to provide an even higher level of grading performance than was previously achievable.
AccuGrade Ready Option allows you to easily install or upgrade to Cat AccuGrade 2D and 3D grade-control systems to add versatility and resale value to your machine.
Cat Connect LINK technologies offer telematics to wirelessly connect users to their equipment, providing valuable insight into machine or fleet performance. Product Link is deeply integrated into machines, providing easy access to timely information, such as machine location, hours, fuel usage, idle time, and event codes. Data is available via the online VisionLink user interface for assisting in more effectively managing the fleet and reducing operating costs.
More Fuel Efficient
Fuel-efficiency gains result primarily from the D6N's new transmission with a lock-up clutch torque converter that seamlessly selects the drive mode best suited to the application. The transmission provides the performance of direct drive with the ease of operation of power shift. Fuel savings range from 10-15 per cent, and productivity gains in typical applications are estimated at up to 10 per cent, compared with the previous model.
The standard Enhanced Auto Shift system, combined with the lock-up-clutch control, allows operators to select the optimum ground speed for the load being moved, resulting in further fuel savings. In addition, an electronically controlled, variable-speed demand fan automatically adjusts its speed to conserve engine horsepower and fuel, and reduce sound levels.
Ease of Operation
For operators, the D6N has an updated cab with more leg room and wider, easier-closing doors. A smoother-shifting transmission and quieter engine create a more comfortable environment, and operator-selected electro-hydraulic mapping fine tunes implement response (fine/normal/coarse) to suit operator preference or tailor the machine to the application.
The instrument display and operator interface have been updated and are now common with other Cat dozers. Performance of the HVAC system is significantly improved, and an improved fresh-air filter keeps the cab cleaner. For added safety, a new seat-belt-indicator system registers a fault code through Product Link if the operator fails to buckle up.
Serviceability
The new D6N is designed for ease of maintenance, providing a ground-level service center for easy access to the electrical disconnect, hour meter and remote light switch. A single grease point for e-bar and c-frame pins is easy to reach and protected behind the engine door. The two-piece engine-compartment door conveniently opens without tools, and engine valve-lash adjustment is not required, saving time, effort, and cost.
The D6N's emissions technology is transparent, requiring no operator action and causing no interruption of work cycles for diesel particulate filter regeneration. The diesel exhaust fluid fill location is at step level, next to the fuel tank, for convenient access when fueling the D6N.
---
Print this page