Conrad Brothers Ltd. has been operating its quarry for over 50 years
March 7, 2016 By Carroll McCormick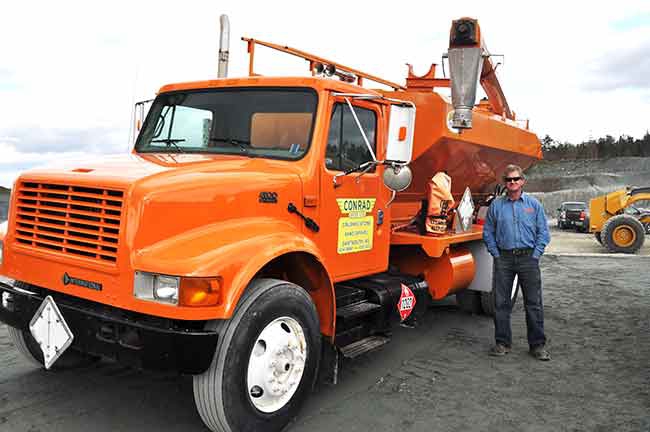 March 7, 2016 – Since its early days screening and hauling gravel in the 1950s, the Conrad family has grown their Dartmouth, N.S.-based quarrying operations to an average output of about a million tonnes annually, with trucking and soil remediation complementing its core operations.
Today, Conrad Brothers, which runs the quarry side of the family enterprises, operates one of the largest quarries in the province. The rock, mainly quartzite, also known as greywacke, meets the province's specifications for highways. The active face of the quarry is about 30 acres, with some 75 to 100 acres opened up for quarrying on the 550-acre permitted site.
"We are doing a 30 to 35-foot lift. We have been working our way out to the perimeter, and we want to go down another 12 to 15metres. Our quarry floor is about 180 feet above the lake level and we can go down another 40 feet and still have natural drainage. It will give us another 40 years in what is open now," says Kim Conrad, president of Conrad Brothers.
Conrad's father, Fraser, and Fraser's brother Jim, bought the first parcel of 100 acres, just off the northwest corner of today's Dartmouth in 1963. They eventually grew their holdings to 600 acres, although the province later expropriated 42 acres for the construction of Highway 107, which isolated 50 acres on the far side of
Highway 107.
Those 50 acres cannot be quarried – they are earmarked for residential development – but on the other hand, Conrad says, "Now we have our own exit ramp, Exit 14."
The quarry operations produce a range of stone and gravel. The product line is rounded out with sand, topsoil and pea stone brought in from suppliers.
The latest equipment acquisition for the quarry is a 390 Caterpillar excavator, of which Conrad speaks very highly. "Having the latest engine technology, it uses Diesel Exhaust Fluid. Where the 385, which it replaced, would use 450-plus litres on a shift, the 390 uses between 350 and 400 litres in the
same shift."
A 988 CAT loader shares the duties with the 390. Each can load 1,000 tonnes an hour, but they generally putt along at 50 to 60-per cent capacity. The reserve that they have is brought into play if one of them is down for repairs or maintenance.
On the quarry face, the company uses a Sandvik DK25 down-the-hole drill. Four 50-tonne, 772 CAT trucks, with a spare 40-tonne 769 CAT, move the rock from the blast face to an Allis Chalmers 42-65 Gyratory primary crusher, which outputs 1,100 to 1,200 tonnes an hour at a five-inch closed side setting. A 160-foot, 48-inch Superior radial stacker supplies rock to the wash plant and the gravel plant – the choice depending on whether binder is required.
"We aim for one million tonnes a year, but we have been up to about 1.5 million tonnes a year. Our lowest year in the past 20 years has been around 700,000 tonnes. In the past four years it has been 900,000 to 1.5 million tonnes a year," Conrad says.
On the road, Conrad Brothers operate seven tandem dumps, of which two are new Western Stars with 13-litre Detroit engines. "They are giving over eight MPG. This is where we used to be in the '80s before electronic pollution controls were added. Three bonuses: more power, better fuel economy and cleaner exhaust," Conrad notes.
Rounding out the highway fleet is one Western Star and one Peterbilt tractor-trailer, one Trail King live bottom dump tri-axle tractor-trailer, a 27-foot tandem steel trailer for rough material, two Arnes belly dump trailers and Trail Star Tri axle aluminum dump.
Since Fraser and Jim Conrad decided in the mid-'60s to get out of the general contracting business, Conrad Brothers has been strictly a supplier. "They didn't want to compete with their customers," Conrad says.
Two milestones stand out in the evolution of the company. The first was a three million tonne contract to supply aggregate for the first phase of construction of the Fairview Cove container terminal, from 1978 to 1980, Conrad says. "We went in on a joint venture with W. Eric Whebby. We had the technology, the blasting and expertise as quarry operators. They were general contractors, with a small quarry permit to serve some of their own jobs, to blast a little rock. They were just in their infancy as far as quarrying goes. Whebby looked after the placement of the rock.
"This brought us up to a different level in our quarry business. We expanded our drilling capability and capacity as well. We used to run Air Track drills with two-and a half-inch bits, [but] we bought an Ingersoll Rand drill that could drill six-and-one-half inch blast holes."
The other milestone was the decision to team up with an engineer experienced in the paving industry and set up an asphalt operation in the quarry. Ocean Contractors Limited was formed in 1972. "Today, the Ocean group of companies leases approximately 14 acres of the quarry for the asphalt, as well as a concrete plant,"
Conrad says.
In 1995 Conrad Brothers got into the soil remediation business. "We were losing business to competitors who were into the contaminated soils business," Conrad says.
Soil remediation goes well with the quarry operation. "We use bio-remediation, as opposed to high-temperature burning. We introduce enzymes and compost to break down the hydrocarbons. When they are broken down to a level of the Department of the Environment's choosing, we use the soil to remediate some of the slopes around our quarry. Everything stays here on site. Some competitors ship their dirty soil out, but we didn't want to do that. In 20 years, what is acceptable may be different from what is acceptable now," Conrad explains.
Highway work in the province has been quiet recently, but one notable project for Conrad Brothers has been supplying Brycon Construction Limited with product for a roadway project at the Halifax Stanfield International Airport, for which it supplied over 100,000 tonnes of aggregate.
The company recently supplied 120,000 tonnes of rock and surge for a project at the Port of Halifax's Pier 9C. It is also supplying 50,000 tonnes to a school site project and hopes to win a 100,000-tonne contract for another project in Dartmouth.
The Conrad Brothers are an important employer. "At Pier 9C we had 25 tractor-trailers and tandem trucks [working]. At times we've had 40 brokers here with their own trucks. We employ 50 people directly, plus the brokers with their own gravel trucks," Conrad says.
In addition to local action, the company also trucks material to Prince Edward Island and New Brunswick. "We have sent product to P.E.I.: micro dust for the racetrack, and occasionally we will get an order for some good hard rock. We ship micro dust to Cape Breton and New Brunswick – about 3,000 to 4,000 tonnes a year. It is used for micro surfacing highways. It is a five-sixteenth product. If they want to extend the life of the pavement, they mix asphalt with it and lay it out [in a] three-eighths to one-half inch thick layer. Sometimes they will put this product on as wear material," Conrad says.
The company has done well this year, with this summer one of its busiest ever, but local infrastructure projects are thin on the ground, Conrad says. "There's not a lot going on down this end of the country. None of the governments want to spend money on infrastructure.
"It is a bigger challenge for us on the eastern side of Halifax Harbour than on the west, because development has been restricted on the east: no new residential development. Where we make our money is when people build roads for subdivisions. But there is not much of that going on now and the municipal planning strategy concentrates on high density housing in the downtown core and on the western side of Halifax Harbour. We look forward to a brighter year for 2016."
---
Print this page