News
Industry Outlook 2018: A glass half full
Roadbuilding and aggregate sectors optimistic about 2018
February 6, 2018 By Grant Cameron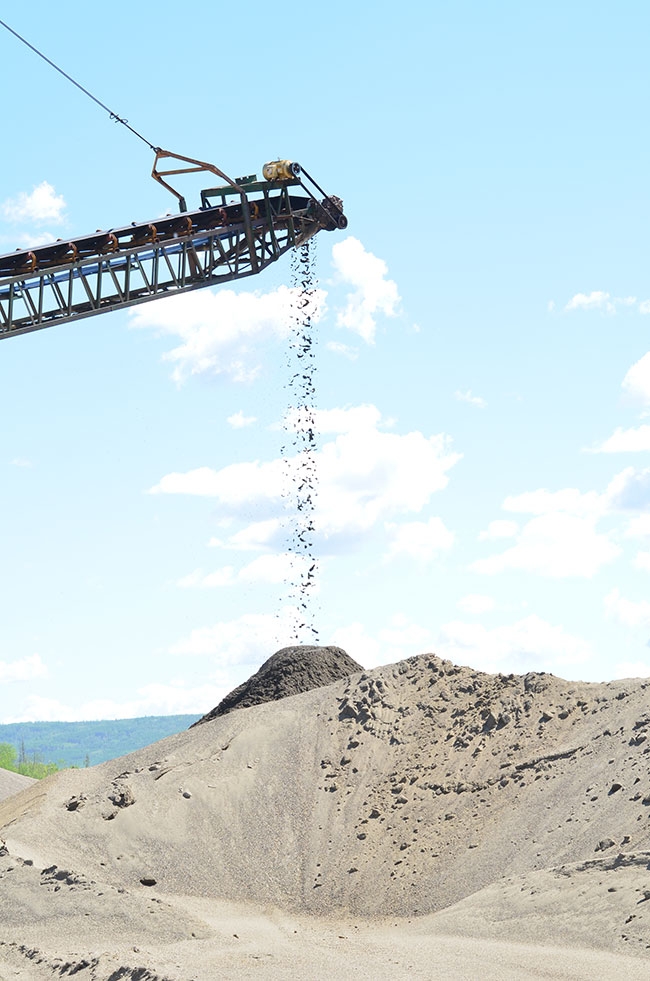 February 6, 2018 – The future looks relatively bright for Canada's aggregate and roadbuilding sectors in 2018.
Looking into the proverbial crystal ball, there may be a few hurdles to overcome – often specific to regions and municipalities – but many producers and contractors are optimistic.
In B.C., the industry is hoping for another good year while in Alberta, which is still recovering from the decline in oil prices, stakeholders say there should be more industry demand, especially north of the Edmonton area. In Manitoba there is some uncertainty about infrastructure budgets, but if funding flows as expected the feeling is it could be a strong year.
In Quebec, there's plenty of work on the horizon as a result of government investments, and in the Atlantic region there appears to be a lot of upcoming road, highway and bridge work.
In Ontario, meanwhile, both aggregate producers and road builders are looking forward to a productive year as the population continues to grow, especially in the Greater Toronto Area (GTA).
Norm Cheesman, executive director of the Ontario Stone, Sand & Gravel Association (OSSGA), says population growth in Ontario is expected to drive construction and more demand for aggregate.
"The network of transit, roadways, commuter, health, education and government infrastructure to support that growth is awe-inspiring," he says.
As density increases in existing communities outside the GTA and expansion continues northwards, new opportunities for development abound, notes Cheesman, and although there are big challenges ahead for the industry, there are also great opportunities.
"It's important to understand that aggregate truly is an essential ingredient to growth in Ontario. Without it, nothing gets built – not hospitals, not schools and not roads."
A challenge facing the industry in Ontario, he says, is the supply of quality, close-to-market aggregate as well as restrictions being placed on new operations, which will ultimately result in a shortage of quality aggregate material close to where it's needed.
"That will mean trucking from a greater distance, more greenhouse gas emissions and a higher cost for everything we build," Cheesman says.
Andrew Hurd, director of policy and stakeholder relations at the Ontario Road Builders' Association (ORBA), says members are optimistic about the year ahead.
"ORBA members are looking forward to a productive 2018," he notes, and also welcomes newly enacted legislation which has strong prompt-payment and adjudication provisions – issues the road building industry wanted because it provides clarity to
operations.
With provincial and municipal elections on the horizon, Hurd says ORBA will be working to ensure that parties and candidates make transportation infrastructure issues a priority.
"It's increasingly important to ensure all three levels of government are working together with industry to understand the needs of the present and challenges of the future, particularly with respect to a pronounced municipal infrastructure deficit in Ontario," he says.
B.C.'s new government
In B.C., where there was concern about the future of infrastructure projects as a result of the NDP taking power after 16 years of Liberal rule, there now appears to be optimism.
"We're fairly comfortable going forward in 2018," says Kelly Scott, president of the B.C. Road Builders and Heavy Construction Association. "We're certainly comfortable that the government of the day understands that investment in infrastructure is an investment in the economy. The roads are critical to us as they are in any province, and we see that continuing.
"Time will tell but the arrow is still continuing to point a bit up for us."
Scott says a mandate of the government is to enhance the corridor between B.C. and Alberta, which is good for both the aggregate and roadbuilding sectors in the province, and he expects to see tenders for the work show up soon.
He's also encouraged that the province has hired a professional engineer to lead an independent technical review of the George Massey Tunnel crossing.
"Once they've done their review, our sense is that they will need to replace it. It's just a matter of timing."
Paul Allard, executive director of the B.C. Stone, Sand & Gravel Association (BCSSGA), notes that 2017 was a very busy year for aggregate producers and their suppliers of goods; and indications are that both sectors will remain strong well into 2018.
He says B.C. is committed to maintaining and building new infrastructure to meet the demands of newcomers to the province and that trend is expected to continue well into 2018.
Allard notes the BCSSGA does face challenges, such as municipal governments trying to impose soil removal and soil disposition fees onto members, but the dialogue continues and he is hopeful the government will be there to help and not hinder the industry.
The Prairies
In Alberta and Saskatchewan, where oil prices often dictate economic conditions, there is good news on the horizon, as the Petroleum Services Association of Canada is forecasting that prices will rise in 2018 and up to 6,929 wells will be drilled in the provinces – up from 6,693 in 2017.
The Canada Mortgage and Housing Corporation (CMHC) also projects in its latest housing market outlook that more residential building is expected in the two provinces as the oil industry recovers and more people move there from other parts of the country.
However, John Ashton, executive director of the Alberta Sand & Gravel Association (ASGA), says it's difficult to say what will happen with the aggregates and roadbuilding sectors in the province.
Higher oil prices often spur development in the Wood-Buffalo and Grande Prairie regions north of Edmonton, he notes, but the sector is unpredictable and it can turn on a dime.
"The downturn in oil and gas happened in a period of time that was measurable in weeks, not months, let alone years, and it could turn again," he says.
The other side of the coin, Ashton notes, is that the province is so large and economically diverse that one area of the province can be booming while there's a recessive year in another.
"It's very hard for me to give a blanket answer, saying, 'Alberta's going to have lots of demand,' because one part of the province might have more and the other might have less," he says.
Two projects on the go in Alberta that bode well for the industry include the $1.4-billion Southwest Calgary Ring Road, which is slated to be completed in fall 2021, and the $2.5-billion Ice District, a sports and entertainment district being developed in downtown Edmonton.
In Manitoba, where the economy is more diversified, road builders are hoping for a good year.
"I am cautiously, tentatively optimistic because there's a lot of uncertainty around infrastructure budgets," says Chris Lorenc, president of the Manitoba Heavy Construction Association (MHCA), noting that, at press time, many municipal budgets hadn't been finalized.
Manitoba has committed $500 million for infrastructure in 2018-19, slightly less than the year before and some projects are still in the design stage, so Lorenc says that's why he's still a little reserved in his comments.
"If those details flow the way we believe they should, or will flow, then 2018, 2019 and 2020 can be much stronger years."
Manitoba Infrastructure Minister Ron Schuler recently released the tendering list for roads, bridges and flood protection infrastructure projects, and said the province will continue to focus its investments on maintaining the existing highway network and flood protection.
Lorenc says he is hopeful to soon see some certainty about the provincial and municipal budget levels.
"We like certainty, we like predictability, we like sustainability," he says. "Those things are really important to our
industry."
Lorenc also believes the industry needs clarity and certainty on how applications to establish pits and quarries are dealt with and is working with municipalities and the province.
"That's huge in Manitoba because right now, absent that certainty, it's next to impossible to establish a pit and quarry and to enhance an existing one's operations. So that's a big one for us."
Quebec grows
In Quebec, the ACRGTQ (Association of Road Builders and Heavy Construction Quebec) is looking forward to another good year, buoyed by government investment in infrastructure.
"We are still waiting for the (Quebec) Construction Commission estimate, but we can tell that with the investment by the federal government, the municipalities and the Quebec government we think 2018 will be a lot like 2017," says ACRGTQ CEO Gisèle Bourque.
According to the ACRGTQ, the roadbuilding industry does face challenges, but the construction labour force is presently relatively stable in Quebec, with more than 2,500 contractors and 36,000 workers employed on road infrastructure projects in the province.
Around the Country
British Columbia
The province's fall 2017 budget update notes that spending on roads, highways and transit infrastructure is forecast to be nearly $4.7 billion in the three-year period between 2017 and 2020.
Alberta
The province's 2017-21 capital plan supports $29.5 billion in infrastructure projects over the four-year period. A total of $4.7 billion is earmarked for capital maintenance and renewal, including
$2.1 billion for roads and bridges.
Saskatchewan
Saskatchewan earmarked about $1.1 billion for construction work on the province's roads in 2017-18. An estimated $850 million in work was in progress or completed in 2017 and $220 million in tenders have been released for the 2018 construction season for 550 kilometres of surface improvements, half a dozen bridge and culvert projects, and more than a dozen crushing and stockpiling contracts.
Manitoba
In the 2017-18 budget, the province committed to spending more than $1.7 billion on strategic infrastructure investments, one of the highest total infrastructure expenditures in Manitoba history. The funds included $747 million for roads, highways, bridges and flood protection.
Ontario
In 2017, the Ontario government committed to investing about $84 billion over 10 years in the transportation sector, including $26 billion for highways. As part of its plan, the province is funding $648 million in highway infrastructure projects across the northern part of Ontario.
Quebec
The province announced that, under the 2017-2027 Quebec Infrastructure Plan, it will invest $91.1 billion over the 10-year period, including an investment of nearly $18 billion in the road network.
New Brunswick
The provincial government has announced it will invest $815.3 million in public infrastructure in 2018-19, including $458.1 million in roads, bridges, buildings and other infrastructure.
Nova Scotia
The highway capital budget for 2018-2019 is $285 million, with major construction of new highways and bridges accounting for $115 million and asphalt and resurfacing programs accounting for $101.5 million and bridge replacement and rehabilitation accounting for $29.1 million.
P.E.I.
The 2018-19 capital budget estimate for the Department of Transportation, Infrastructure and Energy's capital improvements of highways is $53 million. Work will continue on the TransCanada Highway extension, a major redesign of the Mason Road intersection in Stratford, and the resurfacing and reconstruction of 138 kilometres of roads.
Newfoundland and Labrador
The province and the federal governments have announced $15.3 million for major upgrades to Route 510 on the Trans-Labrador Highway. The province is contributing more than $8.1 million towards the work while the federal government is providing more than $7.1 million.
Yukon
More than $360 million in federal and territorial funding has been announced for the Yukon Resource Gateway Project to improve road access in two mineral-rich areas: the Dawson Range in central Yukon and the Nahanni Range Road in southeastern Yukon. The project involves upgrading more than 650 kilometres of roads and building or replacing numerous bridges, culverts and stream crossings.
N.W.T.
The territorial government has issued its Request for Proposals (RFP) for the construction of the Tlicho All-Season Road. Three proponents identified through a Request for Qualifications will be invited to submit proposals: Aurora Access Partners, NAE Transportation Partners and North Star Infrastructure. Technical submissions for the RFP are due Aug. 9, 2018 and financial submissions are due Aug. 29, 2018.
Nunavut
The Nunavut government wants to begin building an $85-million deep-sea port in Iqaluit in 2018. The proposal cleared a major hurdle recently with the Nunavut Impact Review Board recommending the project be approved with no review or public hearings. The port could be functional by 2021.
---
Print this page