Maintenance work on Nova Scotia's road network is done in-house
February 19, 2019 By Carroll McCormick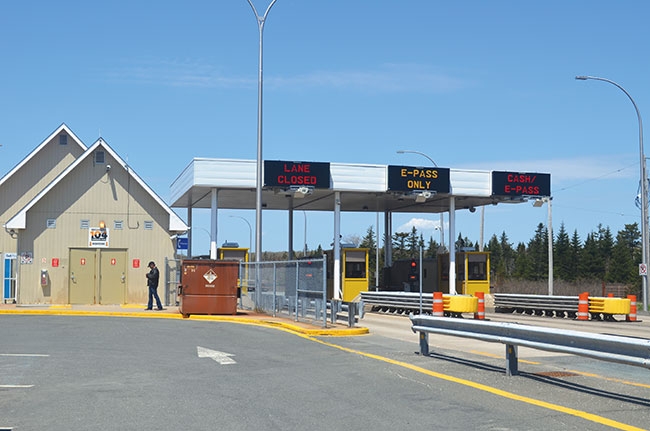 Contractors handle capital projects on Nova Scotia's roads and bridges, while the Department of Transportation and Infrastructure Renewal (TIR) takes care of performing around $120-million worth of winter and summer maintenance each year.
It is a good way to maintain the right amount of staffing and equipment, TIR says. Back in the day, sometime before 2007 when the Nova Scotia Department of Transportation was renamed TIR, it did some capital projects. But not anymore.
"Capital budgets can vary from year to year and it wouldn't be effective to have that much staff and equipment in-house if the work amount changes," says Marla MacInnis, media relations advisor for the Province of Nova Scotia.
And change it certainly does vary. For fiscal year 2017-18, for example, the capital budget was $215 million. In fiscal year 2013-14, it was $245.8 million. And in fiscal year 2018-19, it is $285 million.
"We find on big projects we have good competition from the contractors that help keep prices low," MacInnis notes.
TIR has carved out a large niche of responsibilities.
"TIR is responsible for keeping the road safe with general maintenance," MacInnis says.
Work done in-house includes shoulder repairs, pothole patching, guardrail repairs (contractors put them in) and other standard maintenance. TIR also mows the roadsides and ditches, manages downed trees alongside roads, and performs what it refers to as crossover work. Crossover work that TIR does includes bridge repairs, depending on size of the project. They could include concrete repairs, joint repairs, welding, and steel loss replacements. But, MacInnis says, "The more complex the work is, the more we use contractors."
An example of the maintenance crossover work that contractors may be hired to do is the $20-million gravel road program in the first fiscal year of TIR's Five Year Highway Improvement Plan, 2018-2019 Edition. Although TIR usually does road grading work, this time around MacInnis says the gravel road program is considered capital and is presently being performed by private contractors.
TIR's highway design and construction staff, highway maintenance and operation, building construction and design and building maintenance staff add up to approximately 2,500 employees. TIR has 80 bases scattered across the province. They all stock winter sand and salt for snow and ice control season, and most have a stockyard with variable amounts of gravels, culverts, guard rails, and other odds and ends. Some smaller bases may only have one or two pieces of equipment, but major bases may have up to 20, or more.
Province-wide, TIR reports having around 400 pieces of equipment, including tandem dump trucks, excavators, graders and mowers. The total must be considerably north of that though, as TIR notes on its winter levels of service webpage that it has more than 400 snow plows and other snow-clearing vehicles. TIR aims to clear 100-series, trunk highways and other high-traffic roads within eight hours after a snowfall ends; secondary routes and medium traffic roads within 12 hours; local paved roads, subdivision and residential streets, and gravel roads within 24 hours of snow stops. TIR has no pavers, rock crushers or asphalt plants.
Comparing the cost of maintaining a piece of equipment to the cost of replacing it is what guides TIR's equipment renewal strategy, MacInnis says. "We purchase between $7 million to $10 million worth of new equipment each year. All new equipment is exchanged for an old piece of equipment – one-for-one. As equipment is turned in we prep it for the auction or parts. Equipment we typically purchase includes tandem trucks, various light trucks, loaders, graders, excavators and utility tractors."
Companies that do road work in Nova Scotia have quarries scattered all over the place – TIR has a few of its own as well.
"We own a few pits and quarries where we put out crushing tenders to build aggregate stockpiles for current and future use," MacInnis says. "Most of the aggregates are from private quarries we may use immediately, or lease a part of the pit floor to keep our stockpiles for future and ongoing use. These materials are also acquired through public tenders."
TIR keeps a close eye on its 23,000 kilometres of highways and 4,100 bridges for maintenance issues. All maintenance work and materials must conform to a highway construction and maintenance standard specification. Among the requirements in TIR's Highway Maintenance Standards, an area manager must get an Annual Condition Defect Report from each supervisor by November 30 each year. This report is used to plan the work for the next maintenance season.
The Highway Maintenance Standards covers topics such as surface, roadside and drainage maintenance, traffic control and snow and ice control. It drills down into details such as street sweeping, mowing, ditch maintenance, pothole criteria, and when to grade roads suffering from that teeth-rattling rippling on dirt roads known as washboarding.
To keep abreast of such maintenance requirements, MacInnis says, "Our supervisors patrol the roads regularly according to our Highway Maintenance Standards. We are also very reactive to public complaints; which are logged and tracked through our Operations Contact Centre. We check bridges and major highways annually. Secondary roads are looked at by local crews and inspected in more detail by request."
TIR points out that spending a dollar on pavement preservation before a road is 15 years old can delay or even eliminate having to spend from six to 14 dollars to rehabilitate or reconstruct a failed pavement surface. To that end, MacInnis says, "We have levels of service for most maintenance activities. When determining our capital program for the year, we look at a list of roads submitted by districts and prioritize them. When we look at extending the longevity of a road, we look at the cost benefit of that."
---
Print this page