News Top 10 Under 40
A close up look at our Top 10 Under 40 list
December 1, 2022 By Andrew Snook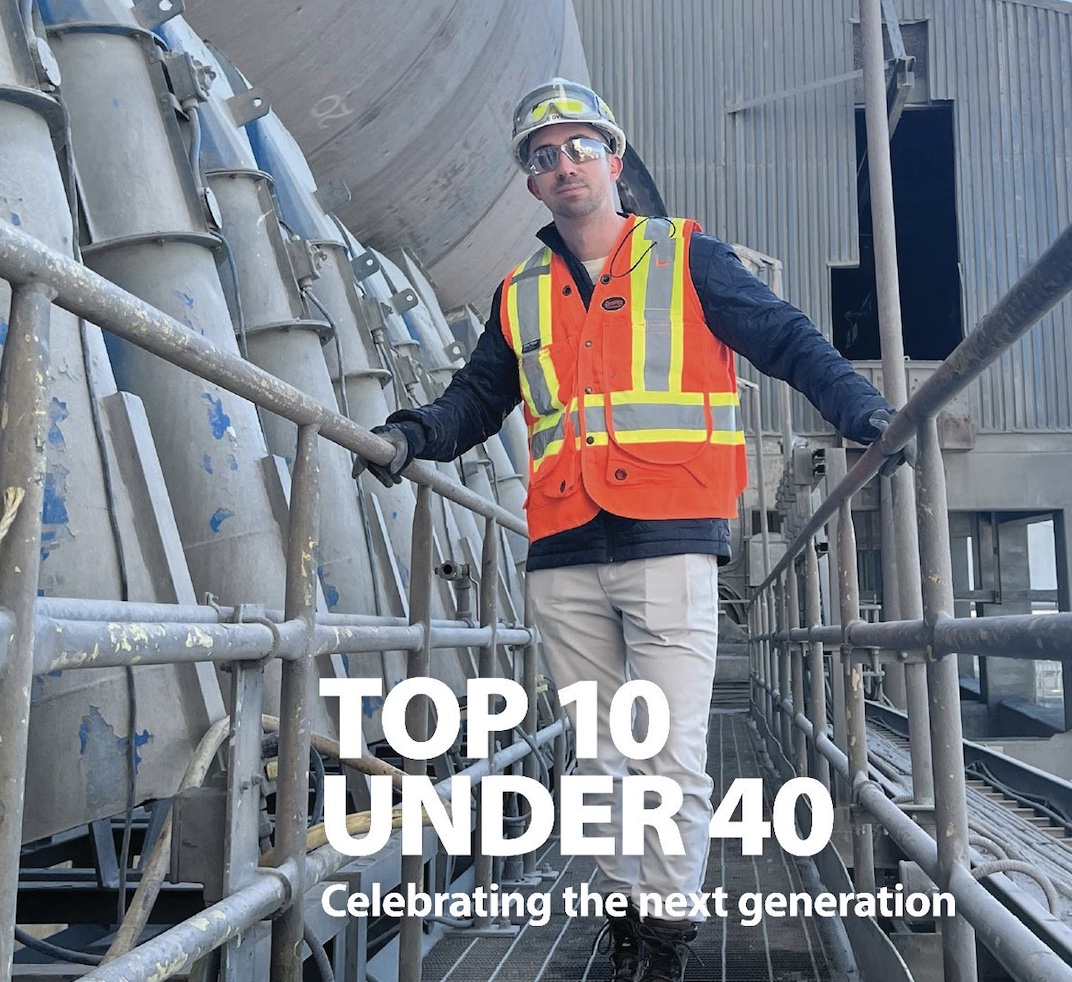 Every year Rock to Road magazine celebrates 10 of the aggregates and roadbuilding industry's young professionals rising up the ranks in their respective positions.
We had the opportunity to sit down and chat with all of the winners about what attracted them to the industry, their favourite projects, career advice for young people entering the industry, and more.
Here is the first of 10 that we will be featuring online in December.
TROY MACBETH ABROMAITIS
Director of Development Bucci Construction, Vancouver, B.C.
Troy MacBeth Abromaitis was officially introduced to the construction sector when he took a job within the homebuilding and construction sector 16 years ago with Wallmark Homes in Burnaby, B.C. That said, Troy's enjoyment within the sector began at a very early age, building with Lego and playing with Tonka trucks as a child.
"I'd always been passionate about construction. I felt that it was fascinating when it comes to being involved in building, whether it's a home, roads, or whatever the case is," he says.
After working at Wallmark for seven years, Troy joined Bucci Developments in 2013. During his time with the company, he has been involved in a multitude of projects.
"I'm very involved in working with architects, engineers, civil consultants on the civil design, project infrastructure and many other project elements," he says. "I'm actively involved in the development, schematic design, pre-construction and construction tendering of these projects. We do millions of dollars of work with roads and civil infrastructure as part of the community projects."
One of Troy's favourite aspects of his work is meeting a wide variety of people from different professions, backgrounds and cultures.
"When you're working with the construction teams, you come across different individuals with diverese backgrounds. For example, my background is First Nations. I'm a member of Lytton First Nation and I'm very involved and active within my community helping with the rebuild after the 2021 wildfires," he says. "With Bucci, you're dealing with people from all different walks of life."
Troy enjoys working with people at all levels of the construction process, whether that's the person in the rain and snow coordinating the traffic when the roads are being worked on, someone tearing up the roads, performing soil compaction, or working on civil services upgrades under the roads.
"I find this work incredibly interesting, when you design a civil project, everything is typically perfect on paper. However, when you actually get into the thick of things, it's a hundred different people working on a thousand different details to bring it all together," he says. "I really love that part of the construction lifecycle because you meet all types of people from different walks of life, and you get to know them. You might know them through friends of friends, or maybe they'll become a new life-long friend of yours. It's the human aspect, the personalities of civil construction and road projects that I personally enjoy."
Over the course of his career, Troy has worked on many interesting projects. One that stands out is the Fleetwood Orion redevelopment project in the Fleetwood neighbourhood of Surrey, B.C., which will include the construction of three residential high-rise towers including more than 1,100 homes.
"There's was a ton of envisioned road work and civil work that has to be completed. When we were working with the City of Surrey on the design we were pushing road frontage on all sides of the site, and developers typically don't do that – they would rather develop more square footage and have less road frontage. Roads are critical infrastructure to be able to get cars and people from point A to point B. Accordingly, we're widening the roads and installing a traffic intersection. We're adding new street frontages all across the site we're working on. I'm particularly happy with that, because we're going above and beyond what you typically do on a site like this. It's probably the largest civil project that I've ever worked on, so I'm really excited about that," he says.
Troy says one of the biggest challenges facing the construction sector today is navigating all of the red tape.
"Unless the government has an incentive, or a push, to see a project through, it can take an unreasonable amount of time to get a regular road upgraded," he says. "I think the biggest issue is making sure that the government works on an outcome-based approach, whether it's the municipal or provincial government, and they also focus on stakeholder engagement and people who are impacted by the road construction… I think there are better ways to get roads and infrastructure and other critical elements approved."
When asked what advice he would give younger people looking to get into the construction sector, Troy recommends picking your passion and sticking with it.
"The industry is so broad, there's engineers, designers, planners, and there's government officials involved for approvals. And then there's the people who actually work on the sites, getting their hands dirty. The industry is really multifaceted," he says. "I've never met someone who started in one position and didn't end up in another much more advanced position, whether it's through promotion, experience from years of the job, etc. Being able to work in this industry is really rewarding. But at the same time, you pick your passion, focus on that, and try to excel at it. I think if you do, you'll have a really amazing career."
Former colleague Jay Chadha says Troy is a natural leader, bringing poise, determination and passion to his endeavours.
"He was the first Indigenous president of the Real Estate Institute of British Columbia and a founding member of the National Indigenous Affordable Housing Corp. His leadership has been recognized by the National Center for American Indian Enterprise Development with the Native American Top 40 Under 40 Award," he says. "He is also a champion for road works, civil services and new communities with an active portfolio in the development process in excess of $800 million. In his career, Troy has overseen 34 multi-family development projects totalling over $2 billion. At Bucci Construction, he oversees road works, civil and residential and commercial projects. He is one of the most accomplished Indigenous real estate professionals in Canada, having been recognized internationally for business professionalism, philanthropic efforts, volunteerism, and dedication to giving back to the community."
Jay adds that Troy is working towards the reclamation of his culture and identity as a proud member of the Nlaka'pamux Nation.
"He is working actively with his Nation and other local Nations to develop and innovate new opportunities. His goal is to help prepare First Nations to utilize their territories to benefit their communities and members," Jay says. "Troy is also a member of Lytton First Nation and his community was decimated by the wildfires in B.C. As an Indigenous business leader, he recognized this was a serious issue and he personally fundraised more than $60,000 to help rebuild his community. His efforts did not stop there, he also serves on the board for the economic development committee to further benefit his nation's community rebuilding efforts. Troy is passionate about helping his community recover."
In the future, Troy would like to become involved in politics to help fix problems within the approvals process within the construction sector.
"Based on my experience in construction, I want to get involved in helping eliminate some of that red tape. So, one of my future goals at some point – probably when I'm retired from development and construction– is I may get into politics. I just don't know when or in what capacity, but that's always something that I think about," he says, adding that he also wants to dedicate his time to helping Lytton First Nation. "I want to continue to help my First Nation. I'm one of the only members in my community that has these skills in real estate, development and construction. Being able to reintegrate with my community and help them with the rebuild, whether it's housing, infrastructure, roads, or whatever the case is, I'd like to immerse myself in it and try to help."
---
Print this page