January 25, 2023 By MJ MacDonald, CEO of Construction Safety Nova Scotia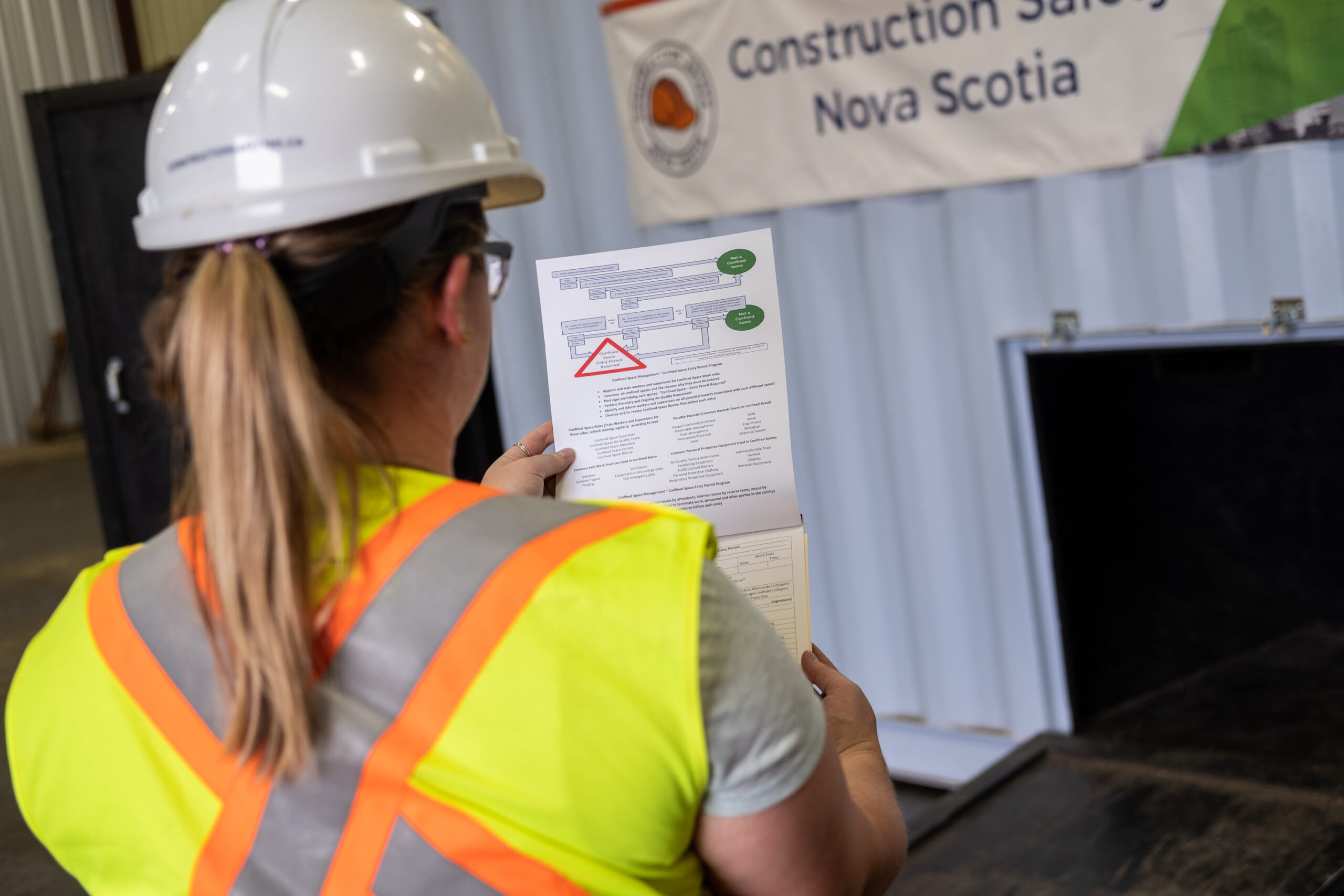 CEO of Construction Safety Nova Scotia recommends kicking harassment to the curb, fostering an interest in construction early
When I was a recent graduate of mechanical engineering from Technical University of Nova Scotia in 1984, I was hired by Black and McDonald. I was thrilled to get my first real job — especially as a recession was in full force. The leadership team at Black and McDonald were incredible and very supportive. I was the first female engineer they had hired. Ever.
Having said that and looking back and reflecting on that experience as a young woman in a male dominated industry, there were instances of the culture in construction which were not female-friendly and welcoming. I realize that I was very fortunate to work for such a progressive and trail-blazing employer.
Back then, I literally had men say to me: "Shouldn't you be home, barefoot and pregnant in the kitchen?"  There were pin-up calendars on site offices walls, rude comments and industry events where the servers were dressed in Playboy Bunny outfits. When I was promoted to project manager, I was often the only woman on site. I received some useful coaching on how to get tough with anyone who was giving me a hard time, and I was supported if anything needed to be escalated.
"…there are still many women out there in construction who feel they are treated differently and are subjected to sexist comments and jokes on sites. Employers and site supervisors need to nip this behaviour in the bud and promote a zero-tolerance culture."
Well, we've certainly come a long way! I am pleased to say that the sector is radically changing and while I am at times frustrated and impatient for much faster change, I am encouraged by what I am seeing.
Today, harassment of any kind is not tolerated in many workplaces. I am happy to report that the men I currently work with throughout the construction industry are respectful, considerate, and see me as a true peer. But I do realize there are still many women out there in construction who feel they are treated differently and are subjected to sexist comments and jokes on sites. Employers and site supervisors need to nip this behaviour in the bud and promote a zero-tolerance culture.
As an example, both of progress and an opportunity, some companies have a line of personal protective equipment (PPE) designed specifically to fit a woman's body. However, a recent survey from the CSA Group found 28 per cent of women don't wear all the required PPE at work because of fit issues and 38 per cent use a workaround to make their PPE fit. Having ill-fitted PPE can lead to problems and create safety hazards for female workers. Make sure you purchase PPE that fits your female workers properly.
PPE manufacturers are making more and more garments for women and the industry is slowly changing because more women are working in construction now than ever before. According to Statistics Canada, women made up 14 percent of the "industrial, electrical and construction trades" as well as "trades helpers, construction labourers and related occupations" in 2022, up from 10.4 percent in 2013 and 9.4 percent in 2003.
But that's not enough. According to an analysis by BuildForce Canada, the construction industry across the country is expected to be short as many as 29,000 workers by 2027, with retirements, new industry entrants, and expected industry growth all taken into account.
RECRUITING WOMEN INTO CONSTRUCTION
To fill this gap, employers need to focus on recruiting more women into the construction industry — along with immigrants, First Nations, and workers with disabilities (an important conversation for another time). So, how do we recruit more women into the construction industry? One way is to make it psychologically safe and harassment-free for women. Make sure your workforce is not an "old boys club" anymore where sexist jokes and inappropriate comments are made. If your work site hires women and becomes known as an inclusive environment, you will not only retain your female employees but will attract other highly skilled tradeswomen as well.
Another way to recruit women into the industry is to show them the wonderful, high-paying career opportunities that exist. Women in construction are sometimes overlooked for promotions and are not given the same opportunities as their male counterparts. Show them a solid career path exists for your female employees as well.
Yet another option is to support and promote work-life balance as women are still often the primary caregiver for their children. Allow some flexibility and promote the ways your company can help balance home and work responsibilities. And frankly, extend the same to men who take on more family responsibilities, too.
START EARLY
One of the best ways to attract women into the industry is to start early — before their working years. Parents, grandparents, other family members, and friends play a significant role in shaping what a little girl wants to be when she grows up. Right out the gate you can give toys to little girls that are maybe stereotypically given to little boys, such as building blocks, toy construction trucks, and a play tool set. (One of my staff members has a three-year-old daughter who has never had a doll but goes around with her plastic tool set "fixing" different parts of their house each morning!)
When they are high school age, it becomes vital to show them the many trades, science and engineering opportunities that are available and the excellent livelihood they can provide. One organization that does a great job with this mandate is Techsploration. They provide young women in Grades 9 to 12 with hands-on, mentor-led programming that gives them the chance to test out various trades and learn from women already in the industry. Construction Safety Nova Scotia has been a sponsor of Techsploration in the past, and this year I am thrilled to volunteer as a Team Role Model as part of the program. I will be mentoring six to eight young women and hope to show them not only the different trades and engineering disciplines that are out there, but also the possibility of being a CEO in construction and being a female.
I would be remiss if I did not point out there are many financial opportunities available to help women get trained in a trade or technical degree. For example, under the Women in Skilled Trades Initiative, the federal government is investing up to $43.5 million over four years, beginning this year, to support projects that aim to recruit and retain female apprentices. It covers 39 Red Seal trades, mainly those found in construction and manufacturing.
BUSINESS CASE FOR DIVERSITY
Not only do we need women in the industry to meet labour demands, but a recent study from the Canadian Construction Association found that diversity in your workforce is good for business. The report, The value of diversity and inclusion in the Canadian construction industry: A business case, found the following benefits from hiring women and minorities:
Accelerates innovation with diverse perspective and new ideas;
Increases employee productivity and revenue;
Reduces employee turnover;
Drives a positive safety culture;
Expands market share with supplier diversity; and
Enhances your reputation and expands your customer base.
I know firsthand the powerful and positive impact women can have at a construction organization. We just need to get them in the door first. We can do this!
MJ MacDonald is the CEO of Construction Safety Nova Scotia, a non-profit association aimed at improving safety outcomes for the construction sector across the province.
MacDonald's tips for women in construction
Don't just ignore inappropriate behaviour as it sends the wrong message and can be interpreted as permission to be disrespected;
When responding, stay calm and respectful. You can respond in the moment or circle back later;
Work with your manager and others to raise concerns and issues in a calm fashion;
Be persistent and patient. Things don't change instantly; and
If you are not seeing meaningful change, it's time to consider new employment opportunities.
---
Print this page